Beadventure Just Concluded--What a Fabulous Trip!
Cruise Greece, Israel & Turkey with Helena Tang-Lim!
September 30 - October 15, 2023
Greece: Athens, Nafplion, Mykonos, Crete, Rhodes, Olympia ~ Israel: Tel Aviv and Jerusalem ~ Turkey: Ephesus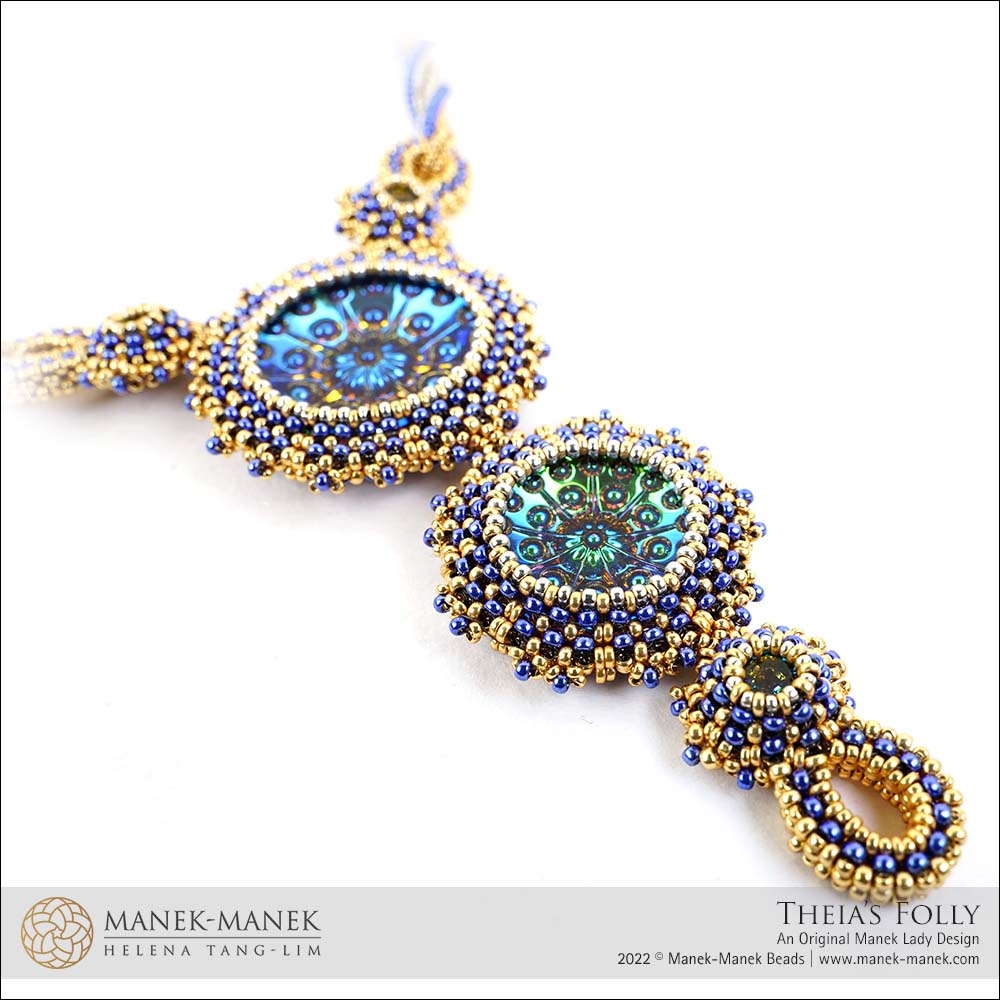 What an opportunity! Join internationally acclaimed bead artist Helena Tang Lim and cruise from Athens Greece to sun-soaked isles, sacred lands, and vestiges of long ago. During the Beadventure you'll have a workshop on this brand new project Helena designed that is inspired by the trip's itinerary.
Itinerary
Day 1. Saturday, September 30. Arrive in Athens, Greece.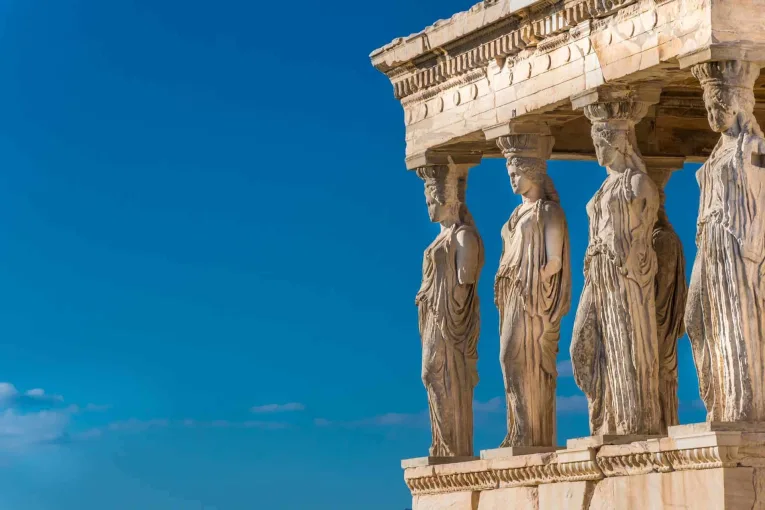 Today you will arrive in Athens, Greece (airport code ATH). Upon arrival you'll be transported to our hotel (included). Because folks will be arriving at different times throughout the day, we'll informally meet up in early evening for dinner (on your own). But if you arrive earlier in the day, take this opportunity to explore this incredible city. There's no modern metropolis that is more steeped in myth than Athens. From the gritty port of Piraeus—gateway to Greece's fabled isles—to the Parthenon—eternal symbol of Western civilization—Athens has attracted adventurers and classicists for centuries. This heritage is still very much alive for us modern visitors sightseeing in Athens—from ancient stadiums and temples that dwell alongside apartment blocks, to modern performances staged in the marble amphitheaters where Greek drama was born.
Day 2. Sunday, October 1. Anchors Away!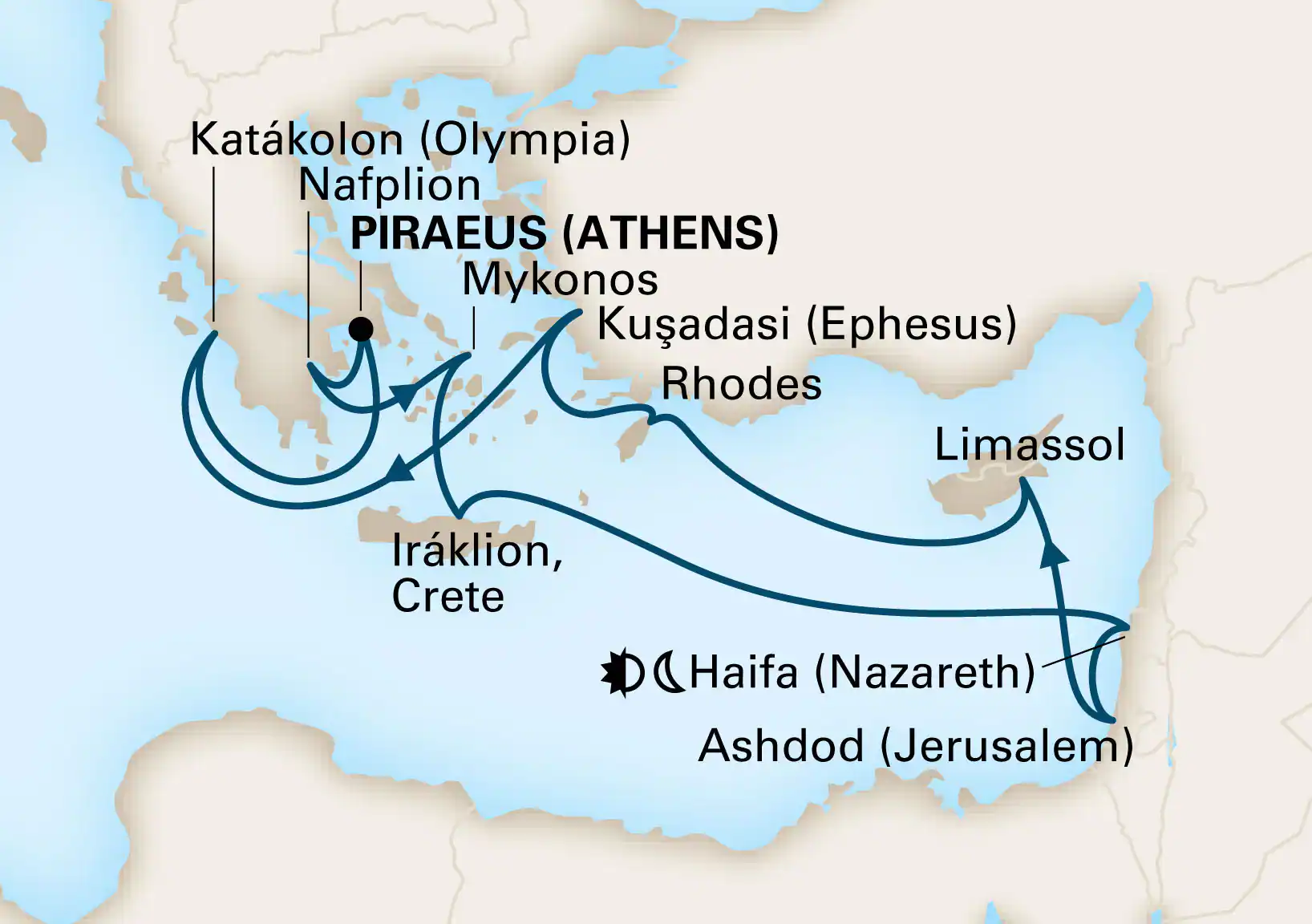 Set Sail at 5 p.m.
The morning will be yours to further explore Athens. In the early afternoon we'll be transported (included) to our ship, the Nieuw Statendam, which will be our home for the next two weeks (just think—your bed will be made, meals cooked, bath towels washed for 14 days!!!). We'll informally gather on deck as the ship draws up anchor and sets sail and then join for dinner in early evening.
Meals included: Late lunch, dinner on ship
Day 3. Monday, October 2. At Sea—and Workshop with Helena!
Today we will be at sea, which is a perfect time for our first workshop with Helena. We'll have insruction from Helena in the morning and then time to work on the project in the afternoon.

Day 4. Tuesday, October 3. Nafplion, Greece.
Ship arrives 8 a.m.; departs 5 p.m.


Much of the life in Nafplion centers on the medieval Old Town, with its cobblestone alleyways and Venetian homes. Numerous cafés and tavernas sprawl along the waterfront, facing a port that dates back to the Bronze Age. Turkish mosques sit alongside modern museums, bridging the gaps in culture and time. At sunset, there's no better place to be than strolling along the promenade.

Nafplion is one of the most beautiful towns in the eastern Peloponnese. It sits on the Argolic Gulf with the formidable Palamidi fortress standing over it, keeping a watchful eye out towards the sea. According to mythology, Nafplios, the son of Poseidon, founded Nafplion. The legends continue—the area reputedly played a hand in the Trojan War as well as the Argonaut expedition. Over the years, Nafplion was taken over by Frankish, Venetian, and Turkish forces, and these influences are evident everywhere—in the medieval castles, the Ottoman fountains, and especially in the neoclassical architecture.
Day 5. Wednesday, October 4. Mykonos, Greece.


Ship arrives 8 a.m.; departs 5 p.m.
Mykonos is one of the most visited of Greece's Cyclades Islands and is known for being a lure for the rich and beautiful. Although a mystique of high-living still lingers today, there's lots to see, do, taste, and buy in Mykonos. There's also the simple beauty of Greek windmills, whitewashed houses clinging to the hills, and charming tavernas with terraces open to the sky and the sea air.
Meals included: All aboard ship
Day 6. Thursday, October 5. Iraklion (Crete), Greece.
Ship arrives 8 a.m.; departs 5 p.m.
Iraklion is the regional capital and the biggest city on Crete (Greece's largest island). Members of the first great European civilization, the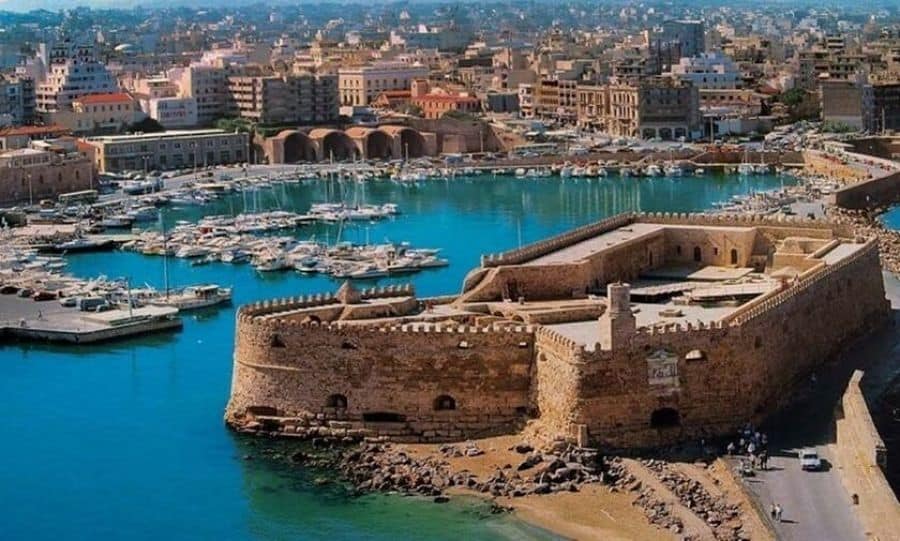 Minoans, were building palace complexes near here 5,000 years ago—and they were only rediscovered in the 20th century. The city was founded in 824 B.C.E. by the Saracens, and in the modern era the island and city saw some of the fiercest resistance to invaders: first against the Turks in the 18th and 19th centuries, and then against the Germans in World War II. Even today Crete and its capital maintain a character distinct from that of the rest of Greece. It is a mixture of a certain wildness and traditional hospitality, blended with its history and a harsh but beautiful landscape of hidden plateaus and mountains that tower to almost 8,200 feet.
Meals included: All aboard ship
Day 7. Friday, October 6. At Sea and Helena Workshop Continues!
We'll have day two of our workshop with Helena. We'll again have insruction from Helena in the morning and then continue to work on the project independently (in the classroom or wherever you would like to on the ship!) in the afternoon.
Day 8 & 9. Saturday & Sunday. October 7 & 8. Haifa (Tel Aviv), Israel
Ship arrives 8 a.m.; overnights; departs 11 p.m.


Haifa, the largest city in northern Israel, has an enviable location, built along the slopes of Mount Carmel, overlooking the Mediterranean. The port is also a gateway to a region with an almos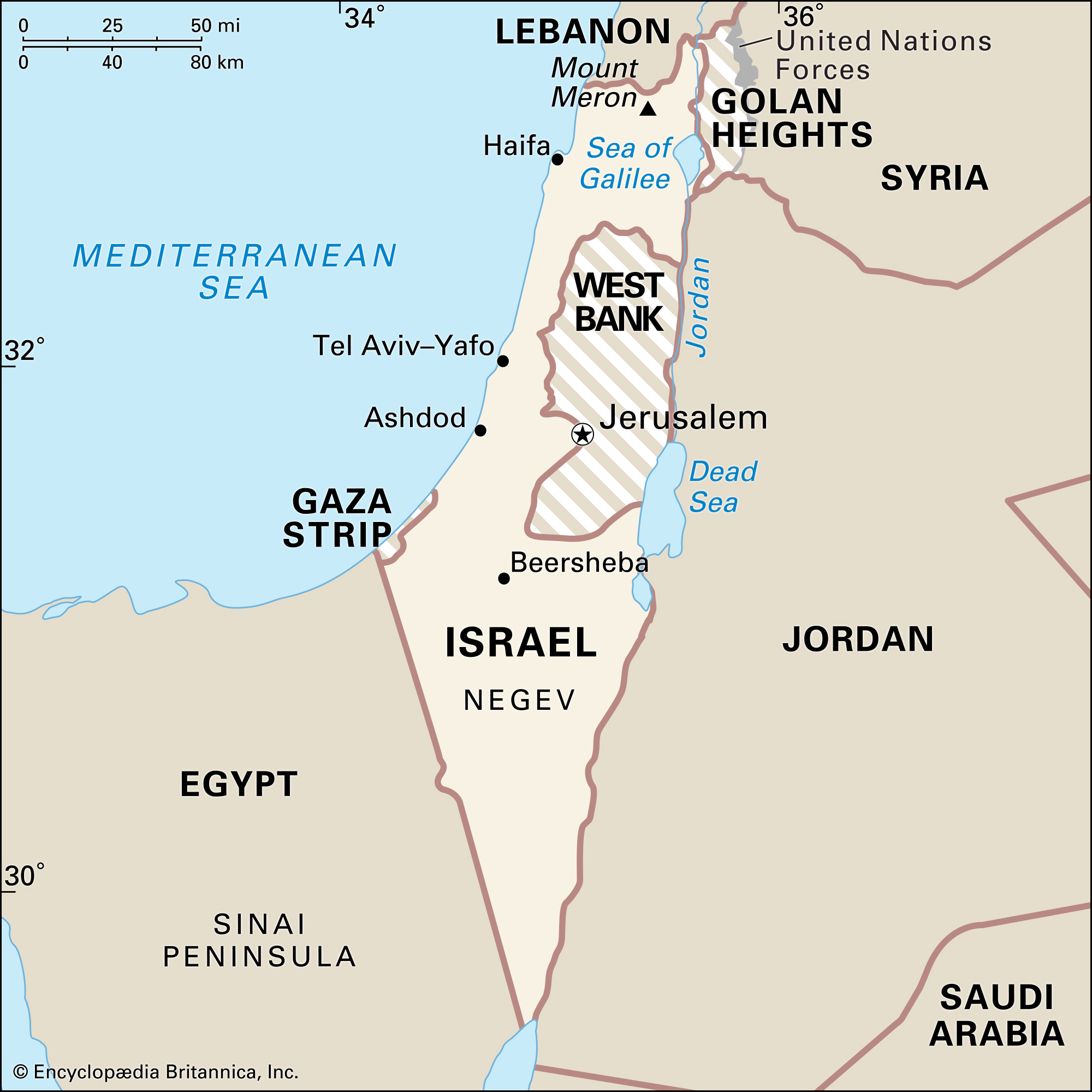 t unreal collection of captivating historic sites and natural beauty—snowcapped mountains, undeveloped wilderness, and diverse, culturally rich cities that trace their histories back to ancient empires. In fact, the area can claim some of the oldest continuously occupied sites in the world, as well as archaeological ruins where ancient Roman, early Christian and Byzantine relics have been unearthed all within feet of each other.
Haifa and the surrounding area can offer the chance to visit sites associated with the life of Jesus. Travelers can follow in his footsteps in Nazareth and along the Sea of Galilee. The area also draws you into its natural wonders and scenic beauty, such as the forests and volcanic hills of the Golan Heights. Wherever you turn, you'll find fascinating multicultural cities where Jewish, Muslim, and Christian communities thrive side by side.
Day 10. Monday, October 9. Jerusalem, Israel.
Ship arrives 7 a.m.; departs 8 p.m.
Jerusalem is one of the world's most fabled cities, with an extraordinary history. Travelers today can't help but be struck by the overwhelming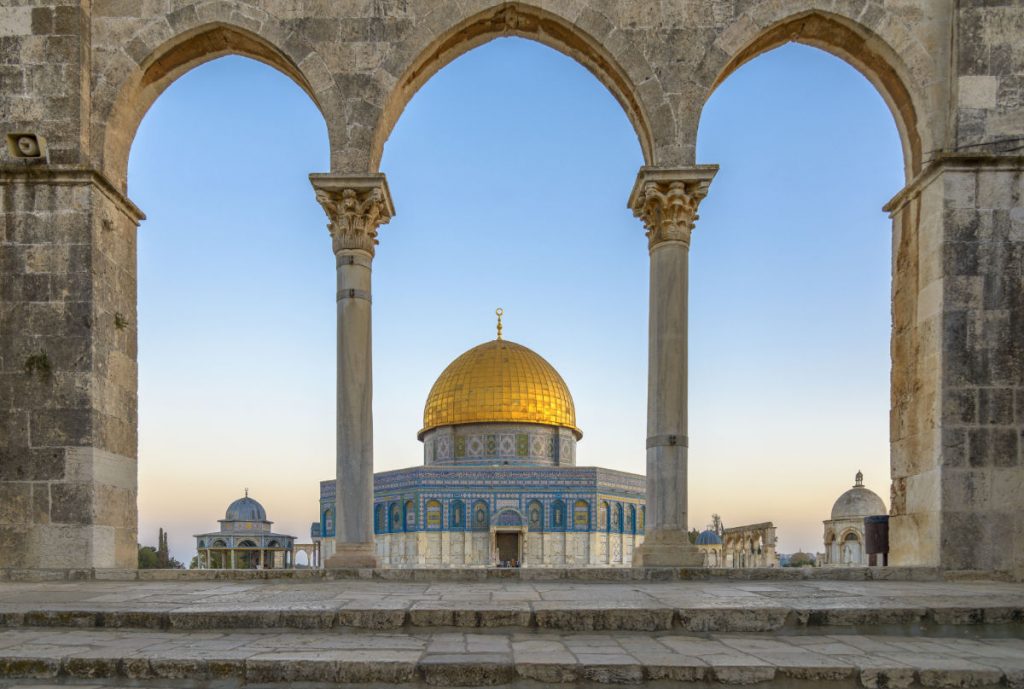 sense of antiquity and the powerful feeling of being in the midst of more than 26 centuries of civilization. At countless sites, the city's layers are peeled away and exposed.
The spiritual heart of Judaism, the Western Wall is the last remnant of the Temple of Jerusalem. For Christian travelers—or those interested in the early days of Christianity—visiting the Church of the Nativity in Bethlehem and the Garden of Gethsemane are unforgettable experiences. For the third great monotheistic religion, Islam, Jerusalem is also a holy city. The Al Aqsa Mosque, the third most important holy site of that faith, is located on the Temple Mount, the holiest site of Judaism.
Much of the magic of Jerusalem, however, is that it's also a living vibrant city. As you make your way to its landmarks, you'll pass through neighborhoods bustling with Israelis, Palestinians, and travelers and pilgrims from every corner of the globe.
Day 11. Tuesday, October 10. Limassol, Cyprus.
Ship arrives 8 a.m.; departs 5 p.m.
The sunny port of Limassol can be either a destination or a gateway—the choice is yours. Antiquity lovers will find plenty to explore in this city of

over 100,000 (it's also the southernmost city in Europe). Despite the modern waterfront high-rises and palm-lined promenade, Limassol has an ancient core: its Old Town, where you'll find Limassol Castle. Best known as the place where Richard the Lionheart (Britain's King Richard I) wed Berengaria of Navarre after his conquest of the island in 1191, it now houses the Medieval Museum of Cyprus. Another option for history buffs is the small Archaeological Museum showcasing artifacts from the Neolithic to Roman periods.
Day 12. Wednesday, October 11. Rhodes, Greece.
Ship arrives 8 a.m.; departs 5 p.m.
Rhodes, the largest of the Dodecanese (the name translates as "twelve islands"), draws more visitors than most other Greek islands. Its capital,

Rhodes Town, offers an enduring blend of history and architecture, and the island's interior is filled with lushly forested hills. To the south, Lindos, one of the most stunning villages in all of Greece, is watched over by a picture-perfect ancient ruin on the hill above. The island owes its rich history to a good climate and a strategically valuable position between Asia and Europe.
Day 13. Thursday, October 12. Ephesus, Turkey.
Ship arrives 8 a.m.; departs 5 p.m.
Ephesus is one of the most legendary cities of the ancient world. St. Paul preached in its Great Theater, while the facade of the Celsus Library

survives as a testament to the city's role as a center of learning and culture. Not far from Ephesus are the remains of the Temple of Artemis (one of the Seven Wonders of the ancient world), which draws pilgrims from around the Mediterranean. While it no longer stands, it is possible to walk amongst its foundations and the remains of its towering columns. Other historic sites can also be found nearby: The House of Mary is believed to be the home of Jesus's mother at the end of her life, and the Basilica of St. John, constructed in the 6th century, marks the location of his tomb. (Like Mary, he spent his final years in Ephesus.)
Meals included: All aboard ship
Day 14. Friday, October 13. At Sea—and More Beading!
Today is our final day to continue working on Helena's project.
Day 15. Saturday, October 14. Katakolon (Olympia), Greece.
Ship arrives 8 a.m.; departs 5 p.m.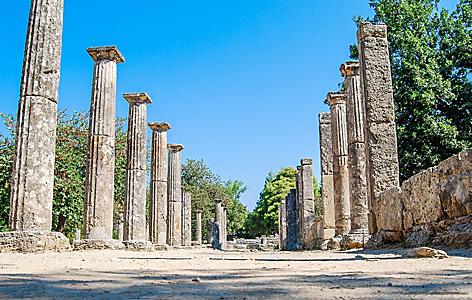 The port of Katakolon is the gateway to the Peloponnese, one of Greece's most intriguing and least well-known areas. Beyond the region's famous site of ancient Olympia—one of the most treasured remnants of the classical world—the Peloponnese gets little of the glory given the Greek islands and Athens. And it deserves much more, as you're about to discover. In addition to Olympia, which is unmissable, the Peloponnese offers lesser-known but majestic and ancient sites, natural wonders and an insight into the traditional rural life that still endures in this country.
Dave 16. Sunday, October 15. Athens, Greece – Disembark.
Ship arrives 7 a.m.
Our incredible trip finally comes to an end and it's time to return home—or for you to continue on to even more adventures. Transportation from the ship to the Athens airport is included.
About your project . . . Theia's Folly
Helena has designed this beautiful project inspired by this Beadventure's itinerary. Greek mythology has given birth to many legends of gods and goddesses. No other goddess personifies jewellery in all its glory than Theia. Theia was the Titan goddess of sight and the shining ether of the bright, blue sky. She also has dominion over precious metals and gems. She endows gold, silver and gems with their brilliance and value. Aptly she is also the mother of the three "bright" children: Helios (the Sun), Eos (the Dawn), and Selene (the Moon).

Given her powers over all things bright and brilliant, it is only apropos that I pay homage to her with an equally bright and brilliant necklace. Theia's Folly features 2 beautiful German glass doublets beautifully faceted to show off its beauty and brilliance. The bold centerpiece is suspended from 2 elegant herringbone ribbons.

Project Details
Difficulty : Advanced
Techniques : Right Angle Weave, Cubic Right Angle Weave, Ribbon Herringbone
Pre-requisite : Cubic Right Angle Weave, Herringbone
About Helena Tang Lim, your workshop instructor . . .
Helena writes:
"I live in the Far East—an area that is rich in potpourri of many ethnic cultures, races and religions. From this melting pot of cultures, many influences from both the East and West have created a society of people that have come to love very intricately designed and hand-crafted fashion and accessories.

But how did I come to be so fascinated with these little manek-manek?

Way back in 1995, I came across an old pair of antique beaded shoes that are extremely popular with the Straits Chinese people of the then Malayan Peninsula. I was absolutely fascinated by the intricate details of individual hand beading using tiny size 13 charlottes (potong manek). I set myself the task to find out how this could be done.

The birth of my first own hand beaded shoes (kasut manek) as worn by the Straits Chinese lady (bibi) of the day came soon after.

From there, the rest you could say is history. After shoes, there came little amulet bags in peyote weave, then knitted bags, then crocheted bags and accessories and . . . "

Trip Cost
$4,255 for a shared hotel room in Athens and shared interior ship cabin (Category J); cabin can be upgraded at additional cost (oceanview cabin would be about $600 more per person; verandah cabin about $1,150 more per person; actual cost depends on location on ship and availability when being booked.

Single supplement: $2,370 for Athens hotel and interior ship cabin (each based on availability).
Non-beader discount: $95.00 savings

Cost includes:
One night pre-cruise hotel stay at a 4-star hotel in Athens
14-day cruise aboard Holland America's Nieuw Statendam
All meals aboard the ship; breakfast at the Athens hotel
Transportation from the airport to the hotel in Athens
Transportation from the hotel to the ship in Athens
Transportation from the ship to the Athens airport for departure
Tuition for workshop with Helena Tang-Lim
Cost Does Not Include:
Airfare to and from Athens Greece
Meals on day arrive in Athens
Trip insurance (highly recommended)
Shore excursions
Kit for Helena's workshop
To Sign Up
To guarantee your spot on this trip, send in a $1,000 deposit and completed registration form after reviewing Beadventures' Conditions & Responsibilities information. Final payment will be due 120 days prior to the start of the trip.
Trip Notes . . . IMPORTANT!
COVID Travel Requirements
We will watch how the requirements unfold between now and the start of our trip to know what vaccination/testing requirements will be in place. Be assured that Beadventures' number one priority will be the health and safety of its travelers and we will follow any requirements in place at that time.
Travel Insurance
You are making a big investment in your upcoming travel. In spite of all your planning, travel can be unpredictable--from cancelled flights to last minute illness. To help protect the investment you are making in your upcoming trip, you are strongly encouraged to purchase trip insurance. Research coverage options by clicking here.
Other Trip Notes . . .
About your activities while in port / shore excursions
Beadventures will not be arranging separate shore excursions or tours while on the cruise. Holland America will have shore excursions from which you can select. Other tour options also can be found at by searching the Internet, such as Shore Excursion Group. The cost for any shore excursion is not included in the Beadventure.
Passport
Check your passport expiration date to make certain it is valid for at least six months beyond the dates of this trip.
About Cruising on a Beadventure
Beadventures doesn't structure group activities on the days that the ship is in Port. You can enjoy a shore excursion based on your area of interest; or you can relax with a spa appointment or otherwise enjoy some down time. There also are opportunities for informally getting together to bead, knit, and visit. In the evening the group will come together for dinner, or if you chose, you could enjoy in-room dining or have dinner at one of the ship's specialty restaurant. We're flexible—you can have as much together time/or on-your-own time as you prefer!
Bead Workshop Gear
Remember to bring your customary bead supplies (beading mat, needles, thread, scissors, magnification). If you need a task light, it must be battery-powered because we will not have electric cords available. Your best option is to have a rechargeable power source for your light (so you don't have to pack lots and lots and lots of extra batteries!).