Two spots available due to cancellation!

Barcelona with Kinga Nichols!
April 27 – May 11, 2023

Barcelona is the capital and largest city of Catalonia and is the largest city on the Mediterranean Sea. Founded as a Roman city, Barcelona has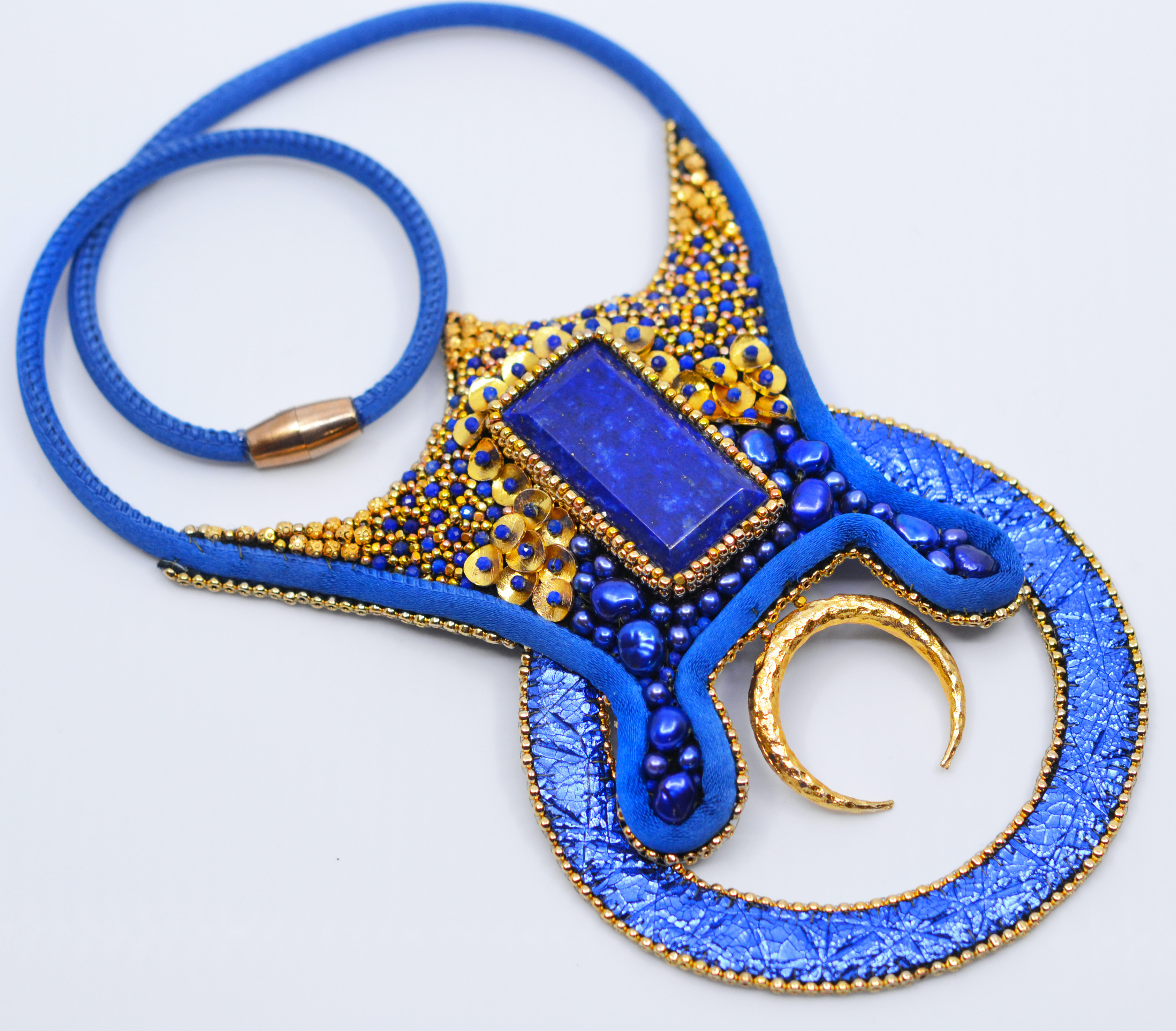 a rich cultural heritage and is today an important cultural center, particularly renowned for the architectural works of Antoni Gaudi. It is a fascinating city that awaits your visit during which you too will be inspired by its culture and art.
Internationally-recognized bead artist Kinga Nichols will join us on this Beadventure and has designed this gorgeous project that is EXCLUSIVE to this Beadventure--it will not be taught any other place!

Itinerary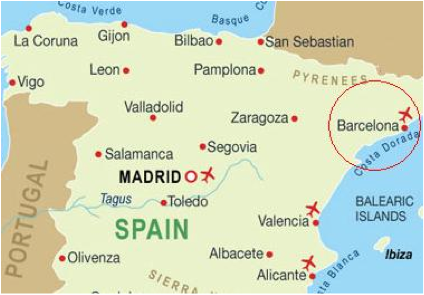 Day 1. Thursday, April 27. Arrive in Barcelona.
Today you'll fly into Barcelona (airport code BCN) and travel to our "home" for the next 12 days—the modernist Hotel Gaudi, located only 100 meters from La Rambla. If you arrive early feel free to explore the neighborhood and stores along La Rambla. At 6 p.m. we will gather in the hotel lobby for our welcome dinner at "Los Caracoles," an historic and charming restaurant, one of the oldest in Barcelona, which is an easy walk from the hotel.
Meal included: dinner
Day 2. Friday, April 28. Touring Barcelona.
After breakfast, we'll take a 3-hour historic walking tour of the Gothic Quarter, led by longtime resident and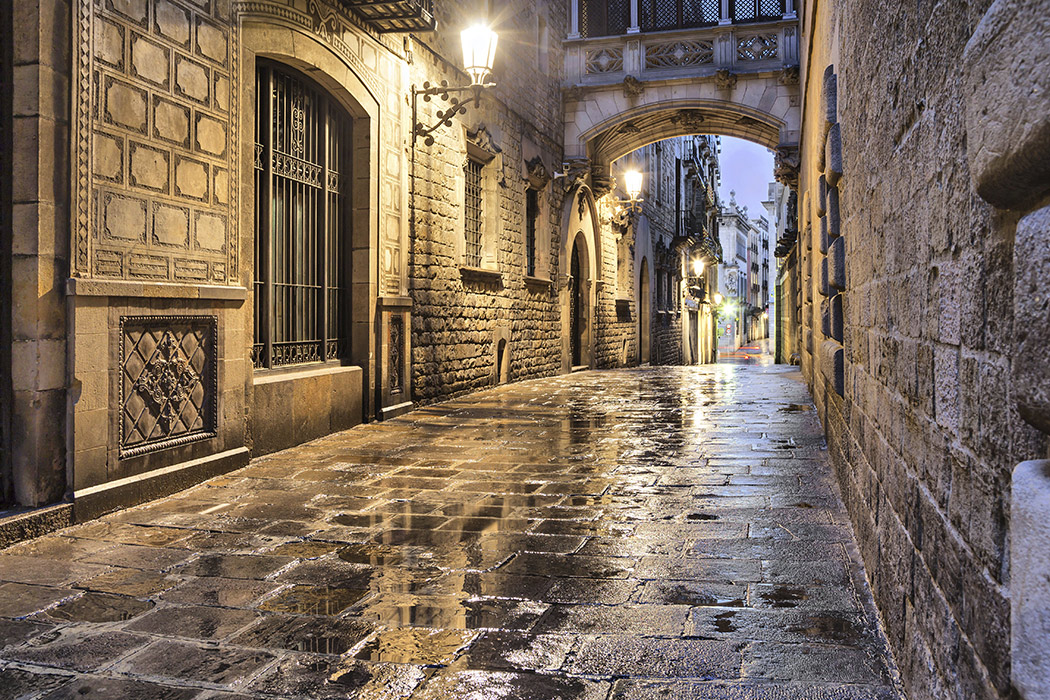 licensed tour guide Iraida Marten. Following lunch together, we'll orient ourselves to the city with a two-hour tour aboard the "Hop On-Hop off" bus. The rest of the day and evening you'll be free to further explore Barcelona on your own (your "Hop-On" bus ticket is good through early evening, should you want to travel other routes).
Meals included: Breakfast, lunch
Day 3. Saturday, April 29. Palau de la Musica & Bead Shopping
In the morning we will tour the breathtaking Palau de Musica—a gem inside and out. The concert hall was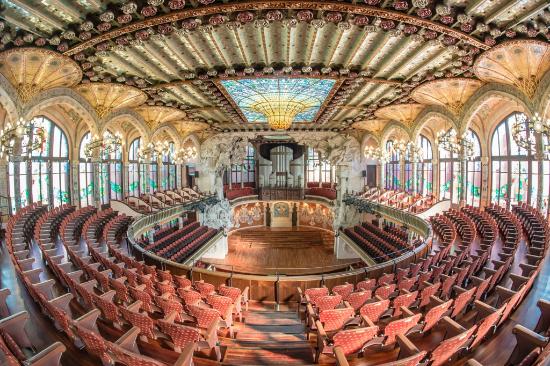 completed in 1908 and has been a recognized UNESCO World Heritage Site since 1997. The intricately detailed stained glass, sculptures, mosaics, and metalwork are beautiful—and the acoustics are amazing.
Following the tour, we'll walk over to one of the largest bead shops in Barcelona, "My Mineral Style." After shopping, you'll then be free to explore on your own. For those interested, we can walk back to the hotel, down the Rambla, looking in on the beautiful displays of fruit, vegetables, and seafood at the Boqueria Market.
Meals included: Breakfast, lunch
Day 4. Sunday, April 30. Palau Guell & Some Free Time
After breakfast we'll visit the Palau Guell (located across the street from our hotel). The palace was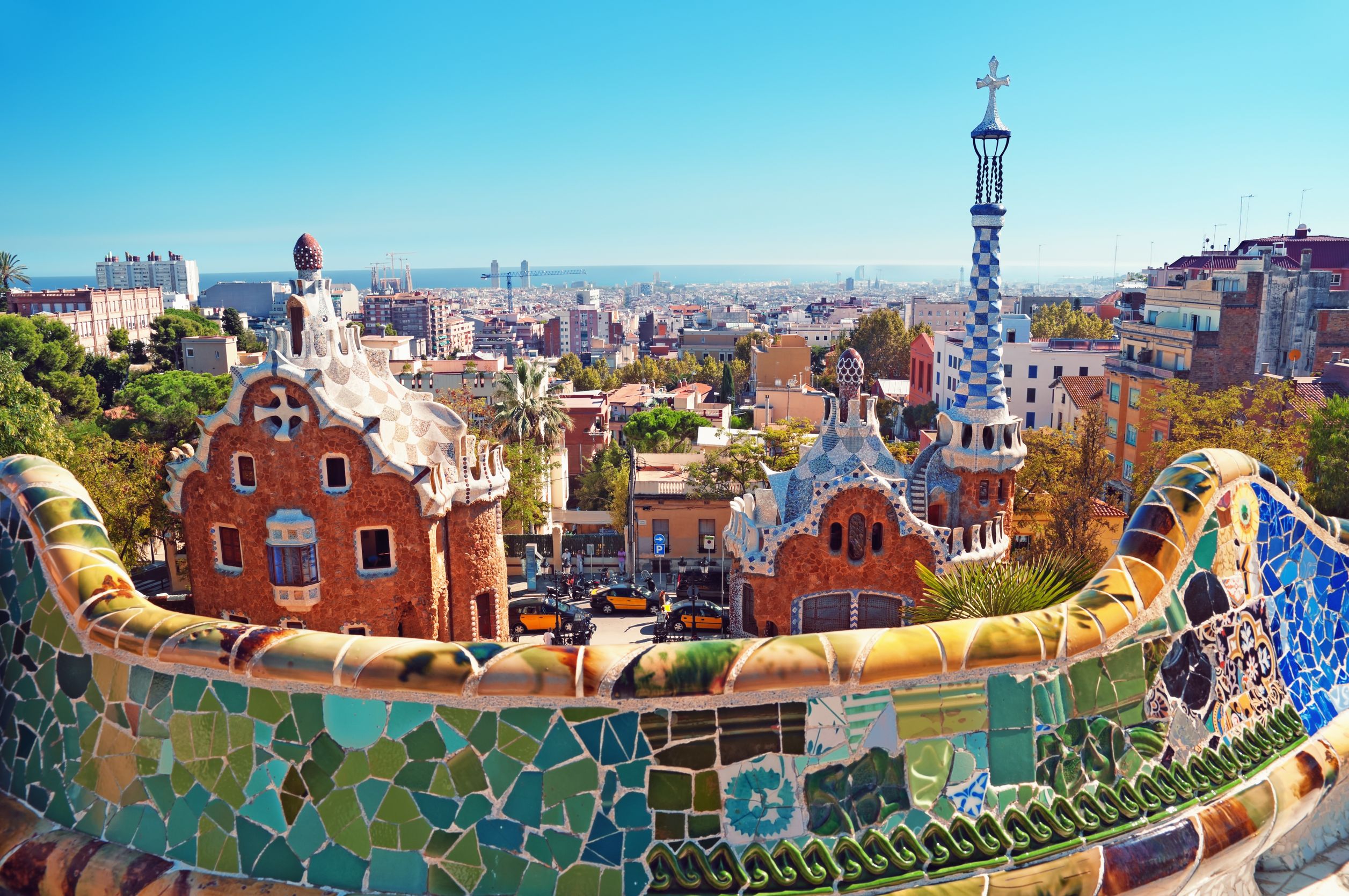 one of Gaudi's earliest commissions, built for the industrialist Eusebio Guell. It is one of (and perhaps the first) example of Art Nouveau architecture in the world. You'll be on your own for lunch and the rest of the day and evening will be yours to further explore this fascinating city.
Meals included: Breakfast
Day 5. Monday, May 1. Workshop with Kinga.
Today is a holiday in Spain (May Day, also known as Labor Day or International Workers' Day) and many of the local shops and venues will be closed. So, we're going to have our first workshop with Kinga! The workshop will be in the hotel's conference room and we'll also have lunch at the hotel. Class will be finish up at 5 p.m. and your evening will be free.
Meals included: Breakfast, lunch
Day 6. Tuesday, May 2. More Gaudi! Casa Batlló and La Pedrera.
In the morning, we'll walk up the Rambla, crossing the Plaza Catalunya to the lovely Paseo de Gracia, one of Barcelona's loveliest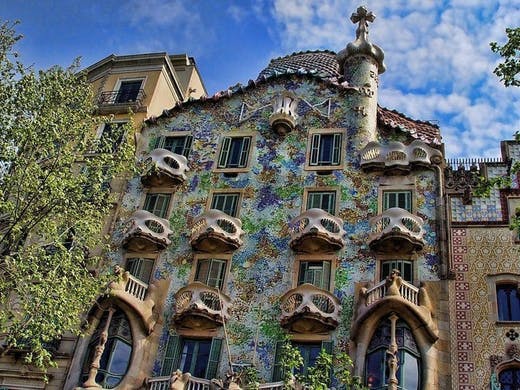 thoroughfares and home to many beautiful modernist buildings and upmarket shops. We will tour the iconic Casa Batlló, one of the most recognizable of Antoni Gaudí's masterpieces. Following lunch (included), we'll walk to the nearby La Pedrera (also known as Casa Mila), a modernist apartment complex, the last civil work designed by architect Antoni Gaudí, built from 1906 to 1912. It houses a very comprehensive museum dedicated to the genius of Gaudi; the rooftop chimneys and views are not to be missed. Once the tour is completed, the rest of the day and evening will be free.
Meals included: Breakfast, lunch
Day 7. Wednesday, May 3. Exploration of Salvador Dali.
Today will be an all-day excursion to Figueres to see the Dali museum as well as Dalí's home in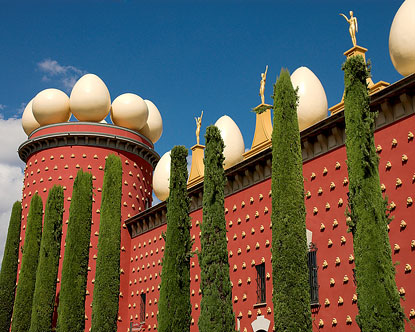 Cadaques on the Costa Brava. We will immerse ourselves in the world of Salvador Dalí, and learn about his life and work. We'll admire paintings and other mind-bending creations by the 20th-century Spanish artist at the stunning Salvador Dalí Museum in his birthplace of Figueres. We'll then tour his beloved Costa Brava to see some of his favorite places, such as the coastal town of Cadaques and the Salvador Dalí House in Port Lligat. During the day we'll stop for lunch (on your own); your evening will be free.
Meals included: Breakfast
Day 8. Thursday, May 4. Masterful Work of Antoni Gaudi.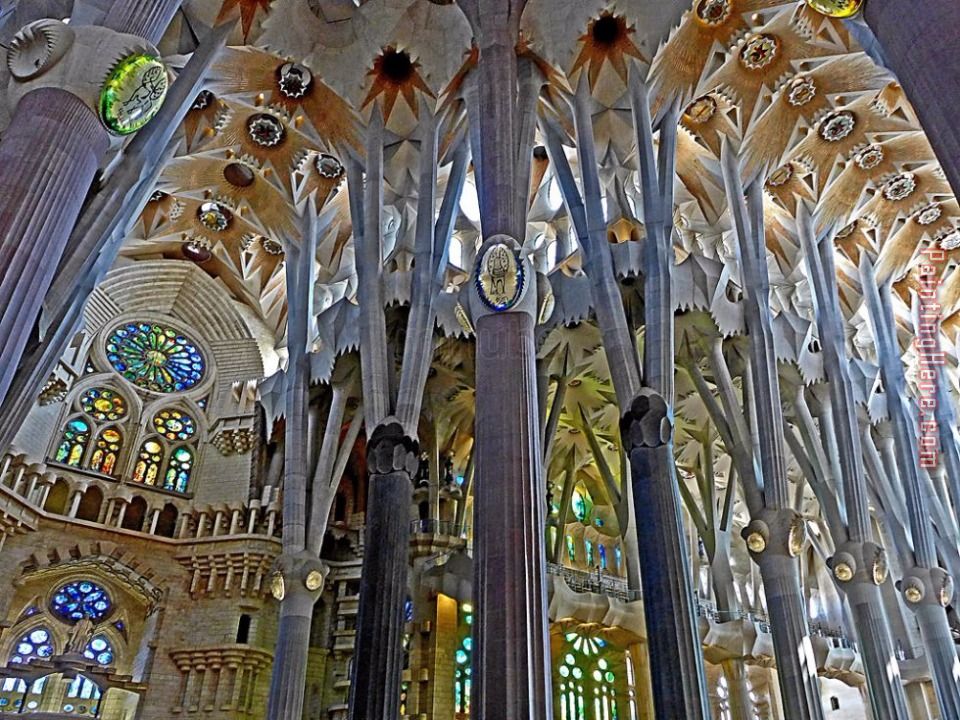 Today your breath will be taken away by the famous Gaudí masterpiece, the Sagrada Familia (Holy Family) Expiatory chapel, which has been under constructions since 1882—and still is. Gaudí took over as chief architect in 1883, transforming the project with his architectural and engineering style, combining Gothic and Art Nouveau forms.

Following our guided tour, we will have lunch. We then will further explore the work of Gaudi by visiting Parc Guell, a public park composed of gardens and architectonic elements that was designed by Gaudi. Here you'll again see Gaudi's architectural genius in which he put to practice his innovative structural solutions that later became the symbol of his organic style. We'll return to the hotel in late afternoon; you'll be on your own for dinner.
Meals included: Breakfast, lunch
Day 9. Friday, May 5. Mosaics Class and Picasso Museum.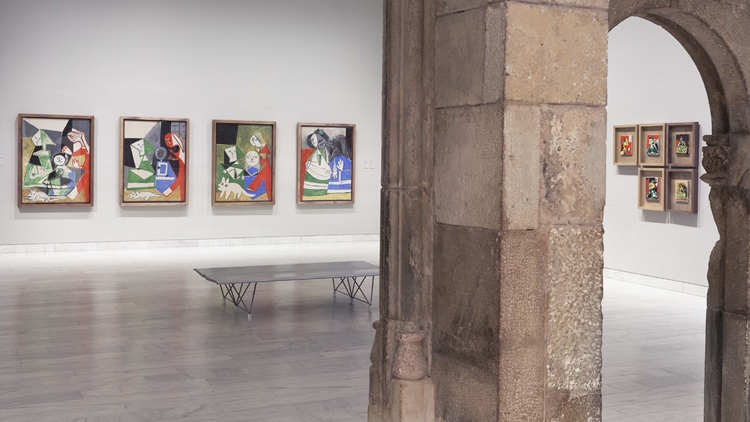 In the morning we will walk to Studio Mosaiccos for a two-hour class in which we experience the "Trencadis" mosaic technique, developed by Gaudi. At a "make and take" session, you'll create a mosaic souvenir, such as a small mirror or plaque. After our class, we'll have lunch, and then walk over to visit the Picasso museum. It is said that the Picasso museum is important in understanding Pablo Picasso's formative years, including his deep relationship with Barcelona that was shaped in his adolescence and youth, and continued until his death. The rest of the day you will be free.
Meals included: Breakfast, lunch
Day 10. Saturday, May 6. Explore on your own—then the Magic Fountain!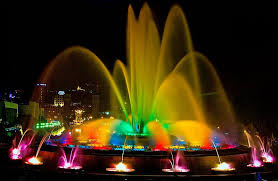 You'll be on your own today. Around 8 p.m. we'll meet in the lobby to take the metro to Plaza España followed by a short walk to the light and sound "Magic Fountain" show at the foot of the hill leading up to the Catalunya National Art Museum. The fountain is a spectacular display of color, light, motion, music, and water acrobatics. Its first performance was on May 19, 1929 during the Great Universal Exhibition.
Meals included: Breakfast
Day 11. Sunday, May 7. Workshop; then Flamenco!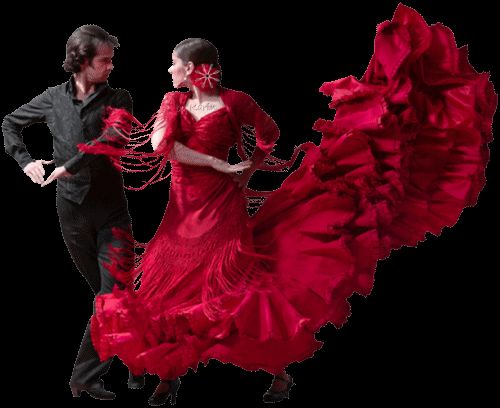 In the morning we'll re-convene in the hotel's conference room to continue our full day of workshop with Kinga. In the evening, we will walk to Tablao Cordobes for dinner and a Flamenco show!
Meals included: Breakfast, lunch, dinner

Day 12. Monday, May 8. Montserrat and Codorniu Wine Cellars.
We'll start the day at bit early (8 a.m.) and walk to the Plaza Catalunya to meet our tour guide for a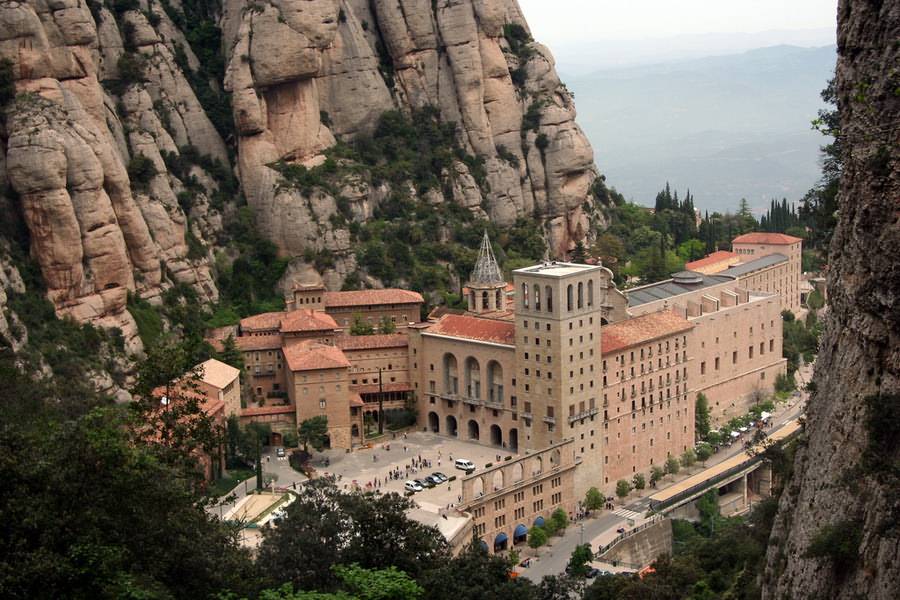 full day (10-hour) tour. Our first stop will be to tour the Codorniu wine cellars where we will tour the world's largest underground cellars, learn about the invention of cava in the late 19th century, as well as enjoy a sip or two at a tasting!
We'll then travel on to Montserrat, which is home to one of the most important religious sites in Spain. A residence for the Benedictine abbey, Santa Maria de Montserrat, the mountain also provides one of the most spectaculars views of Catalonia. The history of Montserrat goes back to 880 when a group of shepherd children saw a bright light descending from the sky in the Montserrat mountains. It also is home to the L'Escolania choir, a boys' choir of sopranos and altos based at the abbey. They perform most days at the Basilica of Montserrat. Here's you'll be able to have lunch; your evening will be free.
Meals included: Breakfast
Day 13. Tuesday, May 9. Girona & Pals Costa Brava.
Today we'll get started around 8 a.m. for our visit to the beautiful medieval city of Girona. Home to just over 100,000 people, here you'll find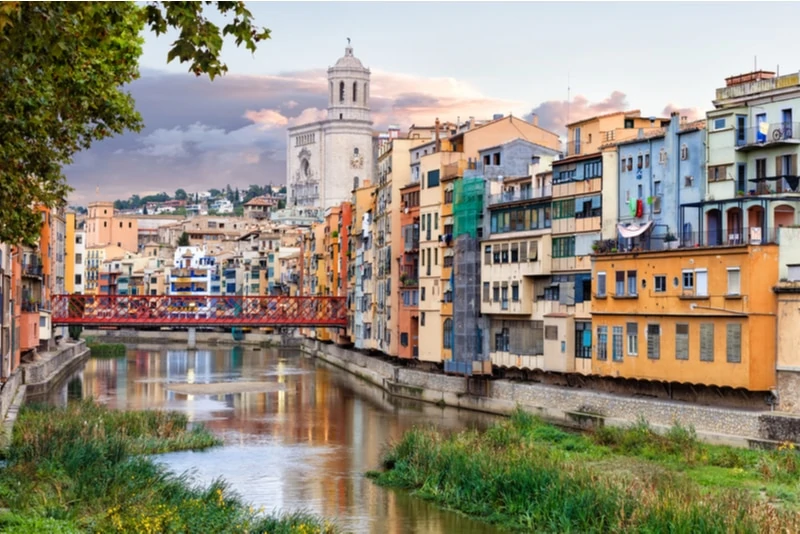 winding medieval streets. The city has been dominated by many different people, and, as a result, has a great richness of architectural heritage—from its Cathedral, founded in 1038 on the site of a former Mosque, to the spectacular Roman walls, along which you can walk. We'll then visit the pristine medieval village of Pals that grew out of what was once a fortress. From Pals, we'll head to the fishing village of Calella de Palafrugell. This delightful escape has whitewashed houses that reach right down to the sea and a number of traditional restaurants, perfect for a leisurely lunch. We'll return to Barcelona around 7 p.m.
Meals included: Breakfast
Day 14. Wednesday, May 10. Workshop and Farewell Dinner.
In the morning we'll have our final workshop in the morning with Kinga. The afternoon you'll be free to see and experience what your heart desires! In early evening, we'll meet in the lobby to go to Asador de Aranda for our farewell dinner.
Meals included: Breakfast, dinner
Day 15. Thursday, May 11. Depart.
Today you'll depart for home or on to other destinations that you may have planned!
Meals included: Breakfast
Important Note: The final itinerary will be very similar to the above. We reserve the latitude to make improvements based on our past experiences in Barcelona. Be assured if there are any changes, the result will be an even better experience!!!!
About your project . . . Al-Andalus Necklace
This powerful statement piece was created for the 2023 Barcelona Beadventure. It is named after the Iberian Peninsula under Muslim rule in the Middle Ages. The colors are of rich, saturated royal blue, and gold--truly a regal combination. The blue comes exclusively from lapis lazuli components silk and metallic lambskin; while all the gold is 24k gold plate seed and copper components. The composition is unusual, modern- yet ancient looking too. The overall feel of the piece is of a powerful ceremonial object of art. The focal for this project came from the 2022 Tucson Gem Show. Each Lapis focal was handpicked by me and they very in size and shape. They are all rectangular, some just have differing proportions than the one I picked randomly for my sample.

There also is the Al-Andalus bracelet: A super simple, stylish, easy-peasy addition to the necklace is just the perfect way to complete this look. The materials for this piece will be added your necklace kit for no additional fee. Both of these pieces are exclusive to this Beadventure and will not ever be available as a project, class or kit for sale any time after this event is over.

Materials needed for completion of these projects: beading needle and thread (I prefer size 11 Tulip needles and 8lb test Nanofil in low -vis green); any other needle and thread that students tend to use for their bead embroidery will be fine too, as long as the thread/fishing line is not crystal (white). Also will need a small, sharp, pointy pair of scissors, E6000 glue, a white gel pen, beading surface, battery powered light and magnification as needed.

Skill level: since we will have a lot of time to work on this together, all skill levels are welcome, including motivated and patient beginners.
About your teacher Kinga Nichols . . .
Kinga was born in 1980, in Hungary. At 19, she packed up her life in a backpack and moved to the US where she has been residing since, albeit not at the same place. She currently lives in Boulder, Colorado with her boyfriend and fur babies Samantha Regina Nichols and Marley. Samantha Regina is not only her muse but her model as well. Many of Kinga's best known pieces were popularized by the canine model.

One way or another Kinga always has been making things, which started turning into a career when she was painting murals when she lived in New York. The murals were fun, but she did not feel like painting was her calling. Eventually she picked up a Bead and Button magazine in 2007, found a bead embroidery project, and slowly but surely the obsession took over.

After that first project, she started creating her own designs and quickly found her own distinctive voice that allowed her to translate her imaginings into beadwork. Kinga is always brainstorming, and her imagination provides an endless supply of fanciful ideas that she translates into bead embroidery.

Her work first got noticed in the first Battle of the Beadsmith; was quickly followed by her being a BeadDreams finalist in 2013 and then getting third place in the same competition in the Swarovski category in 2014; followed by being featured "Marcia Decoster Presents" book in 2014. In 2015 she won first place in the crystal category in BeadDreams. She did a number of instructional bead embroidery videos for Interweave Publishing in 2016 and 2017 and has been featured in magazines in the US and Europe.

In 2013 Kinga started teaching and hopes to continue this as her chosen profession for a long time to come, not only passing on beady knowledge, but perhaps her unique way of looking at the world as a magical place filled with endless possibilities.
About your tour leader Carol Moore . . .
Carol and her family (son David and daughter Daniela) spent 8 happy years living in Barcelona as her husband Salvador's job required an expatriate assignment (NOT a hardship post!!), where she learned to speak excellent Spanish (though not Catalan!). Four years ago Carol stumbled upon City Beads in Chicago by bizarre coincidence at which she took her first class and became an enthusiastic member of the "City Beads Tuesday Beading Group." Combining beads and her love for Barcelona is a dream come true and she can't wait to show you many of her favorite places to see, shop, and eat!! Carol and Salvador have since moved from Chicago and now divide their time between their home in San Juan Capistrano and Salvador's family home in Queretaro, Mexico. Carol works part-time remotely as a Contract Analyst for Siemens Power Generation where she reviews, drafts, and negotiates steam and gas turbine contracts.
Trip Details

Trip Cost
4495 Euros (click here to convert currency) for shared hotel room; single supplement (based on availability) is an additional 910 Euros
Non-beader discount is USD$150
Payment Terms
To guarantee your spot on this trip, send in a $1,000 deposit and submit an on-line registration form. Balance will be due 120 days prior to start of Beadventure (see Conditions & Responsibilities for more information).
Trip Cost Includes:
14 nights lodging in a shared room at Hotel Gaudi, a block off La Rambla
Extremely knowledgable tour leader and professional guides
Entrance and tour fees for:
Gothic Quarter private tour
Hop-on-hop-off bus tour
Palau de la Musica guided tour
La Sagrada guided tour
Parc Guell guided tour
Dali Museum and Home guided tours
Casa Batillo guided tour
La Pedrera guided tour
Girona guided tour
Pals guided tour
Montserrat guided tour
Codorniu Cava Tour guided tour
Picasso Museum guided tour
Mosaics hands-on Gaudi inspired workshop
Ground transportation for the all the itinerary activities
Workshop with Kinga
About 50% of meals
Trip Cost Does Not Include:
Airfare to and from Barcelona
Airport transportation to and from the Barcelona hotel
Travel insurance
About 50% of meals

Workshop kit
To Sign Up
To guarantee your spot on this trip, send in a $1,000 deposit and completed registration form after reviewing Beadventures' Conditions & Responsibilities information. Final payment will be due 120 days prior to the start of the trip.
Trip Notes . . . IMPORTANT!
COVID Travel Requirements
We will watch how the requirements unfold between now and the start of our trip to know what vaccination/testing requirements will be in place. Be assured that Beadventures' number one priority will be the health and safety of its travelers and we will follow any requirements in place at that time.
Travel Insurance
You are making a big investment in your upcoming travel. In spite of all your planning, travel can be unpredictable--from cancelled flights to last minute illness. To help protect the investment you are making in your upcoming trip, you are strongly encouraged to purchase trip insurance. Research options by clicking here.
Other Trip Notes . . .
Fitness level
There is a great deal of walking on this trip, some of which will be on uneven cobblestone streets, and stairs. As a result, this trip is not for people who have difficulty walking or other mobility issues.
Workshop Supplies
Bring your customary beading supplies, bead mat, and a battery-powered light.