Cruise the Eastern Seaboard to Quebec City, Canada!
with
Cynthia Rutledge!
Fort Lauderdale, Florida ~ Williamsburg, Virginia ~ Newport, Rhode Island ~ Boston, Massachusetts ~ Portland, Maine ~ Halifax and Sydney, Nova Scotia ~ Charlottetown, Prince Edward Island ~ Quebec City, Canada
May 8 – 24, 2025

Join Cynthia Rutledge on this 15-day cruise that sets sail out of Ft. Lauderdale, Florida and stops at key ports along the Eastern seaboard to Quebec City, Canada. We'll have three days of workshops with Cynthia on a special project, inspired by our itinerary, during the cruise.
Itinerary
Day 1. Thursday, May 8. Arrive in Fort Lauderdale, Florida.


Today you will arrive at the Fort Lauderdale-Hollywood International Airport (airport code FLL). Because folks will be arriving at various times throughout the day, your day is free to enjoy Florida's sunshine! For those interested, in the evening we'll get together for an informal dinner (on your own).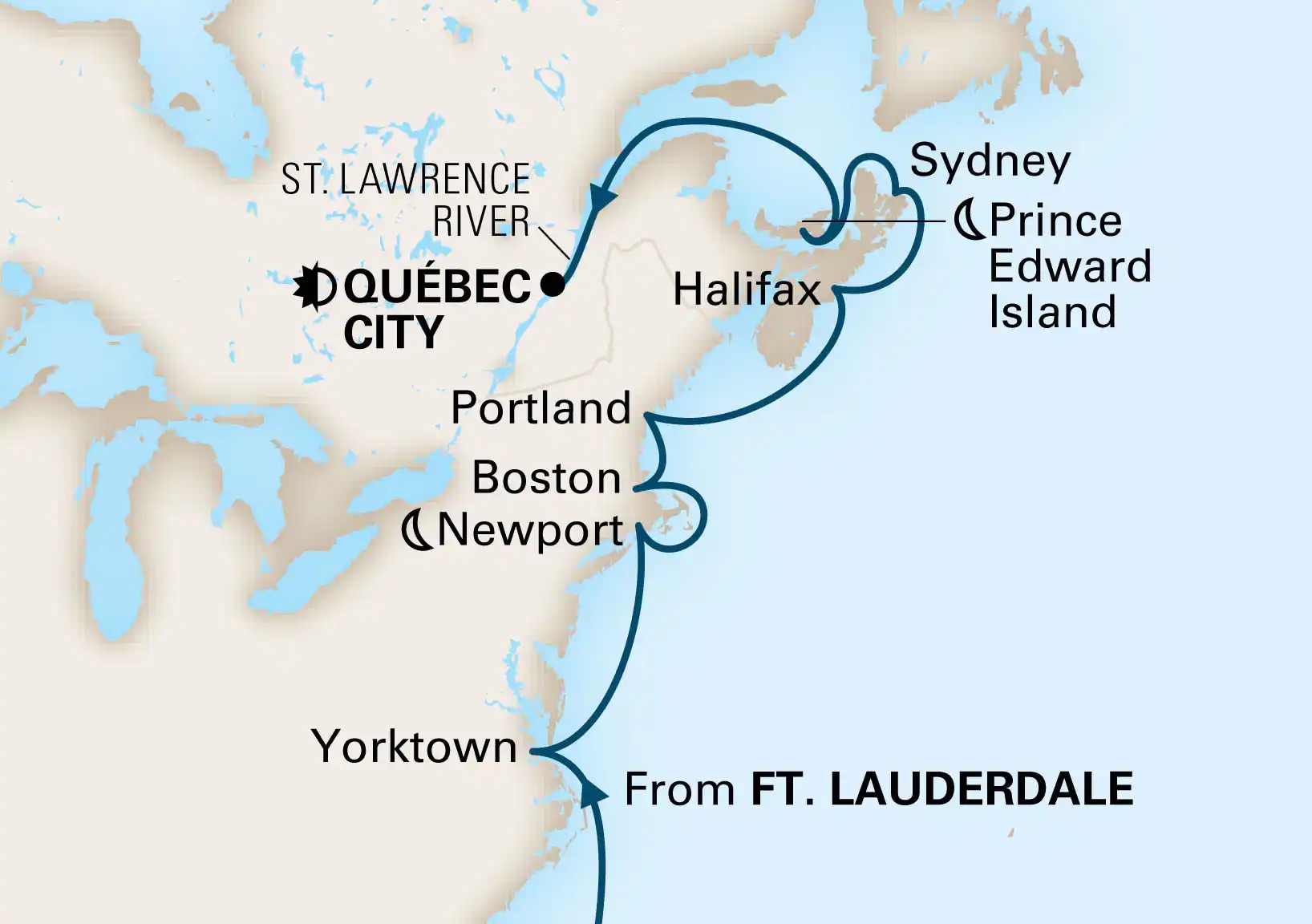 Day 2. Friday, May 9. Set Sail!
Holland America's ship Zuiderdam will set sail at 3 p.m. You'll be transported to the ship in mid- to late-morning. Once on-board, you will get settled into your cabin and become familiar with the ship and all that it has to offer! Each evening we'll have dinner in the ship's Main Dining Room.
Day 3. Saturday, May 10 & 11. At Sea. Workshop!
Our first workshop day!!!! The workshop will be from 9:30 a.m. to 4 p.m., with a break for lunch.
Day 4. Sunday, May 10. At Sea. Time to Relax.
Today you can relax, get a massage, take advantage of activities the ship has to offer, and/or informally get together to work on your bead project!
Day 5. Monday, May 12. Yorktown (Williamsburg), USA.


Ship arrives arrive 8 a.m.; departs 5 p.m.
You will get off the ship in Yorktown, which is where the Allied soldiers and British troops fought the Revolutionary War's last major battle. While Yorktown has more to explore, Colonial Williamsburg awaits. Here you'll find more than 300 acres of gardens, exhibition sites, tucked-away taverns, and more that will immerse you in the 18th century. You can meander the mile-long Duke of Gloucester Street, popping into the shops of shoemakers, silversmiths, and wigmakers, who use historically accurate techniques. Go inside the Governor's Palace and the Capitol; or take the shuttle to Jamestown, where you can explore a re-creation of the Jamestown Fort and Powhatan Village.
Day 6. Tuesday, May 13. At Sea. Workshop.
Our workshop will get started at 9:30, break for lunch, and continue to 4 p.m.
Day 7. Wednesday, May 14. Newport, Rhode Island.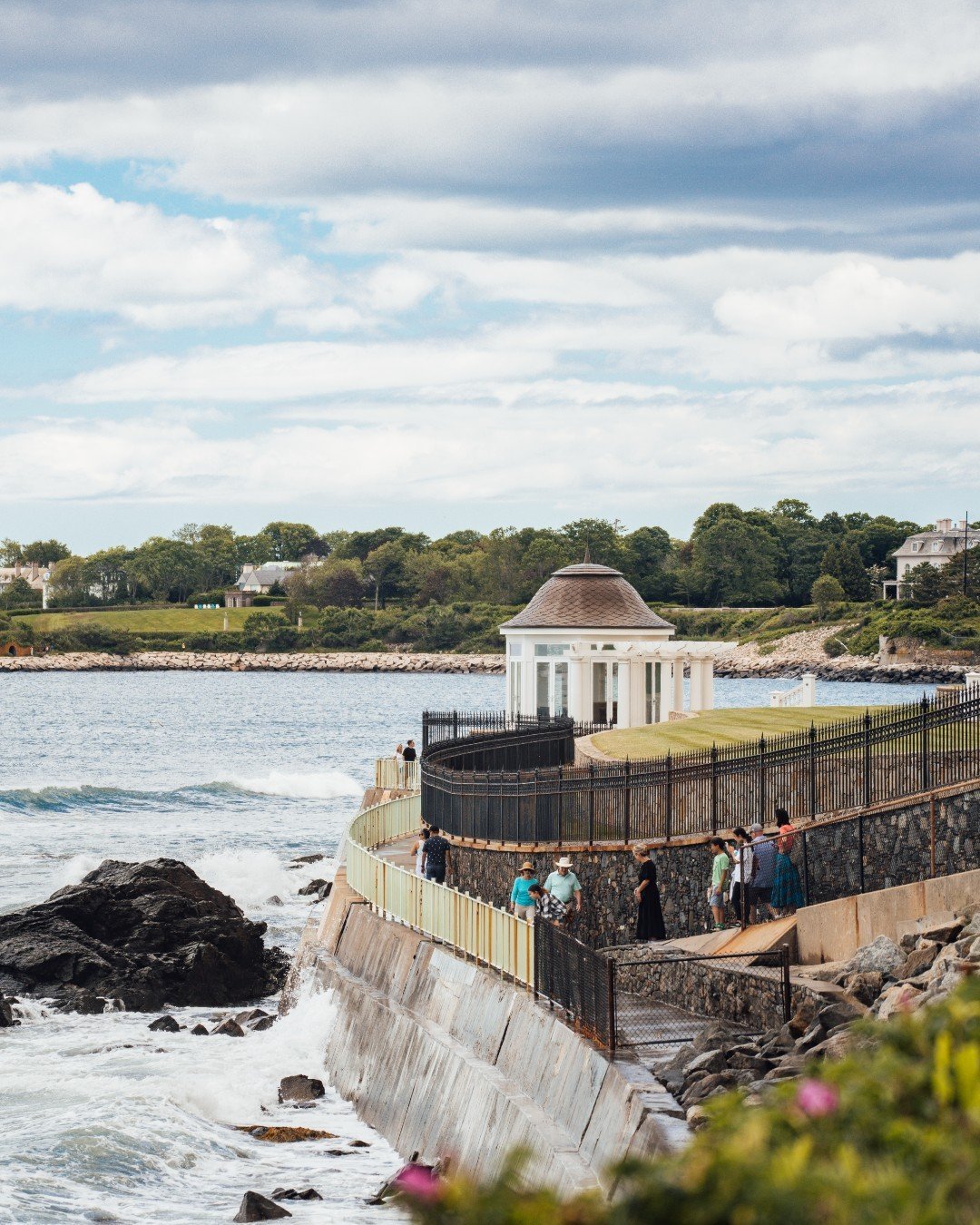 Ship arrives 8 a.m.; departs 11 p.m.
Downtown Newport manages to be two very different things at once: a fishing port full of pubs and shops; and a resort town full of sailing yachts, boutiques, and wine bars. Before Newport became known as a playground for the rich, artists, writers, and scholars already had discovered its picturesque beaches and shoreline.
Day 8. Thursday, May 15. At Sea. Workshop.
Our third workshop from 9:30 to 4 p.m. While it's out final "official" workshop, Cynthia will be around on other days to help when needed!
Day 9. Friday, May 16. Boston, Massachusetts.
Ship arrives 7 a.m.; departs 5 p.m.


Boston is New England's largest city and is home to historic sights and modern neighborhoods. Stores and restaurants with old-time character; and gracious green spaces as well as a beautiful waterfront. Legendary figures of the American Revolution also come alive at buildings and attractions along Boston's Freedom Trail. You can pay homage to great U.S. presidents at the John F. Kennedy Presidential Library and Museum.
Day 10. Saturday, May 17. Portland, Maine.


Ship arrives 7 a.m.; departs 1 p.m.
Maine's largest city has capitalized on the gifts of its port history. From redbrick warehouse buildings and narrow cobblestone streets, it has become one of the hippest, most vibrant small cities in the Americas. It's also home to Caravan Beads and the Museum of Beadwork! You'll also find other excellent museums and galleries, abundant green space, and both a food culture and a brewing scene worthy of a town many times its size.
Day 11. Sunday, May 18. Halifax, Nova Scotia, Canada.
Ship arrives 10 a.m.; departs 6 p.m.

Today you'll have the opportunity to explore Halifax and savor its low-key but classy culinary scene for fresh seafood. Along Nova Scotia's southern shores, the city is surrounded by lush greenery and charming villages that are worth the trip from downtown. Snap photos of attractions in the charming fishing village, Peggy's Cove, with its picturesque lighthouse on a rocky outcropping. Or wander the streets of Lunenburg, whose colorful Old Town is designated a UNESCO World Heritage Site. You can also soak in the charms and sights of Mahone Bay, home to artists' studios and a trio of steepled churches.

Day 12. Monday, May 19. Sydney, Nova Scotia, Canada.
Ship arrives 10 a.m.; departs 6 p.m.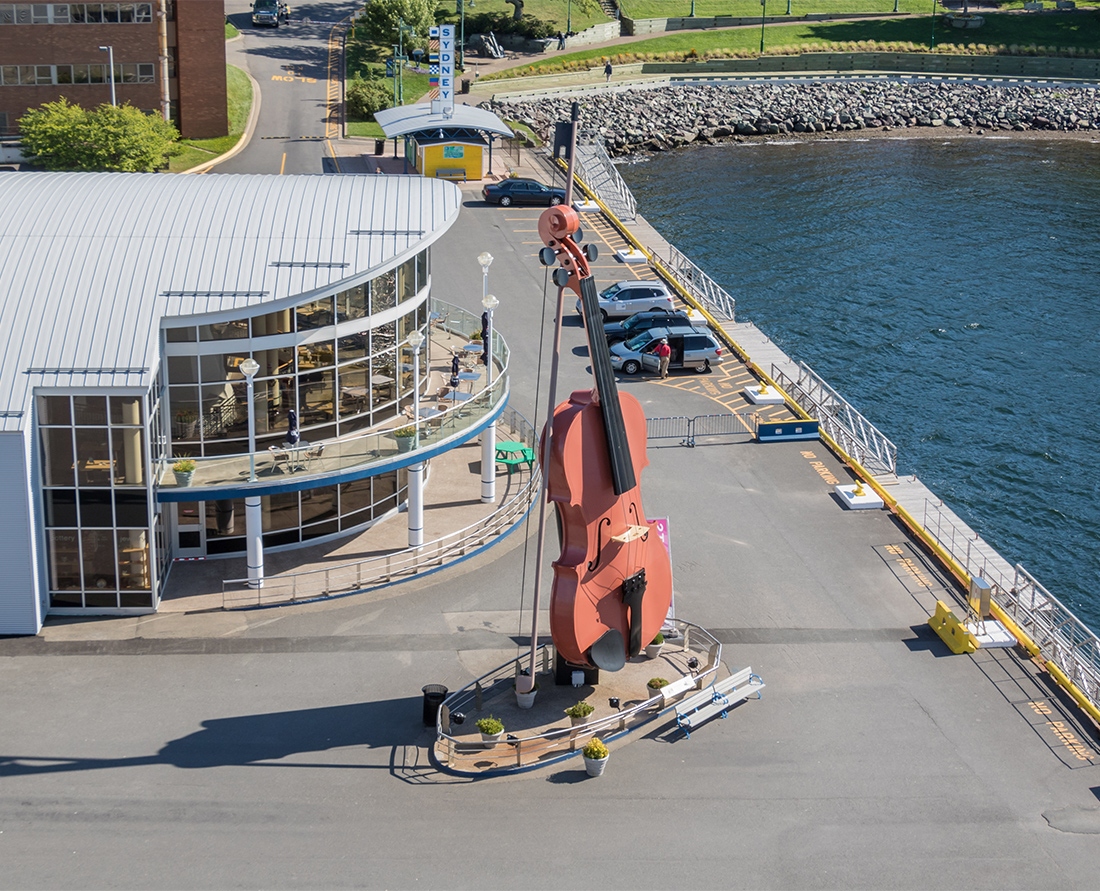 Sydney is the largest city on Cape Breton Island, which is linked by causeway to the rest of Nova Scotia. Sydney's attractions start at the harbor, where visitors can shop for locally made crafts and see the world's largest fiddle, which towers beside the port's cruise pavilion. Some of the city's historic houses and churches date back to the 1700s and 1800s and are open for tours. Sydney's galleries give visitors a chance to meet local artists and purchase their work.

Day 13. Tuesday, May 20. Charlottetown, Prince Edward Island, Canada.
Ship arrives 9 a.m.; departs 11 p.m.


Charlottetown is the capital of Canada's smallest province, Prince Edward Island, as well as its largest city (though it has fewer than 35,000 residents). Despite its modest size, the city has an impressive number of Victorian houses, buildings. and great parks waiting to be explored. Sites within downtown Charlottetown include the lovely Victoria Row and other historic buildings, some of which are now museums.

Day 14. Wednesday, May 21. Cruise Gulf of St. Lawrence.


No getting off the ship today; you'll be cruising the Gulf of St. Lawrence, which means it will be a great time to find a table on deck where you can enjoy the scenery--and bead! The lighthouse on little St. Paul's Island will be a stark reminder of days gone by as you sail past this infamous old shipwreck site, known as the graveyard of the gulf, on your way through the Cabot Strait and into the Gulf of St. Lawrence. So huge is the gulf that half of Canada's ten provinces have a coastal connection to it.

Day 15. Thursday, May 22. Saint Lawrence River Cruising.


Another day on the ship cruising the nearly 750-mile stretch of the St. Lawrence River. This is a lighthouse lover's paradise, with more than 40 of them lining the Québec portion alone. The river was a major entry point for exploring North America, and during the Seven Years' War the British navigated to Québec City to defeat the French at the Plains of Abraham. Today, some 200 miles of the river are called the whale route, along which some 13 resident species thrive, including blue, beluga and right whales.

Day 16. Friday, May 23. Quebec City, Quebec, Canada.
Ship arrives 8 a.m. – Overnights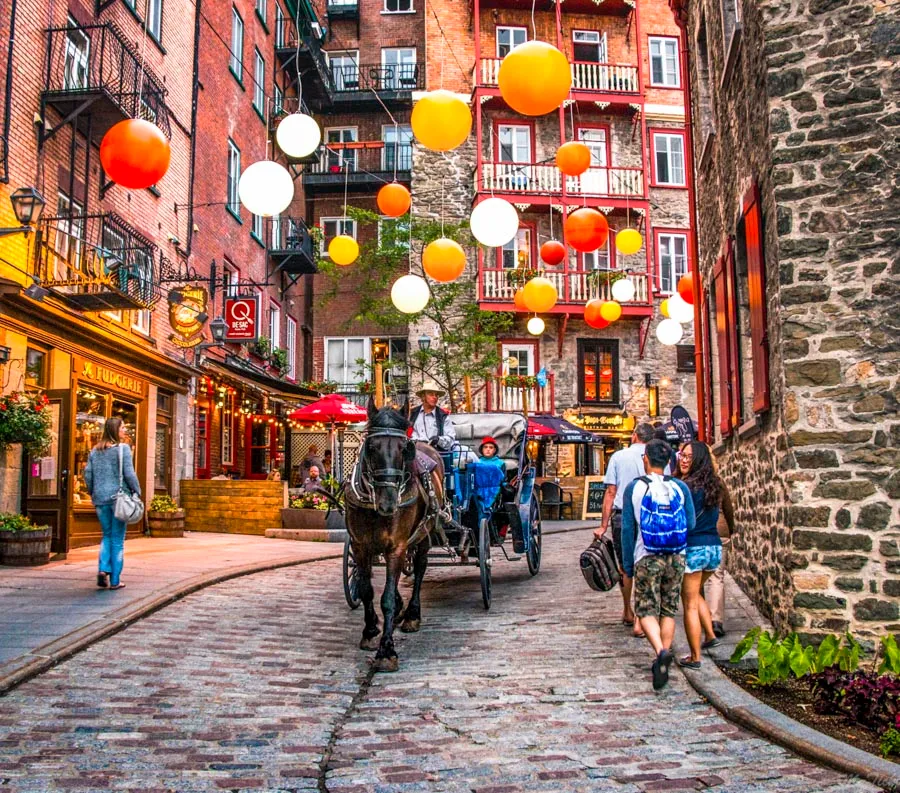 We'll spend the day in Quebec City and overnight on the ship. Few places in North America are as steeped in history as Québec City, Canada. Older than Jamestown and founded before the Pilgrims landed at Plymouth Rock, it is the only city north of Mexico whose original fortifications remain intact. The Québec City historic district, a UNESCO World Heritage Site, is still home to religious orders and hospitals that date back to the 17th century.
More than 95 percent of Québec City's population speaks French as its first language, though it's easy to sightsee and navigate the city in English. As you tour the museums and historic sights that celebrate Québecois history, you'll discover a remarkable culture that has survived and thrived into the 21st century. And for fans of author Louise Penny's Inspector Gamache novels, we might visit Three Pines ;-)
Day 17. Saturday, May 24. Disembark the Ship.
You'll disembark the ship in the morning; transportation from the ship to the airport is included. To ensure sufficient time, Holland America recommends that your flight depart after 11:30 a.m.
About the project . . .
Cynthia is designing a project inspired by the trip's itinerary. Check back for details!
About our Teacher . . . Cynthia Rutledge
Cynthia is a contemporary seed bead artist and has been teaching for over 27 years. She specializes in peyote stitch and off‐loom weaving techniques, with an emphasis on developing sculptural unsupported shapes in beadwork. Her work has been exhibited in national and international shows, many books and publications including her first solo book, "Timeless Beadwork Designs".

Cynthia shares "My path to being an artist has always been driven by my desire to create something that is beautiful to me. I bead for myself, to satisfy my desire to create, to feed my soul. That others admire my work is a gift. If they see something in my work that appeals to them, that calls to them, then I am blessed indeed, as maybe they can see a glimpse of the part of me that is just following my heart."

Learn more about Cynthia at her webpage.
Trip Cost
$2,995 for a shared hotel room in Ft. Lauderdale and shared interior ship cabin (Category MM); cabin can be upgraded at additional cost (shared unobstructed oceanview cabin would be about $425 more per person; verandah cabin about $1,100 more per person; actual cost depends on location on ship and availability when being booked).

Single supplement: $1,295 for Ft. Lauderdale hotel and interior ship cabin (each based on availability).
Non-beader savings: $195.00

Cost includes:
Pre-cruise hotel night in Ft. Lauderdale
15-day cruise aboard Holland America's Zuiderdam
All meals aboard the ship
Transportation from the airport to the hotel in Ft. Lauderdale
Transportation from the hotel to the ship in Ft. Lauderdale
Transportation from the ship to the Quebec City airport
Workshop with Cynthia
Cost Does Not Include:
Airfare
Meals on day of arrival in Florida
Trip insurance (highly recommended)
Shore excursions/tours
Kit for Cynthia's workshop
To Sign Up
To guarantee your spot on this trip, send in a $1,000 deposit and completed registration form after reviewing Beadventures' Conditions & Responsibilities information. Final payment will be due 120 days prior to the start of the trip.
Trip Notes . . .
IMPORTANT--Travel Insurance
You are making a big investment in your upcoming travel. In spite of all your planning, travel can be unpredictable--from cancelled flights to last minute illness. To help protect the investment you are making in your upcoming trip, you are strongly encouraged to purchase trip insurance. Research coverage options by clicking here.
About activities while in port / shore excursions
Beadventures will not be arranging shore excursions or tours while on the cruise. Holland America will have shore excursions from which you can select. Other tour options also can be found at by searching the Internet, such as Viator or Shore Excursion Group. The cost for shore excursions is not included in the Beadventure.
Passport
Check your passport expiration date to make certain it is valid for at least six months beyond the dates of this trip.
What to Expect on a Beadventure Cruise
Beadventures doesn't structure group activities on the days that the ship is in Port. You can enjoy a shore excursion based on your area of interest; or you can relax with a spa appointment or otherwise enjoy some down time. There also will be lots of opportunities to informally get together to bead, knit, and visit. In the evening the group will come together for dinner, or if you chose, you could enjoy in-room dining or have dinner at one of the ship's specialty restaurants. We're flexible—you can have as much together time/or on-your-own time as you prefer!
Bead Workshop Gear
Remember to bring your customary bead supplies (beading mat, needles, thread, scissors, magnification, and task light). A task light is important (because lighting in the classroom isn't that great). It's best if your light is battery-powered because we nat not have electric extension cords in the classroom. Your best option is to have a rechargeable power source for your light (so you don't have to pack lots and lots and lots of extra batteries!).