Cruise the Mediterranean with Jean Power!
Venice ~ Greece ~ Turkey ~ Croatia
October 5 – 18, 2021
Optional: Pre-Cruise Extension
Italy: Arezzo & its Antique Market ~ Murano ~ Venice
September 29 - October 5
On this Beadventure you will get to visit some of the places you've only read about or seen in the movies—Venice, Athens Greece, Istanbul Turkey and Korcula Croatia. Throughout the cruise, you'll have a workshop with an international beading star aboard a beautiful ship where they cook all your meals and make your bed.
For those that follow Jean Power, you know that she is an award-winning jewelry designer based in London, England. She is designing a project special to this Beadventure.
If you want to get an early start to your holiday, join us with another Beadventure group that will be in Arezzo, Italy for its world famous antique market. You'll then travel to Venice where you'll have an additional day to visit this fascinating city.
Itinerary

Day 1. Tuesday, October 5. Arrive in Venice, Italy.
Today you'll fly into the Venice Marco Polo (VCE) airport the day before we board our ship. After gathering your bags, you'll take a water taxi to our hotel in Murano. The day will be free for you to relax from your flight and we'll gather in early evening for dinner.
Meals included: Dinner

Day 2. Wednesday, October 6. Anchors Away!
In late morning we'll take a water taxi from our hotel to the Cruise Ship Terminal and board our ship, the Westerdam, in early afternoon. The rest of the afternoon will be yours to get settled in your cabin and acquainted with the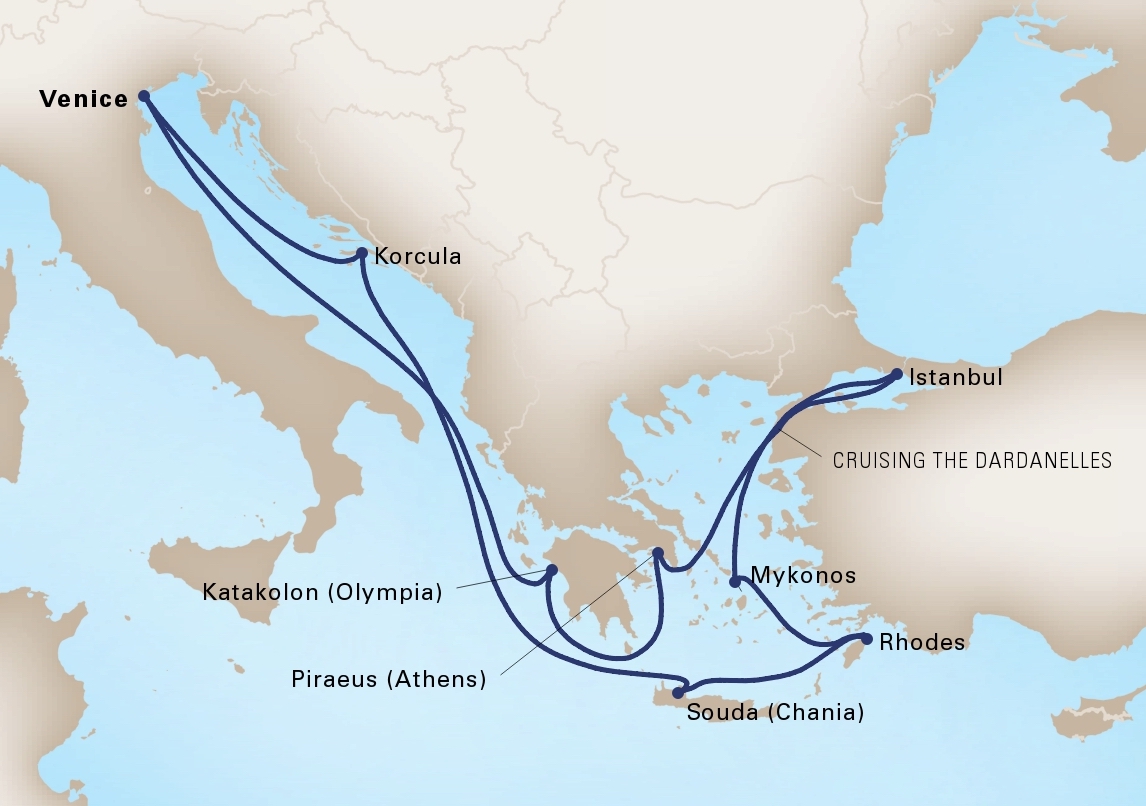 ship. Just before the ship sets sail at 5 p.m., we'll gather on the deck to watch as we depart beautiful Venice. In the evening, we'll all have dinner in the Main Dining Room.
Meals included: Lunch, Dinner
Day 3. Thursday, October 7. At Sea—and Workshop!
Today we will be at sea and take advantage of it to have our first workshop with Jean in a reserved meeting room. The workshop will be from 10 a.m. to 4:30 p.m. with a break for lunch.
Meals included: All

Day 4. Friday, October 8. Katakolon (Olympia) Greece.
We will arrive in the port of Katakolon at 8 a.m. and depart at 4 p.m. The port is the gateway to the Peloponnese, one of Greece's most intriguing and least well-known areas. The region reveals what it means to be Greek: traditions that go back thousands of years, simple but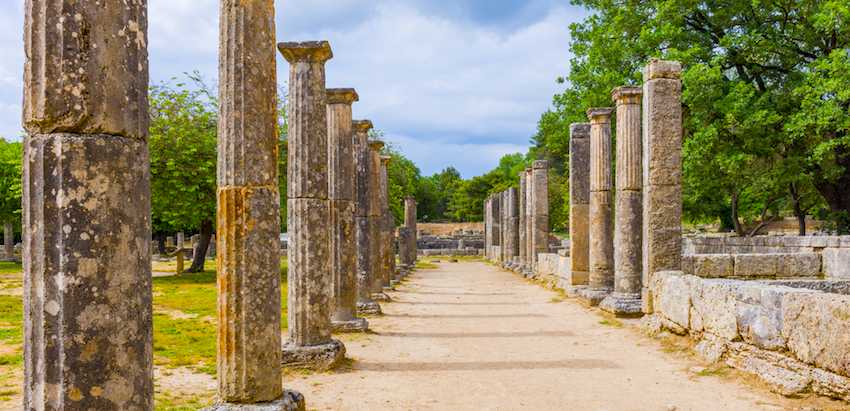 delicious and healthy cuisine, towering mountains, crystal blue seas, and, above all, the true hospitality of the people. In addition to Olympia, which is unmissable, the Peloponnese offers lesser-known but majestic and ancient sites, natural wonders, and an insight into the traditional rural life that still endures in this country.
Meals included: All (when aboard ship)
Day 5. Saturday, October 9. Piraeus (Athens) Greece.
We will arrive at the Port of Piraeus at 7 a.m.; depart at 5 p.m. No modern metropolis is more steeped in myth than Athens, Greece. From the gritty port of Piraeus—gateway to Greece's fabled isles—to the Parthenon—eternal symbol of Western civilization—Athens has attracted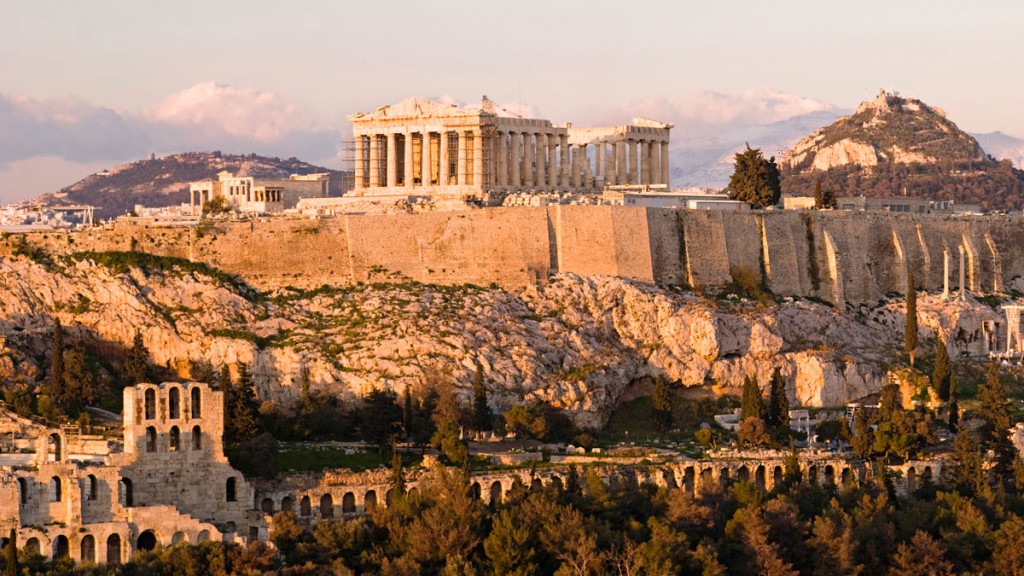 adventurers and classicists for centuries. This heritage is still very much alive for modern visitors sightseeing in Athens: ancient stadiums and temples dwell alongside apartment blocks, modern performances are staged in the marble amphitheaters where Greek drama was born, and millennia-old monuments are scattered in the archaeological park that circles the Acropolis.
Meals included: All (when aboard ship)
Day 6 & 7. Sunday & Monday, October 10 & 11. Workshop & Istanbul Turkey.
We will cruise the Dardanelles and arrive in Istanbul at 4 p.m. on Sunday where we will overnight and depart at 4 p.m. the following day. While cruising on Sunday, we'll have a workshop from 10 a.m. to 3 p.m.
The 37-mile long Dardanelles divides the continents of Europe and Asia and is the sole waterway between the Aegean and Marmara seas and beyond to the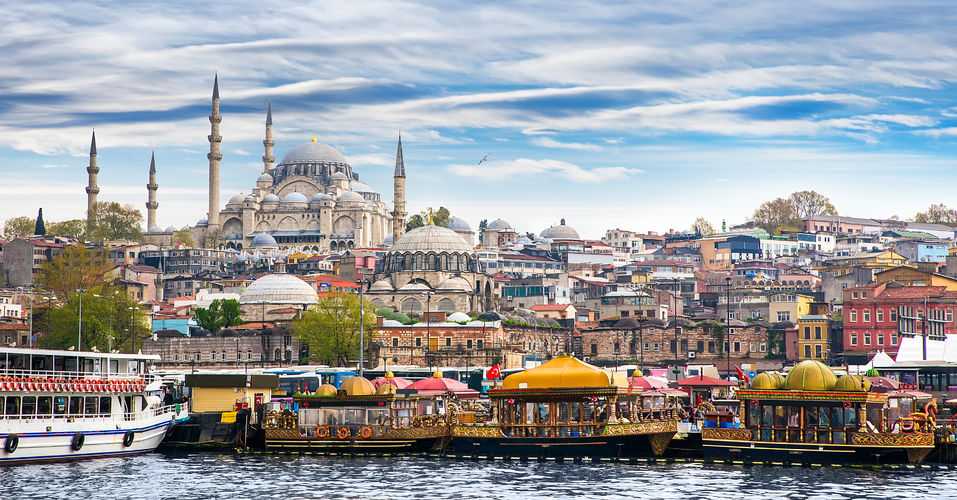 Black Sea. Arriving in Istanbul on board a ship will be an unforgettable experience. The Bosphorus, dividing Europe and Asia, welcomes passengers with ocean breezes, soaring seagulls and—if we're lucky—playful dolphins that frolic en route to the port. On deck is where the views of Istanbul's best attractions await. The shores of Asia to the east, the first Bosphorus Bridge to the north, and the "old Istanbul" peninsula in the south—home to Topkapı Palace and Hagia Sophia—give a glimpse of what's to come on your visit. Once you step ashore in Istanbul, you'll find the most interesting parts of the city—neighborhoods with personalities of their own. You'll be able to explore the sights of bohemian Beyoğlu: a contemporary district brimming with galleries and street art, back street bars, cafés, and fashion outlets that line the busy shopping avenue—Istiklal Caddesi. Meanwhile, across the Golden Horn, there is Zeyrek's ancient timber houses that made it a designated UNESCO World Heritage Site in which people live a traditional way of life. Then there's Sultanahmet where travelers sightsee and explore palaces, temples, and mosques that once defined the power of the Roman, Byzantine, and Ottoman empires.
Meals included: All (when aboard ship)
Day 8. Tuesday, October 12. Mykonos, Greece.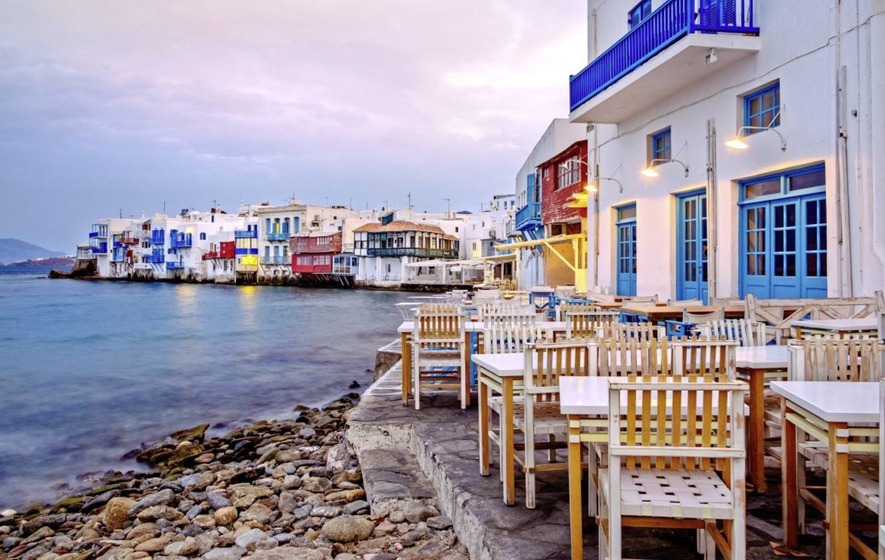 We will arrive at noon and depart at 6 p.m. Mykonos is one of the most visited of Greece's Cyclades Islands and is known for being a lure for the rich and beautiful. Although a mystique of money and high-living still lingers around the island, there's lots to see, do, taste, and buy in Mykonos. But there's also the simple beauty of Greek windmills, whitewashed houses clinging to the hills, and charming tavernas with terraces open to the sky and the sea air.
Meals included: All (when aboard ship)
Day 9. Wednesday, October 13. Rhodes, Greece.
The ship arrives at 8 a.m. and departs at 6 p.m. Rhodes, the largest of the Dodecanese (the name translates as "twelve islands"), draws more visitors than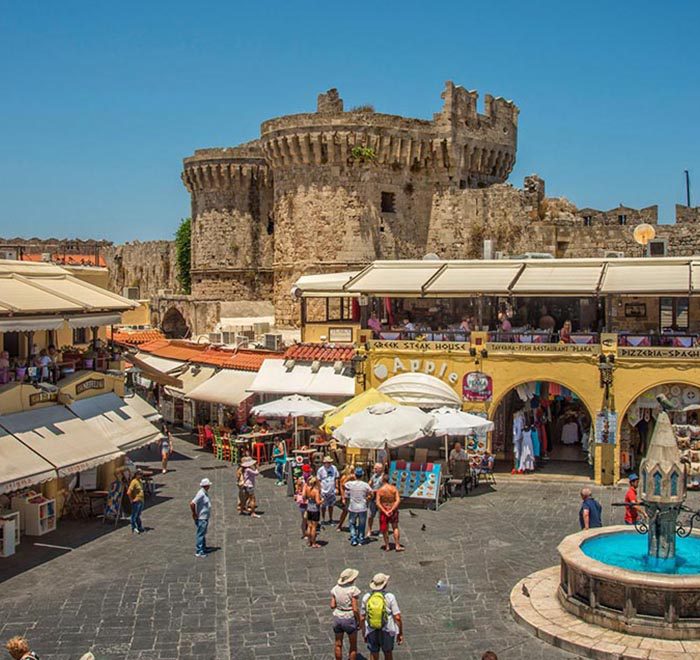 most other Greek islands. Its capital, Rhodes Town, offers an enduring blend of history and architecture, and the island's interior is filled with lushly forested hills. To the south, Lindos, one of the most stunning villages in all of Greece, is watched over by a picture-perfect ancient ruin on the hill above.
Meals included: All (when aboard ship)
Day 10. Thursday, October 14. Port of Souda (Chania) Greece.
The ship will arrive at the port of Souda at 8 a.m.; depart at 5 p.m. The port is on the Aegean Sea and is home to a Greek and NATO naval base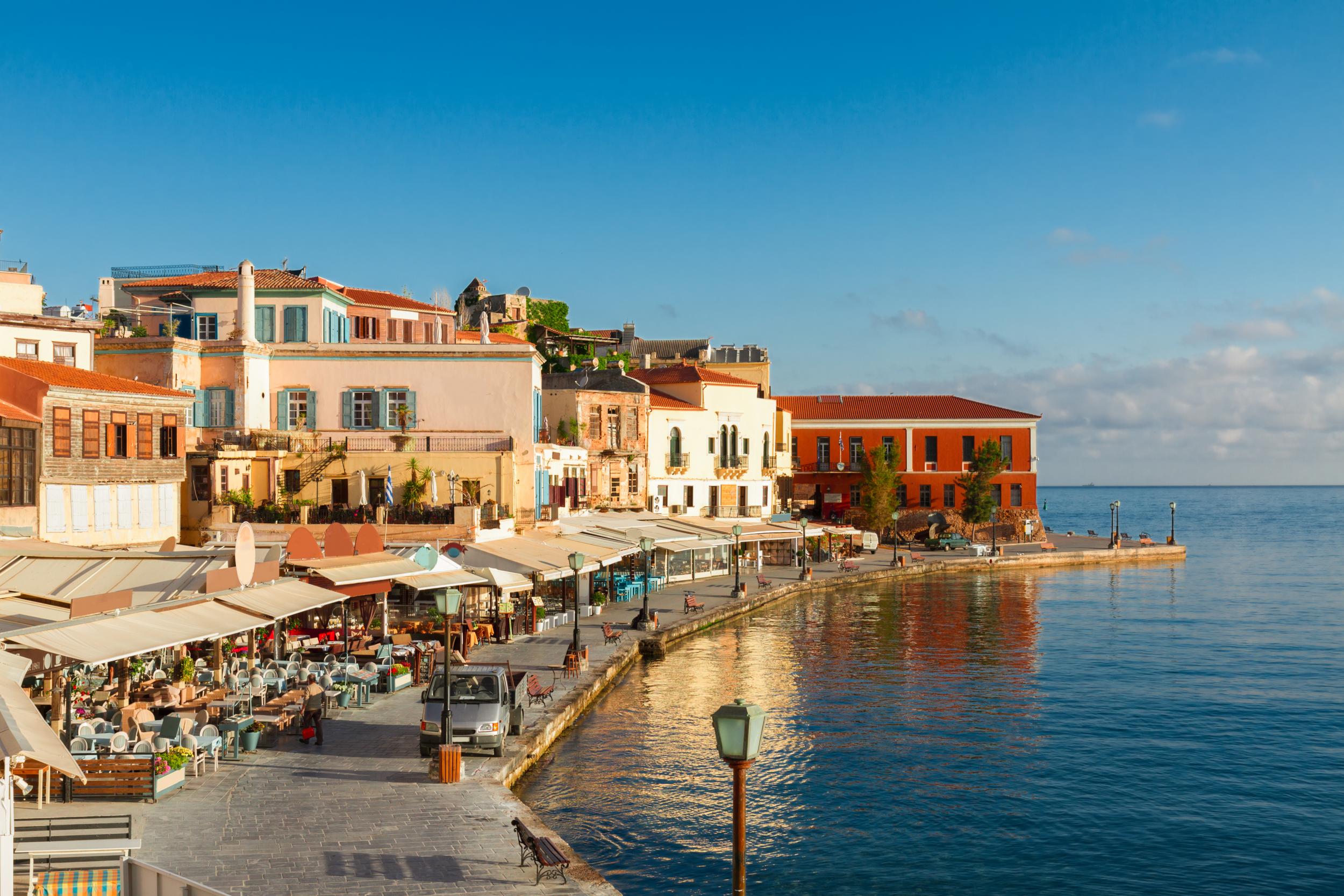 located three miles from Chania—the second-largest city on Crete, which itself is the largest of the Greek Islands. Once you're in Chania, you can visit the historic waterfront with its famous Venetian Harbor dating to the 14th century; or you can walk along the breakwater to the restored 500-year-old lighthouse. The atmospheric tangle of streets that is Old Town, is easily explored on foot and you can stop at one of the many outdoor cafés for a bouyatsa (custard pastry) or a glass of Cretan red wine. Soúda can also be a jumping-off point for a visit to Rethymnon, located about 33 miles to the east. Shaped by centuries of invasion, namely by the Venetians and Turks, its Fortezza was built by the Venetians in the late 16th century and captured by the Ottomans in 1646. The Old Town has the same kind of architectural character as Chania, but on a smaller scale.
Meals included: All (when aboard ship)
Day 11. Friday, October 15. At Sea & Workshop.
Today will be our final workshop. We'll meet up in our classroom at 10 a.m. and work until 5 p.m. with a break for lunch.
Meals included: All
Day 12. Saturday, October 16. Korcula, Croatia.
We will arrive at 8 a.m. and depart at 4 p.m. Korcula is Croatia's sixth-largest island and is covered in pine trees, olive groves, and vineyards.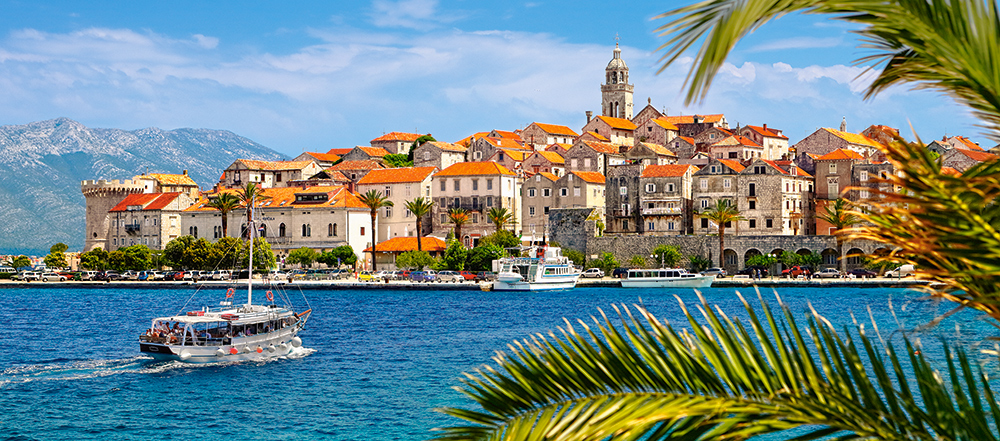 Korčula Old Town is the island's treasured highlight and a UNESCO World Heritage Site candidate. Its stone architecture and historic ambiance reflect almost four centuries of Venetian rule, with towered gates, lion statues, magnificent palazzos, and elaborate stonework peppering the charming streets. Venturing out of the Old Town, you will encounter historic villages, picturesque bays, waterfront promenades, and welcoming locals.
Meals included: All (when aboard ship)
Days 13 & 14. Sunday & Monday, October 17 & 18. Venice.


The ship will return to Venice at 10 a.m.; we'll then overnight on the ship. You'll have the day and evening to enjoy this incredible city. On Monday morning you will disembark the ship for your return home or other further adventures you have planned! Ground transportation from the ship to the airport is included.
Meals included: All (when aboard ship on Sunday); Breakfast (on Monday)
Optional: Pre-Cruise extension
Beadventures has another group that will have been exploring Tuscany for the last few weeks. With this optional pre-excursion week, you'll spend an additional week in Italy and travel to Arezzo and Venice, where the "regular" Beadventure gets underway.
Day Pre-1. Wednesday, September 29. Arrive in Florence.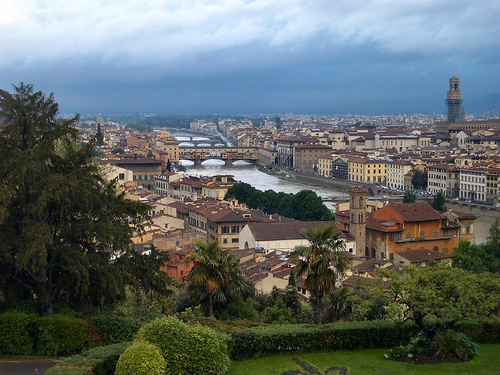 Today you'll arrive at the Florence airport (airport code FLR). Depending on your flight arrival time, the day will be yours to relax after your long flight or to visit the city of Florence. Because people will be arriving at different times, we'll gather in the early evening for an informal welcome and have dinner (on your own).
Day Pre-2. Thursday, September 30. Travel to Arezzo.
In the morning we will travel via private bus for Arezzo, one of the wealthiest cities in Tuscany, which often has been described as "Florence without the crowds." Our home will be a hotel near the historic city center, which is as beautiful as it appears in Roberto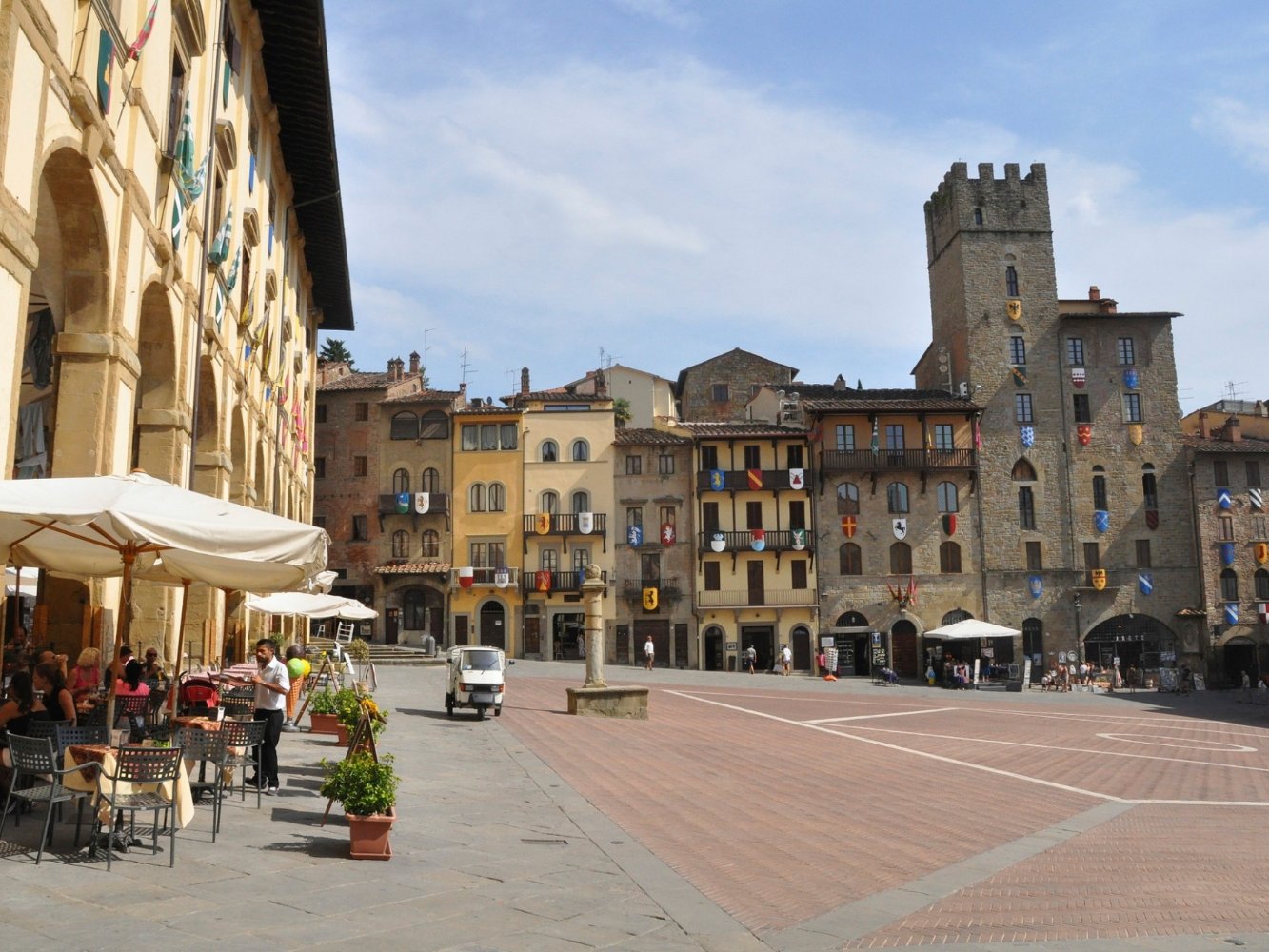 Benigni's classic film La vita è bella ("Life is Beautiful"). After getting settled in our rooms, we will meet for an introduction to Arezzo and dinner.
Meals included: All
Day Pre-3. Friday, October 1. Explore Arezzo.
In the morning we will meet our guide for a tour of Arezzo and learn about its historical highlights. After the tour, you will be free to explore the city on your own.
Meals included: Breakfast
Day Pre-4. Saturday, October 2. Arezzo Antique Market.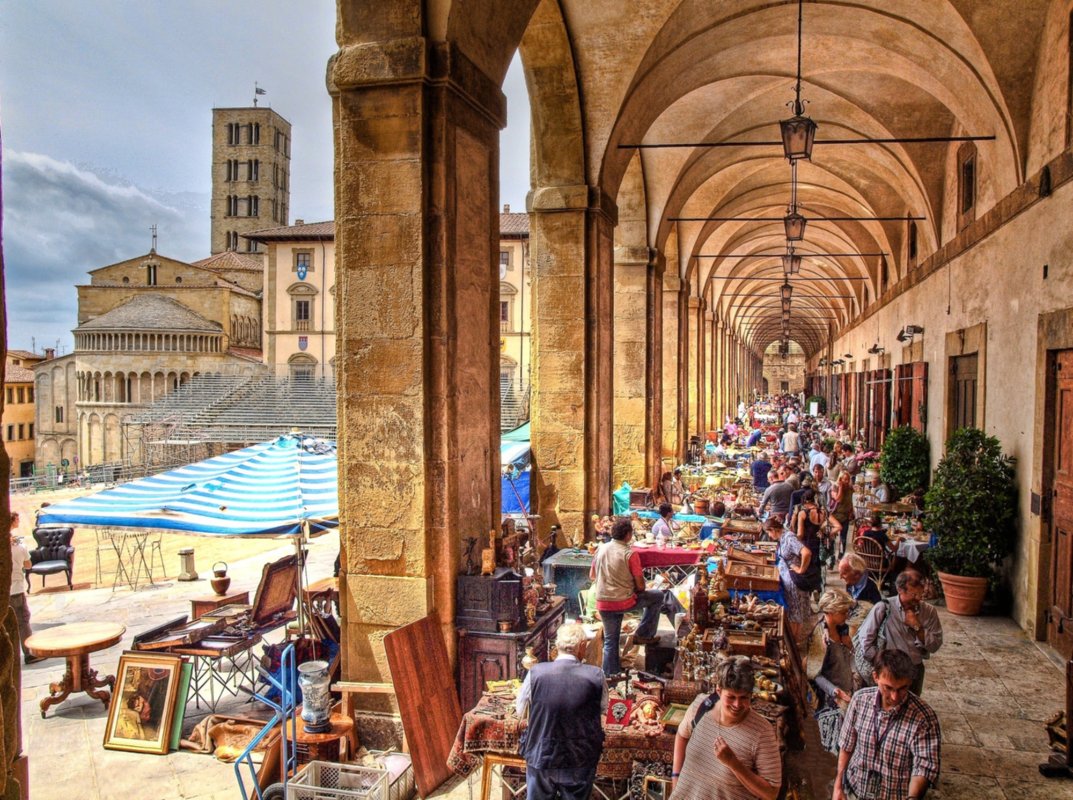 The market is one of the largest in Italy and as a result of our workshop with Monica, it especially will be fun to search for items to be used in our work! You'll be able to stroll the streets for antique, vintage, and modern items among the 500 exhibitors and about 100 little shops. The fair takes advantage of the extraordinary scenery of Piazza San Francesco, Piazza Grande, and the Logge del Vasari, but the stalls spread over the side alleys and squares across the historic center, transforming the character of the city for the two days of the Antique Market. In the evening we will meet up for our farewell dinner—and talk about our great finds!
Meals included: Breakfast, dinner
Day Pre-5. Sunday, October 3. Free day!
Today you'll be free to further explore Arezzo--or you can return to the Market!
Meals included: All on your own
Day Pre-6. Monday, October 4. Travel to Venice.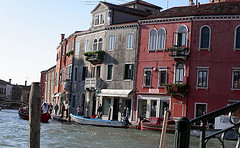 Today we'll travel by private bus to Venice. After arrival we'll take a water taxi to our hotel on the island of Murano. The afternoon will be free time to explore the island and enjoy a visit to its many shops filled with beautiful glass--and beads!
Meals included: Breakfast, dinner
Day Pre-7. Tuesday, October 5. Venice.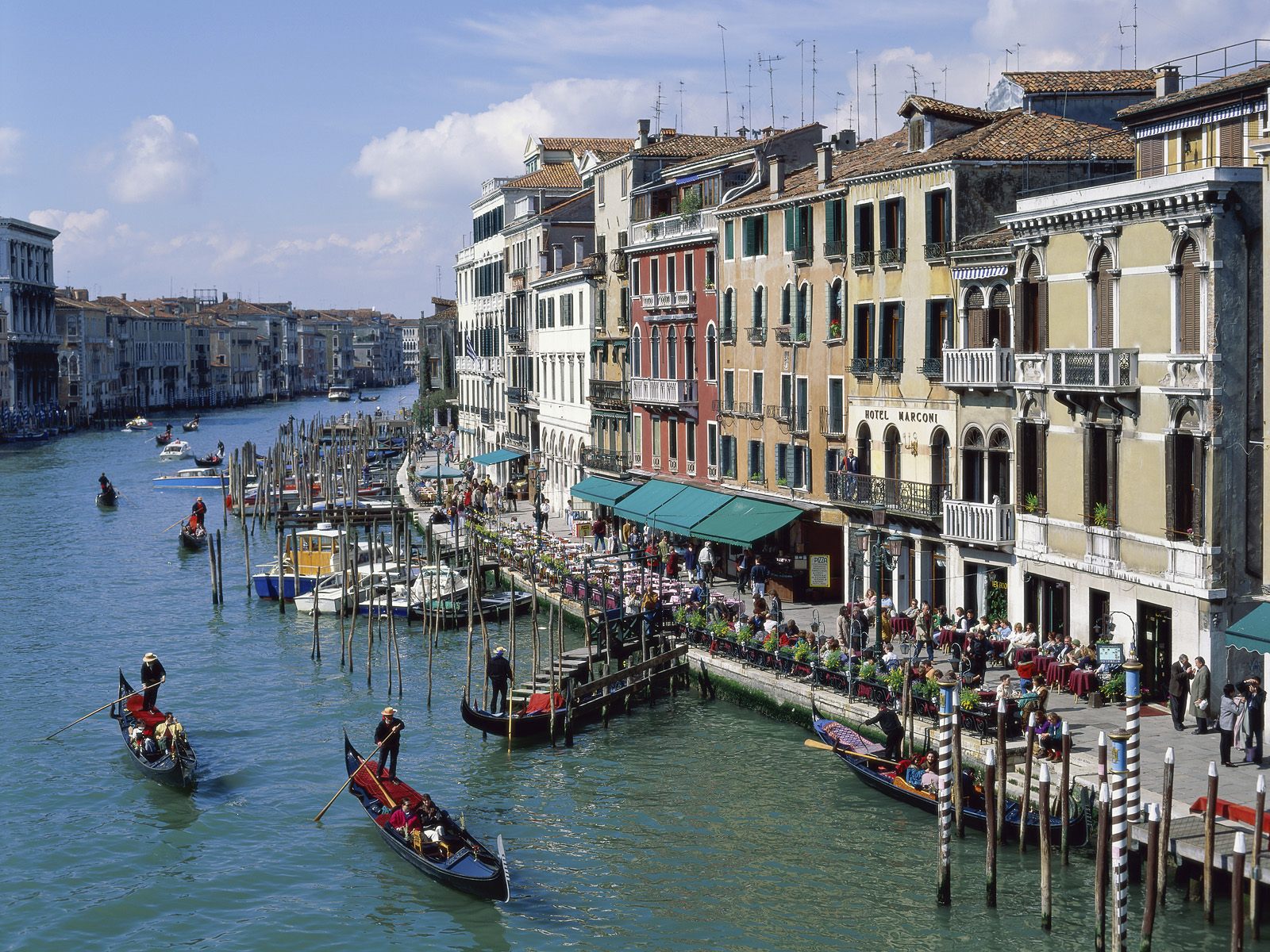 In the morning we'll travel by Vaparetto (Venice's version of a "bus") to Venice where our private guide will give us a tour of this fascinating city. We're also working to squeeze in a private workshop on a very-Venetian project--stay tuned for details! Those chose to not go on this optional Beadventure pre-excursion will be arriving in Venice and will join us for dinner.
Meals included: Breakfast, dinner
Day Pre-8. Wednesday, October 6. Set sail on the Mediterranean Beadventure!
Today the "regular" Beadventure will be underway fully underway as board our ship and set sail!
About Jean's Project . . . "Jalusta"
In this class you will learn all you need to know about creating sparkling beadwork which has its own adorned stand to store and display it on!

During the class you'll learn the basics of the geometric and unique crystal beading techniques that Jean has developed so that you can mix-and-match to create the exact piece you desire.

With a variety of different base and pendant options you'll have the opportunity to combine the elements you prefer and be confident in designing others.

This is an advanced class in which you must be comfortable with peyote stitch.
About Your Teacher . . . Jean Power
Jean is an award-winning jewelry designer, writer, and teacher based in London, England. She first began making jewelry in 2001, having already spent many years painting as well as exploring different aspects of fiber and textile arts. While she continues some of these interests, beading is her main love and she tries to use them in conjunction with her other interests.

When not teaching Jean loves working on new designs and has a range of instructions available on her website and her Etsy shop. In addition to many projects and articles published worldwide, Jean is the author of eight books on beading and jewelry making (books 9 and 10 currently are in progress) and was the editor of a beading magazine for four years. Find out more about Jean and her work by clicking here and her fabulous books.
Trip Cost
"Regular" Beadventure - $4,165 for a shared hotel room in Venice and shared inside ship cabin (Category MM); cabin can be upgraded at additional cost.
Single supplement: Additional $100 for Murano hotel and additional $2,199 for ship cabin (each based on availability).
Optional "Pre-Cruise" Extension to Arezzo - $1,350 for a shared hotel room; single supplement additional $500.
Non-beader discount: $150.00

Beadventure cost includes:
One night pre-cruise hotel stay in Venice
12-day cruise aboard Holland America's Westerdam
All meals aboard the ship
Transportation to the ship in Venice
Transportation from the ship in Venice to the airport
Tuition for workshop with Jean Power
Beadventure Cost Does Not Include:
Airfare to and from Venice Italy
Meals the one day in Venice
Trip insurance (highly recommended)
Shore excursions
Supplies for Jean's workshop
Optional Extension Cost Includes:
Six nights lodging
About 75% of meals
Professional guide tour leaders in Arezzo and Venice
Private ground transportation from Florence to Arezzo to Venice
Vaparetto pass for Venice
Water taxi from Venice airport to Murano hotel
Optional Extension Cost Does Not Include:
To Sign Up & Payment Terms
To guarantee your spot on this trip, send in a $1,000 deposit and completed registration form. Balance will be due 120 days prior to start of Beadventure (see Conditions & Responsibilities for more information, including cancellation policy).
Trip Notes
Passport
Check your passport expiration date to make certain it is valid for at least six months beyond the dates of this trip.
Shore Excursions
Each of the ports of call during the cruise have optional shore excursions. You will be able to sign up through Holland America once your cabin is booked; you also can check out other options via websites such as Viator or Trip Advisor.
About Cruising on a Beadventure
During the cruise (especially at-sea days) you are welcome to arrange your own activities (such as spa appointments) or hang out with the group beading, knitting, reading, or visiting. We will have a group dinner reservation together every night—but you also can enjoy in-room dining or have dinner at one of the specialty restaurants on the ship. We're flexible—you can have as much together time/or on-your-own time as you prefer.
Bead Workshop Gear
Remember to bring your customary bead supplies (beading mat, needles, thread, scissors, magnification). If you need a task light, it must be battery-powered because we will not have electric cords available. Your best option is to have a rechargeable power source for your light (so you don't have to pack lots and lots and lots of extra batteries!).
Trip Insurance
To protect the investment you are making in your planned travel, you are required to provide Beadventures with confirmation that you have purchased trip insurance when you send in your final payment.