About Classes & Refunds


Classroom Location
All classes are held at the Pioneer School House, the large yellow/gold building located at 437 E 3rd Avenue (near Third and Eagle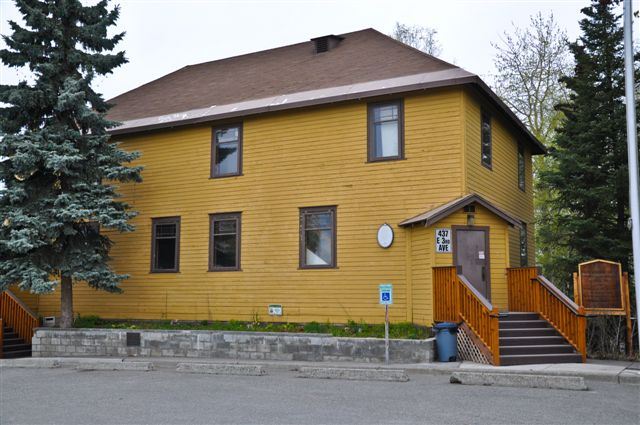 Street downtown). The classroom is in the back of the building (at "park level"). Entrance to the classroom is on the northeast side of the building (go to the right side of the wooden stairs in the front of the building, follow the stairs down, door to the classroom will be on the left). If you need a ramp, take the sidewalk at the other end of the building, follow the path around the back, to the same classroom door).

Click here for a map of the location.
Parking is available in the lot in front of the School House (along 3rd Avenue) or along the adjacent side street. Please don't park in the few spaces at the west end of the lot (signs are posted as to where NOT to park).

Class Materials List
A materials list for the class will be emailed to you after you have registered:
Required Kit: Some classes will have a required kit, which means the teacher will sell a kit for the class they are teaching, and you are required to purchase it. The cost of the required cost is in addition to the class registration fee and will be paid the day of the class.
Required Tools: This is a list of tools and related items that will be needed during the class. Please bring these with you.
Optional Supplies: These are items that may be of assistance to you in class based on personal preference, but are not required (i.e. magnification, task lighting, beading surface).
Items to be Shared: These are items that will be used during the class that Beadventures will make available. You do not need to bring these items.
We understand that some who have taken classes at Alaska Bead Company may have gotten used to having a bead store on-hand during class so you could easily get something you forgot or decided during class you wanted to go in a different direction. Given our new venue, it will be important to pay increased attention to the Materials List to make certain you have all materials you will need on-hand for successful work on your project.

Class Size
Class size is limited to what we feel will give you the maximum learning experience, therefore some classes may fill quickly. Children or adults who are not enrolled in a class should not be in the classroom without prior agreement from Beadventures.
A refrigerator is available should you want to store food or beverages.

Refund and Cancellation Policies
If Beadventures cancels a class, a full refund of your registration fee will be made.
Otherwise, registration fees are non-refundable. If you are unable to attend, you can substitute someone to take your place.