Cruise Southeast Asia with Cynthia Rutledge
January 15 - January 30, 2022
Singapore ~ Thailand ~ Cambodia ~ Vietnam ~ Hong Kong
Here's a fabulous way to see the beauty of southeast Asia and enjoy your passion for beading. And it won't be just any beading--during the trip you will have two days of workshop with international bead artist and reknown teacher Cynthia Rutledge. Cynthia will be designing a project inspired by our itinerary.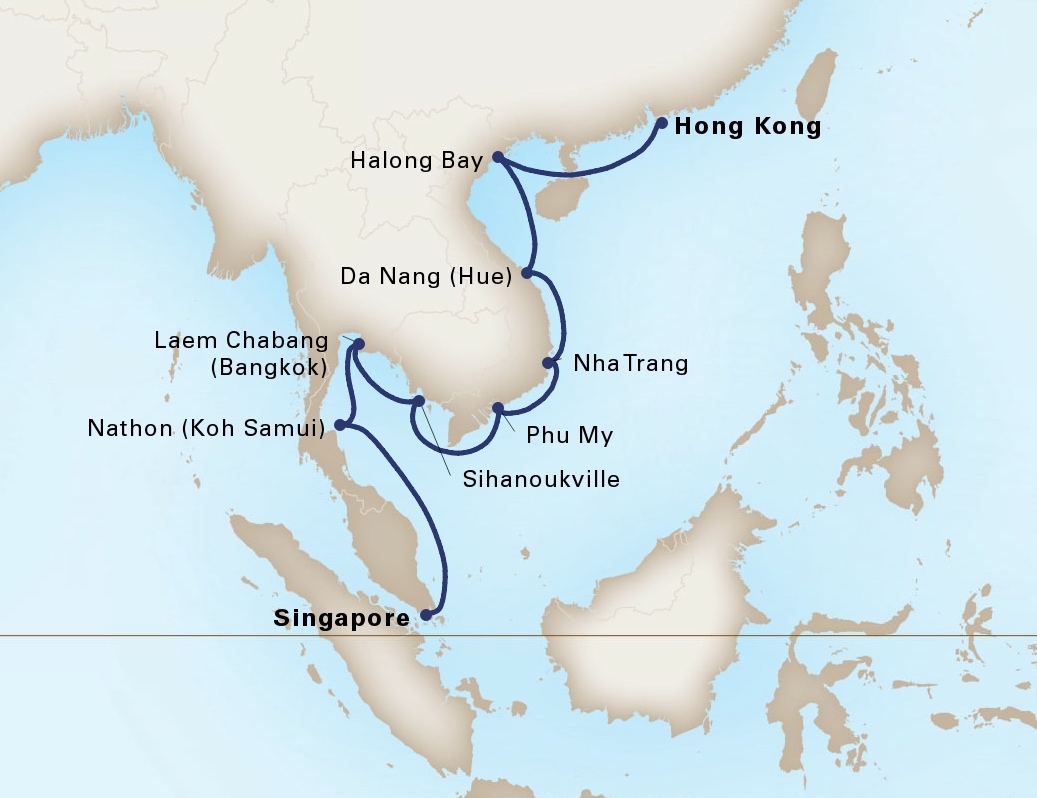 For our journey, you'll arrive in Singapore two days prior to setting sail, giving you an opportunity to explore this dynamic island. We'll then embark on a 14-day cruise that will take us to Thailand, Cambodia, and Vietnam where we'll each experience the history, culture, and beauty of this region and its people.
Itinerary
Day 1. Friday, January 15. Arrive in Singapore.
Today you'll arrive at the Singapore's Changi International (airport code SIN). Transportation from the airport to the hotel will have been arranged. Because of different arrival times, the day will be yours to catch up on sleep, relax, and see some of the city. In early evening we'll gather for an optional dinner together.
Meals: Meals today are on your own
Day 2. Saturday, January 16. Experience Singapore.
Today will be a free day to visit this fascinating city. In the 20th century, the Southeast Asian nation hurtled itself into the modern world, and it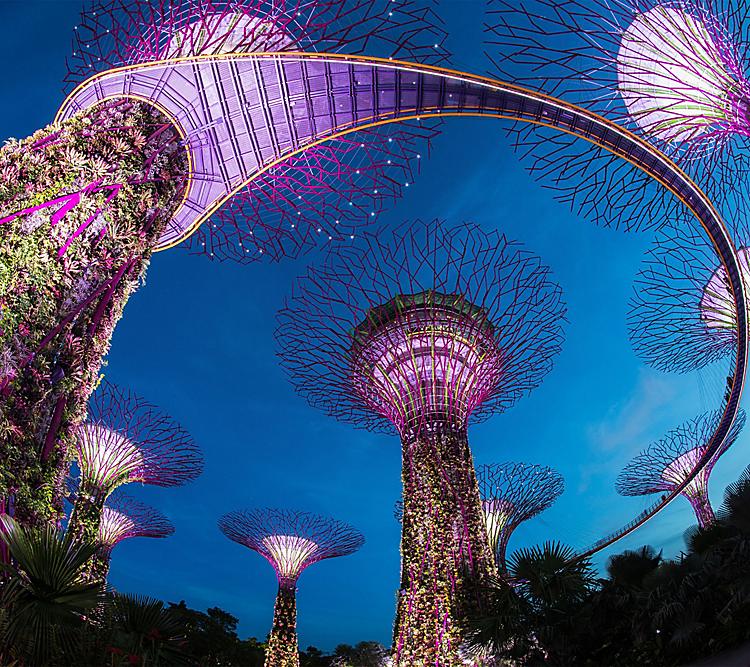 continues to expand its state-of-the-art transportation system and build its edgy skyline. Yet Singapore's urban plan wisely maintained its intimate neighborhoods, many with streets lined with colorful shophouses (a type of building unique to parts of Asia, with businesses located on their ground floors and residences above). Add the city's mix of ethnic groups—mainly Malays, Chinese and Indians—and you get a vibrant cultural scene that attracts a cosmopolitan, international community.
In addition to Singapore's food scene—which some say is arguably the world's most dynamic and runs the gamut from beloved street hawkers to Michelin-starred venues—there also are never-ending shopping options. But the city is also packed with world-class museums, many designed by celebrated architects, and has many parks and open spaces, such as the Bukit Timah Nature Reserve, where an old-growth forest still thrives.
In the evening we'll gather for a welcome dinner (included); you'll be on your own for breakfast and lunch.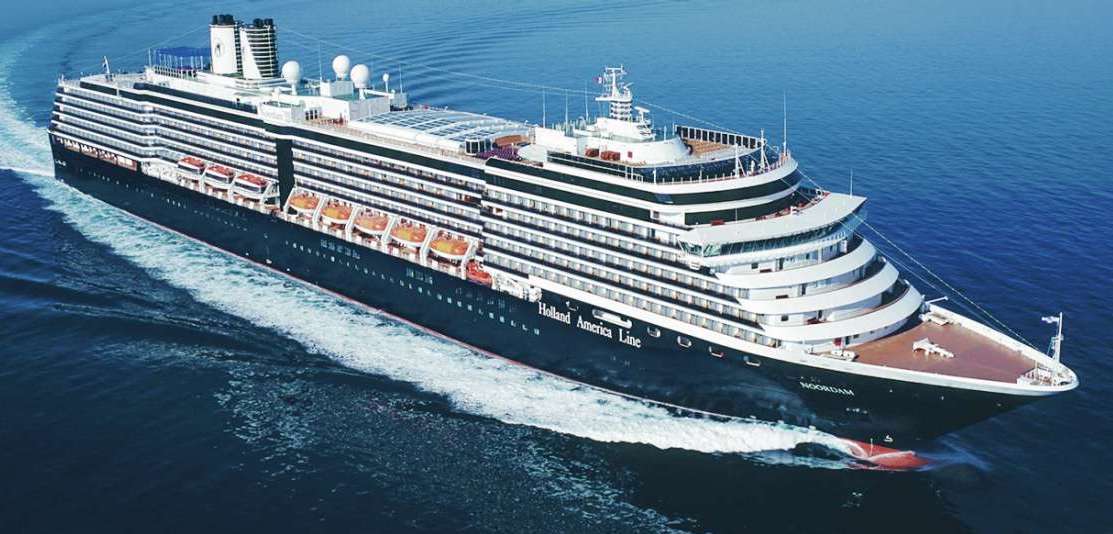 Day 3. Sunday, January 17. Cruise Gets Underway!
Our ship, the Noordam, will set sail at 05:00 PM. We'll be transported from the hotel in late morning/early afternoon to the cruise ship terminal, located about two miles from downtown. Prior to departure, you'll have a bit of free time for last minute exploration. Once on board you'll have some time to get settled in your cabin, explore the ship. At 5 p.m. we'll informally gather on the deck for the ship's send-off as our two-week adventure gets underway.
Meals included: lunch, dinner aboard ship
Day 4. Monday, January 18. At Sea. Workshop with Cynthia.
Today we'll have our first workshop with Cynthia on a project she will be designing that is inspired by this trip. Stay tuned for details!
All meals included
Day 5. Tuesday, January 19. Nathon (Koh Samui), Thailand.


Today the ship will arrive in port at 7 a.m. and depart at 3 p.m.
Some say Koh Samui feels like a screensaver landscape. As if designed by Mother Nature for posters, calendars, and daydreams, it's Thailand's most famous island for a number of reasons. The beach-fringed coast is edged with vivid, blue water that's a surf-and-sand playground for snorkeling, scuba diving, kayaking, building sandcastles, and simply lounging. Along with busy food stalls and restaurants where you can find a whole world of cuisine made with local produce and fresh seafood as well as authentic Thai dishes, the lively streets are lined with bars, boutiques, markets, and spas. By contrast, the island's interior can provide moments of reflection and replenishing solitude. Enter the dense, hilly jungles for hikes to ancient temples and pristine waterfalls and quaint villages where you can experience true Thai hospitality.
Meals included: All, if aboard ship
Day 6 & 7. Wednesday & Thursday January 20 & 21. Bangkok, Thailand.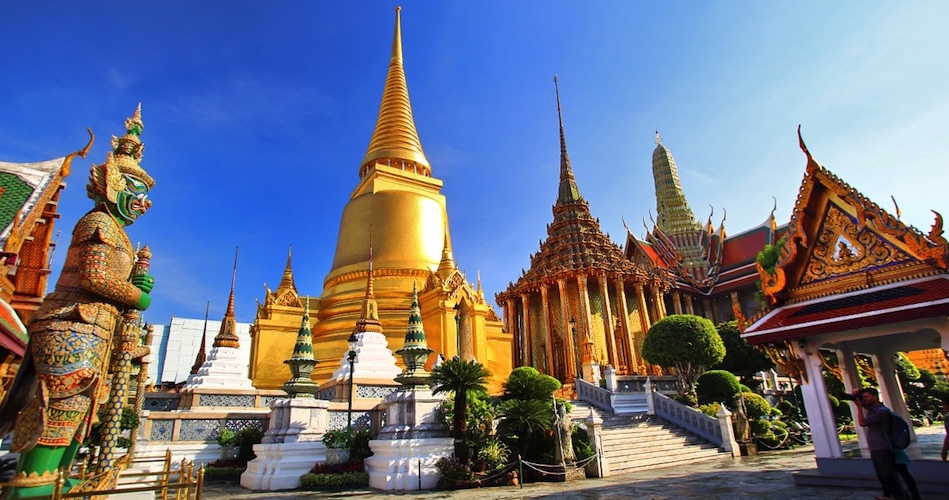 The ship will arrive a 7 a.m. at the Laem Chabang city port; we'll overnight and depart at 3 p.m. the next day.
Thailand, known as Siam until 1932, is the only country in Southeast Asia (and one of the few in the world) never to have been colonized by a European power. Its capital, Bangkok, reflects the country's unique status. It has embraced modernity on its own terms as the seat of a beloved monarchy that dates back to the 13th century. In this city, Buddhist temples and gilded palaces coexist with the bustle of one of Asia's major metropolises. And wherever you explore, they say you'll be struck by the warm welcome you receive.
Many of the country's most important historic areas can be found not far from Bangkok. Ayutthaya, the former Thai capital, is a UNESCO World Heritage Site with impressive Buddhist ruins. The 16th-century town of Chachoengsao is known for its many temples, including Wat Saman Rattanaram with its 72-foot-long statue of the Hindu god Ganesha. In Pattaya, on the coast, the Pattaya Elephant Village is a sanctuary for Asian elephants.
Meals included: All, if aboard ship
Day 8. Friday, January 22. Sihanoukville, Cambodia.
Ship arrives at 8 a.m.; departs 9 p.m.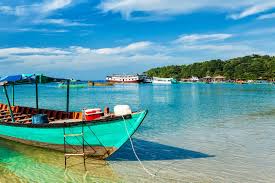 Cambodia's certainly most famous for the temples of Angkor, but travelers seeking to wander farther are flocking to the small-yet-bustling coastal town of Sihanoukville. Renamed in 1964 for King Norodom Sihanouk, this provincial port is home to some of the nation's most stunning coastline and a downtown that's a blend of local businesses and a lively expat scene centered on Serendipity Road.
Often described as the Thailand of 20 years ago, this region is less touristy but still able to meet your expectations for a perfect beach getaway. In Sihanoukville, you can take a guided snorkeling trip, kayak through mangrove forests, hike through a national park, or horseback ride on the beach. If you're looking for less action can spend time exploring the local temples or shopping near the beach. Angkor's certainly amazing, but Sihanoukville might just be Cambodia's most perfect, still-secret stop.
Meals included: All, if aboard the ship
Day 9. Saturday, January 23. At Sea. Workshop with Cynthia.
We will continue our workshop.
Day 10. Sunday, January 24. Ho Chi Minh City, Vietnam.


Ship arrives 6 a.m. at the port of Phu; departs 6 p.m.
The real draw of this port is 50 miles away—the bustling, frenetic Ho Chi Minh City. Here, motorbikes hurtle down the wide streets and crossing the road is like a real-life game of Frogger. Its hectic pace is somewhat tempered by tranquil parks, peaceful pagodas and timeless alleyways.
Formerly known as Saigon, Ho Chi Minh City is a fascinating mix of high and low, old and new. On its streets, French-colonial architecture vies for attention with glistening modern skyscrapers; sleek designer malls sit alongside bustling local markets; and glamorous fine-dining restaurants are just around the corner from street-food stalls.
Meals included: All, aboard the ship
Day 11. Monday, January 25. Nha Trang, Vietnam.
Ship arrives at 9 a.m.; departs at 6 p.m.


In Nha Trang, on the southern Vietnamese coast, you'll find a magical combination of historic sites along with a stunning beach. And while warm, clear waters and a white-sand beach dotted with restaurants and bars may be enough, the city has worthy historic sites that make it more than just a beach town.
Exploring Nha Trang beyond its beach brings you a better understanding of not only the city's history but also that of Vietnam as a whole, from long before the nation was formed through its colonial period. You'll be able to work your way forward from Buddhist temples like the 7th- to 12th-century Po Nagar Cham Towers and the late-19th-century Long Son Pagoda, to the city's early-20th-century French Gothic–style cathedral.
Meals included: All, aboard the ship
Day 12 & 13. Wednesday & Thursday. January 27 & 28. Da Nang (Hue), Vietnam.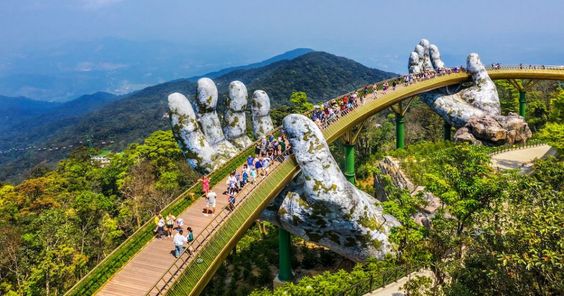 Ship arrives at 7 a.m.; departs at 11:59 p.m.
Located halfway between Hanoi and Ho Chi Minh City, the port city of Da Nang has a small-town charm despite its lack of big-ticket attractions. It is home to a stunning 18-mile coastline that is popular for water sports such as waterskiing, paddle boarding, and surfing. It's also known for great street food—and an extremely quirky bridge that you can't miss. The place was previously occupied by both the French and the Americans (this was the first place U.S. Marines landed in March 1965), and vestiges of both can be seen in the city, from the remnants of the vast U.S. air base and hospital to the city's wide boulevards and old villas.
Da Nang is a great launchpad for day trips available as shore excursions—whether to the picturesque city of Hoi An to the south, the old imperial capital of Hue to the north, or the majestic Marble Mountains to the southwest. The UNESCO-protected Champa temple complex, My Son, which lies 43 miles southeast, is another possible trip or you can tour some of the ruins that are at Da Nang's excellent Museum of Cham Sculpture, where you can learn all about the history and architecture of this fascinating culture.
Meals included: All, aboard the ship.
Day 14. Thursday, January 29. Halong Bay, Vietnam.


Ship arrives at 8 a.m.; departs at 9 p.m.
Like a combination of Thailand's famous limestone islanded Phang Nga Bay and old Hong Kong's harbor with its dragon-sailed junks, Vietnam's Halong Bay is fast making its way to the top of everyone's Asian must-see travel list. The bay and its almost two thousand islands were declared a UNESCO World Heritage Site in 1994 giving an official stamp of recognition to this natural wonder that has captivated painters and poets for centuries. Halong City has several markets and restaurants worth visiting.
Meals included: All, aboard ship
Day 15. Friday, January 30. At Sea. Relax!
Today is a free day to relax, get a facial or massage, bead—and/or do whatever you would like!
Meals included: All
Day 16. Sunday, January 31. Hong Kong, China. Disembark.


Ship arrives at 7 a.m.
All good things come to an end, eventually, which means this morning marks the end of our Beadventure. Transportation to the airport will have been arranged.
Meals included: Breakfast
Workshop Project . . .
Cynthia will be designing a project inspired by this Beadventure. Check back for details!
About our Teacher . . . Cynthia Rutledge
Cynthia is a contemporary artist and teacher focusing on beadwork as her medium. She specializes in peyote stitch and off-loom weaving techniques with an emphasis on developing sculptural unsupported shapes in beadwork. Her work has been exhibited in national and international shows and has appeared in Nicolette Stessin's Beaded Amulet Purses, Carol Taylor's Creative Bead Jewelry, and Carol Wilcox Wells' Creative Bead Weaving: A Contemporary Guide to Classic Off-Loom Stitches.

Cynthia writes:
"My attraction to 3-dimensional shapes has created a fascination for me throughout my life and has fueled my creative spirit. My choice of beadwork as a primary medium has followed that same fascination. As my beadwork has evolved, my work seems to always lean towards the building of shapes and forms that are functional and wearable.

The choice to use beads as my medium was primarily influenced by my love of color. Beads reflect and absorb light, hold shape and dimension, and in so doing, offer chameleon-like qualities. It is not always the end result that is the most important to me, however. The process of working with beads and thread is meditative and calming, which allows time for reflection. Engineering each piece is always a challenge that thrills me, as well as giving me the power to make the decisions that need to be made for each piece. The more I experience the wonderful qualities of beadwork, the more I realize my relationship with beads will always be one of learning, experiencing and sharing.

The decision to teach grew from my personal desire to share my love of beads and all the wonderful things that can be created with them. The commitment that I have to teaching stems from my desire to share the knowledge I have gained while developing my own skills in this medium. Ultimately, my mission is to help to keep this art form alive and well."

In early 2016 Cynthia released her first book "Timeless Beadwork Designs," a compilation of 15 gorgeous projects that reflect the beauty with which Cynthia approaches her designs and the generosity with which she teaches. Learn more about Cynthia at her webpage.
Trip Cost
$4,645 for a shared hotel in Singapore and shared inside ship cabin (Category MM). Cabin can be upgraded at an additional cost, starting at $200 for an ocean view; $700 for a cabin with verandah. Actual cost will depend on cabin's location on the ship.
Single supplement: Additional $850 for Singapore hotel and additional $1,600 for interior ship cabin.
Non-beader discount: $150.00

Cost includes:
Two night pre-cruise hotel stay in Singapore
14-day cruise aboard Holland America's Noordam
All meals aboard the ship
Transportation to the ship in Singapore
Transportation from the ship in Hong Kong to the airport
Tuition for workshop with Cynthia Rutledge
Cost Does Not Include:
Airfare to Singapore and from Hong Kong
Meals, as noted, in Singapore
Internet access on-board (plans can be purchased)
Trip insurance (highly recommended)
Shore excursions
Supplies for Cynthia's workshop
To Sign Up & Payment Terms
To guarantee your spot on this trip, send in a $1,000 deposit and completed registration form (click here for new on-line registration form). Balance will be due 120 days prior to start of Beadventure (see Conditions & Responsibilities for more information).
Trip Notes
Passport
Check your passport expiration date to make certain it is valid for at least six months beyond the dates of this trip.
Shore Excursions
Each of the ports of call during the cruise will have optional shore excursions. You will be able to sign up through Holland America once a cabin is booked; you also can check out other options via websites such as Viator or Trip Advisor.
Meals
All meals are included when you're on the ship. If a shore excursion doesn't include a meal, then you will be on your own to cover the cost of a lunch or dinner (but most shore excursions include a meal if it covers the noon or evening hours).
About Cruising on a Beadventure
During the cruise you are on your own to arrange shore excursions that meet your interests or you can remain on-board the ship. While on the ship, the group often hangs out informally and beads, knits, reads, or visits. We will have a group dinner reservation together—but you also can enjoy in-room dining or have dinner at one of the specialty restaurants on the ship. We're flexible—you can have as much together time/or on-your-own time as you prefer.
Bead Workshop Gear
Remember to bring your customary bead supplies (beading mat, needles, thread, scissors, magnification). If you need a task light, it must be battery-powered because we will not have electric cords available. Your best option is to have a rechargeable power source for your light (so you don't have to pack lots and lots and lots of extra batteries!).
Trip Insurance
To protect the investment you are making in your planned travel, you are required to provide Beadventures with confirmation that you have purchased trip insurance when you send in your final payment.