Cruise the Magic of Iceland with Laura McCabe!
Planned for 2022
Amsterdam The Netherlands ~ Edinburgh Scotland ~ Iceland: Djupivogur, Akureyri, Isafjordur, Reykjavik, and Heimaey ~ Lerwick Shetland Islands
Special Note: Holland America sold the ship on which our 2021 cruise would have taken us around Iceland; as a result, HAL cancelled the sailing. We are looking to reschedule in 2022, so if you are interested in joining us, just let us know by sending an email!

In the 1990s Laura visited Iceland on a Beadventure. When she recently was in Alaska to teach, I asked her where "in the world" would she most like to travel on a Beadventure. Her reply--"Iceland." She described it as one of the most magical places she has ever visited. This conversation gave birth to doing this Beadventure. During a cruise with Holland America, you'll visit five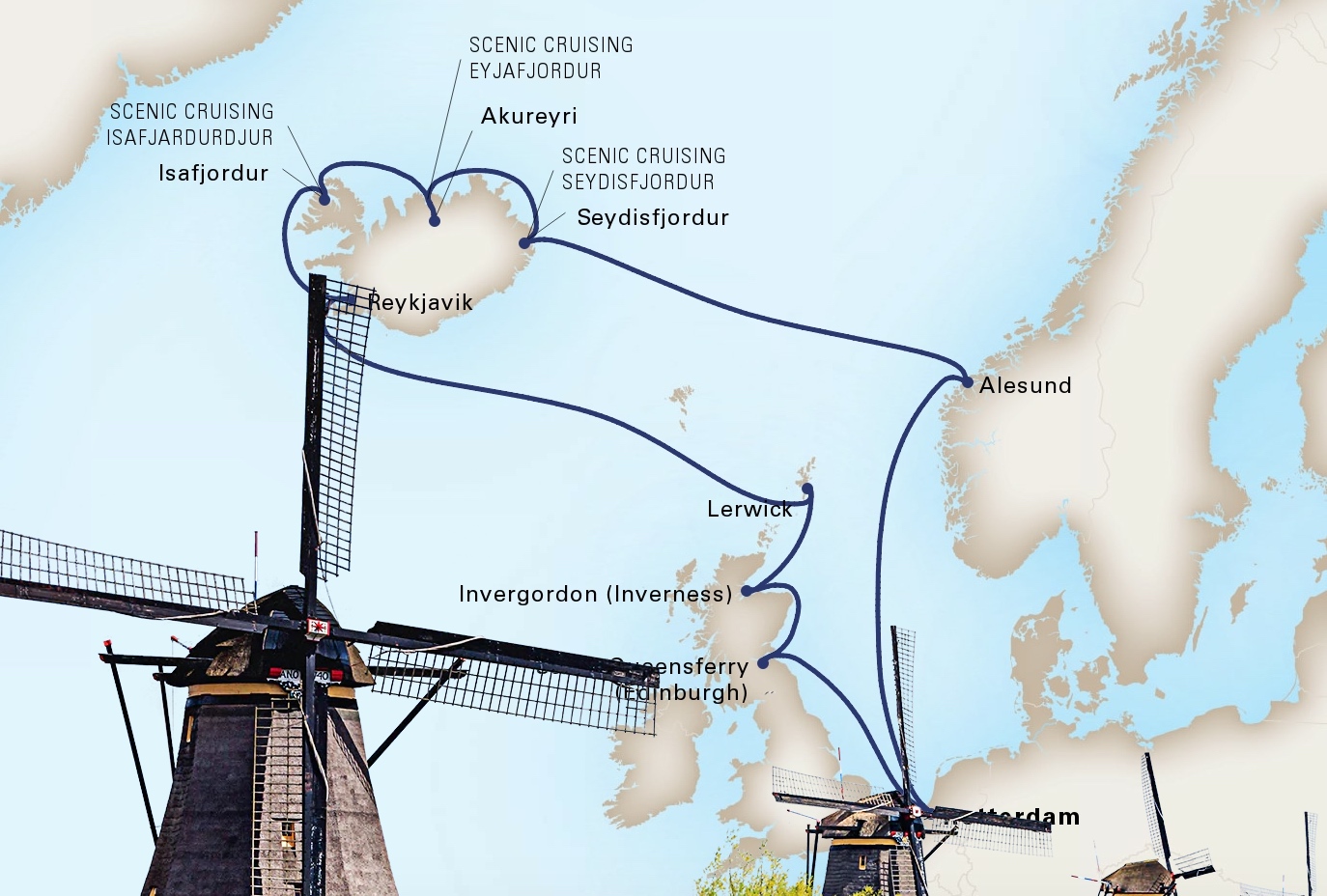 Icelandic cities and towns and cruise two fjords--all defined by dramatic landscapes of volcanoes, geysers, hot springs, lava fields, and massive glaciers. Most of the population lives in the capital, Reykjavik, which runs on geothermal power and is home to the National and Saga museums, that trace Iceland's Viking history. The cruise will start and end in Amsterdam--another dynamic and fascinating city; and along the way you'll visit Scotland and the Shetland Islands. During two of our days at sea, Laura will teach a workshop (Laura is designing a bead project inspired by her return to this incredible country); there are another two days at sea in which you an informally bead and/or relax.
The following itinerary is informational and based on the 2021 sailing that was cancelled.
Itinerary
Day 1. Arrive in Amsterdam.
Today you'll arrive in Amsterdam, The Netherlands (airport code AMS). The day will

be free so you can rest-up and/or venture out and tour this lovely city where there's lots to see and do. There is the historic city center and some of the world's top art museums, including the Rijksmuseum and the Van Gogh Museum. At Dam Square, Amsterdam's largest public square, you can tour the Royal Palace before continuing to the attractions on the Canal Belt. The iconic network of waterways that surrounds the downtown area offers a picturesque backdrop for sightseeing by bike or canal boat. You can visit the floating Bloemenmarkt to see famed Dutch tulips or wander and window-shop among the narrow lanes of de Jordaan.
Day 2. Set Sail!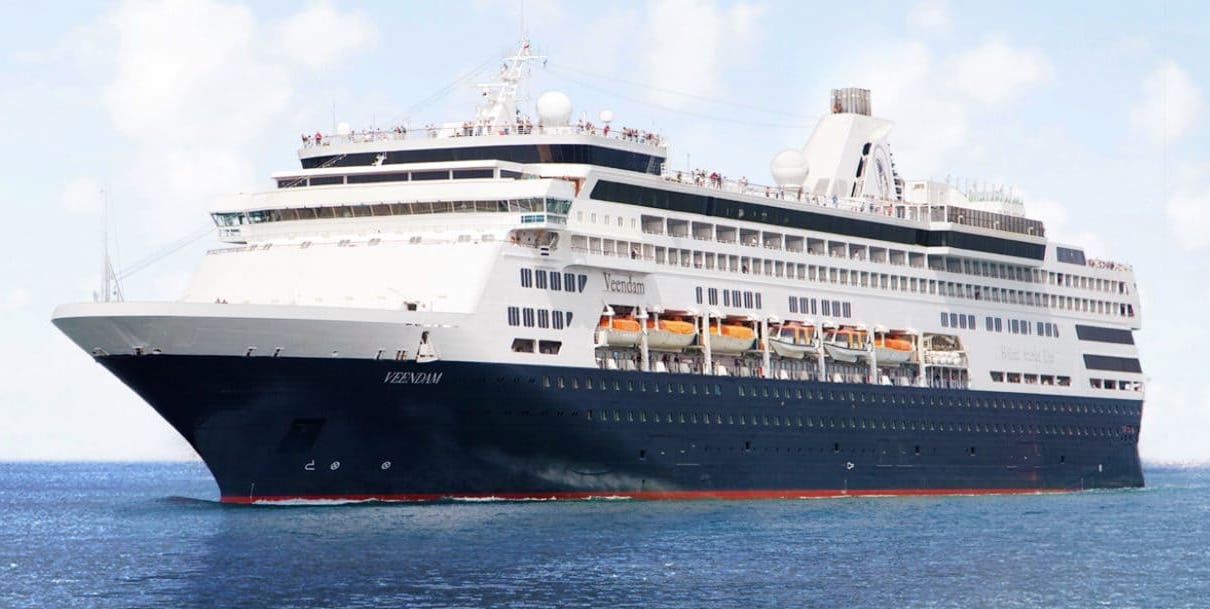 The morning will be yours to further explore Amsterdam. We'll be transported mid-day from our hotel to the ship by Holland America where we will board the Veendam. You'll have time to get settled in your cabin, have lunch and familiarize yourself with the ship. We'll meet up on deck for a send-off as the ship sets sail at 5 p.m.!
Day 3. At Sea & Workshop.
Today we'll be at sea, which means it's a perfect day to have our first project with Laura! We'll gather on the Lido Deck of the ship so that we not only can bead, but also enjoy the scenery!
Days 4 & 5. South Queensferry, (Edinburgh) Scotland
Arrive 8 a.m.; remain overnight; depart 1 a.m.
History was made in this port, just across the Firth of Forth from Rosyth, when the future Queen Margaret of Scotland arrived

around 1071. Her devout religious attitude established "Queen's Ferry" as the place for pilgrims from abroad to alight on their way to St. Andrews—Scotland's ecclesiastical capital in the Middle Ages. Margaret's legacy continues less than a dozen miles away at Edinburgh Castle. A key attraction up on the castle's rock is St. Margaret's Chapel, believed to be the oldest section of the fortifications and the place where she worshipped.
There's more to Scotland's capital than the Castle, though. Edinburgh proudly

displays multiple exhibits on national and international scientific achievement at the National Museum of Scotland, as well as some fantastic works of visual art at the National Galleries of Scotland. South Queensferry's moorings are also within easy striking distance of Scotland's largest metropolis: the city of Glasgow. Transformed in many ways since the post–WWII days when it had a reputation for grime and crime, the city is among the most vibrant in the U.K.
Day 6. At Sea and Workshop!
Today we'll again take advantage of our day at sea for another workshop with Laura.
Day 7. Djúpivogur, Iceland.
Arrive 9 a.m.; depart 6 p.m.
Djúpivogur, a quiet fishing village with fewer than 500 residents, sits on the eastern coast of Iceland and dates back to the days of

the Vikings. Despite the fearsome reputation of those who first established Djúpivogur, today what draws visitors to this remote corner of the country is its dramatic natural setting. Located on Berufjörður, it is near stunning natural wonders like the Hofellsjökull Glacier and the Valley of Waterfalls. Wherever you journey in the region, you'll come upon stunning vistas and a landscape shaped by glaciers and geothermal activity. The village itself is home to intriguing sites like Langabúð, a log house built in 1790 that now houses artifacts related to Iceland's long-held folk traditions. You can also journey to nearby Papey Island and meet some of eastern Iceland's seabird population that includes cute and quirky puffins.
Day 8. Akureyri, Iceland & Cruising Eyjafjörður.
Often described as the capital of north Iceland, the country's second-largest city is both vibrant, pretty, and serves as an ideal hub for exploring the incredible landscape that surrounds it. Located at the head of a nearly 40-mile fjord and surrounded by snow-

streaked mountains, Akureyri was originally settled in the 9th century and was first officially mentioned as a city in the 16th century. Today it boasts a population of around 17,000, a scenic harbor, and an array of interesting shops, buzzy cafés, and upscale restaurants. Its main sights include the Akureyri Church, a wonderful botanical garden (founded in 1912), and the fascinating Akureyri Museum. From here it's possible to explore some of the country's

most memorable landscapes, where you'll find several museums (including the Icelandic Folk and Outsider Art Museum), fishing villages like Grenivík, and plenty of dramatic mountain scenery. Farther afield are the island of Grímsey, the volcanic wonderland of Lake Mývatn, and a whole host of waterfalls, gorges, churches and saga sites.
We'll then cruise Eyjafjörður, one of Iceland's longest fjords. Lined by peaks that descend to the water's edge, it runs some 40 miles long and is located roughly

in the middle of the country's northern coast. Hydrothermal vents surround the fjord and the small island of Hrísey sits smack in the middle of it. Inhabited since the 9th century, Hrísey was long the home of a herring processing facility, though today it is better known as a bird sanctuary. Farther down the fjord at its southern end, Akureyri is commonly called the capital of the north. Though it has a population of just over 18,000, it is Iceland's second-largest city. The university town is hemmed in by the fjord on one side and the mountains on its other three. Beyond the fjord itself, Súlur and Kerling are two of the area's tallest mountains and some of Iceland's most fertile farmland can be found in the region.
Day 9. Ísafjörður, Iceland & Ísafjörður Scenic Cruising.
Arrive 8 a.m.; depart 6 p.m.
Bordered on three sides by dra

matic mountains that form a natural harbor, the idyllic town of Ísafjörður, with a population of 2,600, serves as a charming exploration hub for the surrounding Westfjords peninsula. Settled since the 16th century and traditionally dependent on fishing as its main source of income, its streets are today lined with old wooden houses interspersed with occasional shops, restaurants, and cafés. Ísafjörður offers plenty to do, from visiting local museums, to hiking, biking and kayaking around the town and harbor.
Days 10 & 11. Reykjavik, Iceland.
Arrive 8 a.m.; overnight; depart 6 p.m.


Laid-back and effortlessly cool, it is said that the world's most northerly capital is like nowhere else on earth. With geothermal water pumping through its veins and a staggering backdrop of gnarly lava fields, majestic glaciers, and rainbow-colored houses, Reykjavík is famous for its natural wonders and dramatic scenery. But what is less well known is that the

diminutive Icelandic city has cultural offerings to rival many destinations twice its size. Explore the world-class museums and art galleries during the day, then enjoy the evening hours in cozy cafés and bars. A thriving food scene showcases traditional Nordic cuisine, as well as modern and international trends, and the city's creative output is in high gear with internationally acclaimed designers, musicians, and artists.
Day 12. Heimaey, Westman Islands, Iceland.
Arrive 8 a.m.; depart 5 p.m.
Some 4,500 people live on Heimaey, a five-square-mile island off the southern coast of Iceland. It's mentioned in some medieval

Icelandic sagas and was attacked in a Turkish raid in the 17th century, but events that took place on January 23, 1973, really put Heimaey on the map. On that day, the island's inhabitants woke up to an earthquake and plumes of ash from the volcano Eldfell, followed by lava flows. Most residents were evacuated, while a few remained to defend the harbor by spraying ocean water on the hot molten lava. When the eruption subsided almost six months later, the island had grown by nearly one square mile and half of the town had been destroyed—but the harbor had been saved. Most of the island's residents returned and in the years since, Heimaey has become known as a dramatic microcosm of Iceland's remarkable geological activity. The 1973 eruption is the focus of the fascinating Eldheimar museum; among the exhibits is a house that, as in Pompeii, was engulfed in ash. A circumnavigation of the island offers yet another perspective on Heimaey's remarkable geological history, and its present.

Day 13. At Sea & Free Day!
Today is yours to fill as you would like—from relaxing to informal beading to spa treatments to ship activities—whatever you want to do, you can!
Day 14. Lerwick, Shetland Islands, United Kingdom.
Arrive 8 a.m.; depart 5 p.m.
Although part of the United Kingdom, Shetland's roots are as much Norse as Scottish and is reflected in the archipelago's many

archaeological sites, cultural events, and a unique dialect that borrows heavily from Old Norse. Although economically driven by energy, in particular the North Sea oil industry and a growing number of wind farms, Shetland's heritage of fishing and textile production lives on. Located midway between Scotland, Norway and the Faroe Islands, the archipelago is home to diverse animal life including the iconic Shetland ponies, easily recognizable by their distinctive short legs and heavy fur coats. You can get a closer look at the ponies and the unique black Shetland sheep on the scenic drive to the remarkable Bronze Age archaeological site at Jarlshof. If you decide to visit more of the city, head to Commercial Street for the best independent shops and places to eat.
Day 15. Final Day at Sea!
Another day to relax and do as you want—and get your belongings organized for disembarking the ship tomorrow.
Day 16. Depart Amsterdam.
The ship will be in port by 7 a.m. and you will disembark that morning. Transportation to the airport is included and please book a flight that departs after 11:30 a.m.
About Your Project . . .
Laura is designing a project inspired by her return to Iceland, one of her most favorite places--ever! Check back for details!
About Your Teacher . . . Laura McCabe
Laura primarily is a self-taught beadweaver, with an education in historical costume reproduction and restoration and anthropology. She produces elaborately beaded body adornment and sculpture that combines Native American, African, and Victorian beadweaving techniques with modern materials and color schemes.

She started Just Let Me Bead in 1995, at which time she sold her original designs to boutiques and museum shops. In 2002, she began teaching her art and has continued to do so across the US and throughout the world. She exhibits her work in national and international beadwork exhibitions and continues to sell some of her finished work online. She maintains a private studio in Hampton, Connecticut where she, her husband Michael and a dog named Lucy continue to live the creative life.

About Your Tour Leader . . . Cheryl Frasca, Owner, Beadventures
In January 2009 Cheryl Frasca of Anchorage, Alaska took ownership of Beadventures from Cheryl Cobern-Browne, who now spends more time at the wonderful retreat center that she built in Ireland.

Cheryl F. had been on several Beadventures, prior to her taking over the company. She serves as tour leader for Beadventures to her home state of Alaska. The fun of these experiences--and the great friends she has made--is what convinced Cheryl F. to take on Beadventures. Cheryl has been beading since the late 1990s. While she occasionally dabbled in fiber and other mediums, seed beads are her favorite--especially free form bead embroidery. She retired from public service in 2012 after 30+ years working for elected officials on Alaska budget/fiscal policy. She continues to do consulting and volunteer work so she can maintain "flexibility of schedule" that allows her to travel here and there!
Trip Cost
Approximately $4,700
Shared hotel in Amsterdam and shared inside ship cabin; cabin can be upgraded at additional cost
Single supplement: Additional cost of approximately $2,300
Trip Cost includes:
One night pre-cruise hotel stay in Amsterdam
14-day cruise aboard Holland America's Veendam
All meals aboard the ship
Transportation to the ship in Amsterdam
Transportation from the ship to the Amsterdam airport
Tuition for workshops with Laura McCabe
Trip Cost Does Not Include:
Airfare to/from Amsterdam
Trip insurance (highly recommended)
Shore excursions
Kit/supplies for Laura's workshop
To Sign Up & Payment Terms
To guarantee your spot on this trip, send in a $1,000 deposit and completed registration form. Balance will be due 120 days prior to start of Beadventure (see Conditions & Responsibilities for more information)
Trip Notes
Passport
Check your passport expiration date to make certain it is valid for at least six months beyond the dates of this trip.
Shore Excursions
Each of the ports of call during the cruise have optional shore excursions. You will be able to sign up through Holland America once you've booked a room; you also can check out other options via websites such as Viator or Trip Advisor.
Bead Workshop Gear
Remember to bring your customary bead supplies (beading mat, needles, thread, scissors, magnification). If you need a task light, it must be battery-powered because we will not have electric cords available. Your best option is to have a rechargeable power source for your light (so you don't have to pack lots and lots and lots of extra batteries!).
Trip Insurance
To help protect the investment you are making in your planned travel, you are strongly encouraged to purchase trip insurance. Beadventures recommends TravelEx Insurance Services; click here for more information about its coverage.