"Jewels of the Baltic" Cruise with Sabine Lippert!
June 9-22, 2022
Copenhagen ~ Kiel & Berlin Germany ~ Helsinki Finland ~ St. Petersburg Russia ~ Tallinn Estonia ~ Stockholm Sweden

Join internationally-acclaimed bead artist Sabine Lippert on a cruise in Northern Europe on Holland America's Nieuw Statendam. You'll arrive in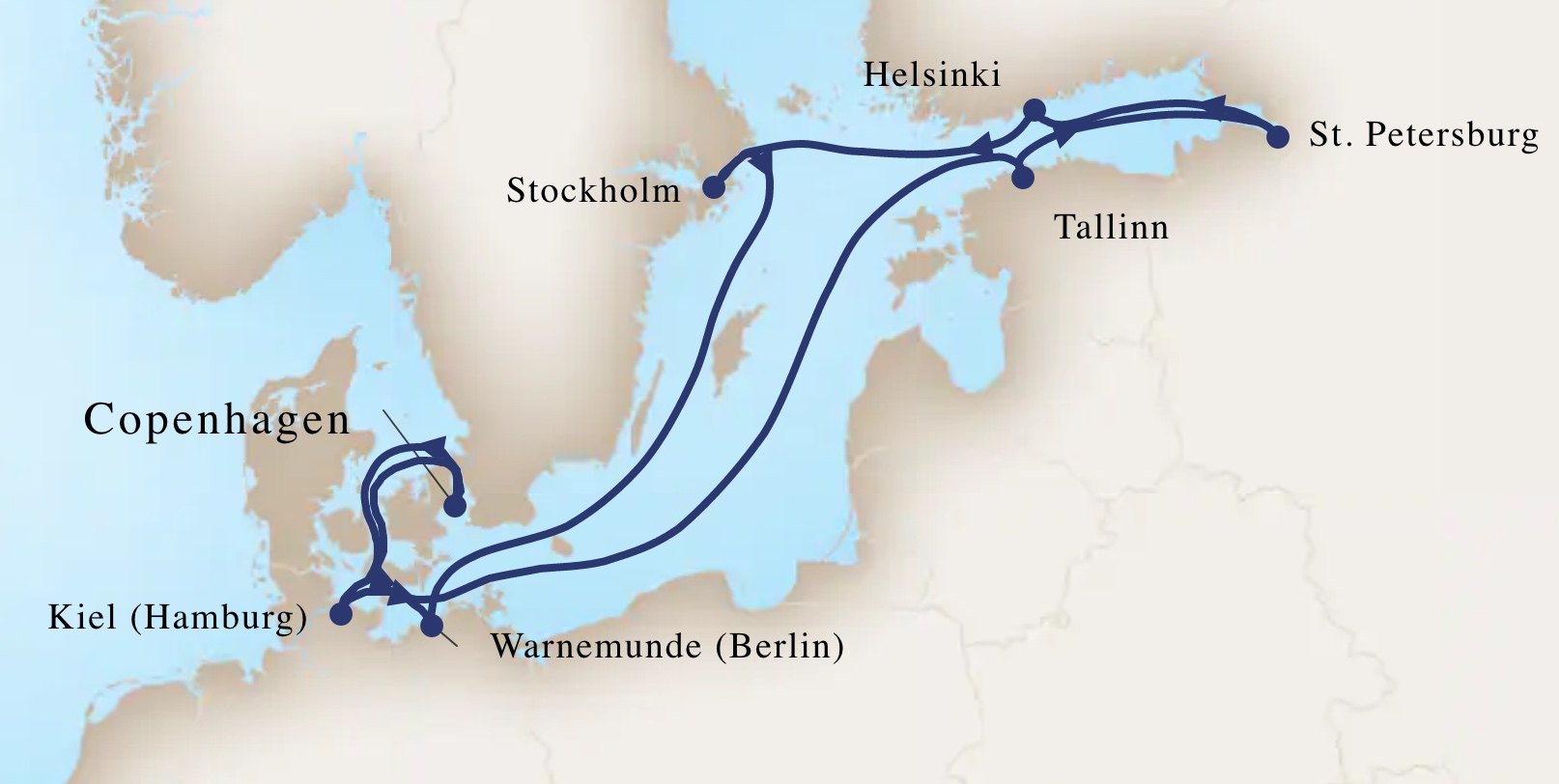 and depart from Copenhagen Denmark. For some extra immersion, the itinerary includes two days in St. Petersburg, Russia and two days in Stockholm, Sweeden. Along the route, you'll experience the charm of Finland and the history of Germany—and a bead workshop with Sabine on a project inspired by this journey.
This Beadventure is a great way to see places you've only read about and make new friends that will share your memories. It really is what Beadventures is all about--inspire, create, and play!
Itinerary
Day 1. Thursday, June 9. Arrive in Copenhagen.


Today you'll arrive in Copenhagen (airport code CPH). Following your arrival you'll get settled in your hotel. If you arrive early in the day, it will be easy to find things to do in Copenhagen where you can explore on foot or by excellent public transport; everyone speaks perfect English; and the food is fresh and innovative. Because your fellow travelers will be arriving at different times throughout the day, no "official" welcome dinner is planned; however there will be an informal gathering for a group dinner.
Meals: On your own today
Day 2. Friday, June 10. Anchors Away!
In the morning you will have free to see more of the city. We'll board the ship mid-day and

then you'll settle in your cabin and familiarize yourself with the ship (the Nieuw Statendam was launched in December 2018). We'll meet up on deck for a send-off as the ship sets sail at 4 p.m.
Meals included: Breakfast, dinner
Day 3. Saturday, June 11. Kiel (Hamburg), Germany.
Ship arrives at 7 a.m.; departs at 5 p.m.
Located a short 90-kilometer (about 60 miles) drive or train journey from the seaside port of

Kiel, Hamburg is one of Germany's most cosmopolitan cities. The city's character is powered by the mighty River Elbe, which passes by Hamburg's stylish neighborhoods on its way to the North Sea. Often referred to as Germany's "Gateway to the World" due to its position as the biggest commercial port in the country, the city is filled with an air of maritime mystique and excitement. As a newly named UNESCO World Heritage Site, Hamburg has upscale shopping districts and a distinct European flavor and retains an energetic and eclectic atmosphere where historic and modern charm meet.
Meals included: All aboard ship
Day 4. Monday, June 12. At Sea. Workshop with Sabine!
Today the ship is at sea. We will take advantage of the "free" time and have our first workshop with Sabine, who will be designing a project inspired by the itinerary.
Meals included: All aboard ship
Day 5. Tuesday, June 13. Tallinn, Estonia.
Ship arrives 8 a.m.; departs 4 p.m.


Tallinn is the capital city of Estonia and combines the comforts of modern world, luxurious adventures, and a rich cultural scene in a local historical setting. First established in the early medieval era, today's Tallinn is an exciting mix of old and new. Tallinn Old Town is one of the best preserved Hanseatic town centers in the world (Hanseatic was a trading alliance in northern Europe between the 13th and 17th centuries). The city retains its walled, cobblestoned Old Town as well as Kiek in de Kök, a 15th-century defensive tower. Its Gothic Town Hall, built in the 13th century and with a 64m-high tower, sits in historic Tallinn's main square. St. Nicholas Church is a 13th-century landmark exhibiting ecclesiastical art.
Meals included: All aboard ship
Days 6 & 7. Wednesday & Thursday, June 14 & 15. St. Petersburg Russia.
Ship arrives 7 a.m.; overnights; departs 6 p.m.
St. Petersburg, Russia, emerged from the vision of one man, Czar Peter the Great, at the beginning of the 18th century and was the country's capital for 200 years, until the Russian Revolution. Pushkin called it Russia's "window to Europe," and like Venice and Amsterdam, two cities that inspired Peter, the city was built on a network of canals.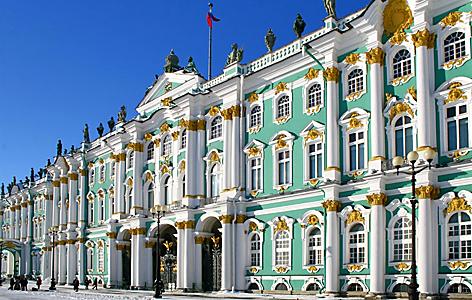 Among the city's tourist attractions, the Hermitage is its most famous. It is one of the world's greatest art museums, and the largest museum in the world—with almost three million objects collected in five buildings. Performing arts, too, abound: Many of Russia's greatest ballets, plays and operas have premiered at the Mariinsky Theatre. Nearby, the summer residences of the czars, including Peterhof, a UNESCO World Heritage Site, are dazzling gilded Baroque palaces for sightseeing in St. Petersburg.
St. Petersburg is at its most beautiful during the famous White Nights, when summer days stretch late into evening hours. Residents make the most of the period with festivals and concerts and fun things to do, and the city's many pastel-colored buildings and neoclassical palaces glow in the warm light of the long days.
Important Note About Touring St. Petersburg: If you are thinking you want to tour St. Petersburg on your own, you will need to get a Russian visa. If you take one of Holland America's tours, no visa will be necessary (they have an approved "group visa") and you will be required to depart and return to the port with the tour. If you sign up for a tour with another company, get confirmation from the company that you won't need a visa; you will not be able to go ashore without this documentation.
Meals included: All aboard ship
Day 8. Friday, June 16. Helsinki, Finland.
Ship arrives 8 a.m.; departs 5 p.m.


While Finland's capital, Helsinki, is sometimes overshadowed by its larger Scandinavian counterparts, Copenhagen and Stockholm, it definitely has its own style and appeal. A lively arts and music scene thrives amid splendid Art Nouveau buildings; then there's the classic cafés, and the city's exciting modern architecture. For a taste of Finland's design, you can wander into the shops in the city's Design District or check out the exhibits at the Design Museum (Designmuseo).
Meals included: All aboard ship
Days 9 & 10. Saturday & Sunday, June 17 & 18. Stockholm, Finland.
Ship arrives 7 a.m.; overnights; departs 4 p.m.
Spread over more than a dozen islands linked by bridges, the Swedish capital of Stockholm is one of the most effortlessly enjoyable cities in Europe. Go sightseeing in Stockholm's elegant Östermalm with its chic interior

design stores; verdant Djurgården with its museums, cultural sights and acres of rolling parkland; ancient Gamla Stan with its cobbled streets that surround the Royal Palace; and trendy Södermalm with its cool neighborhoods. Stockholm is easy to navigate on foot or by public transport, and wherever you roam, you're never far from water or parkland attractions in Stockholm.
Meals included: All aboard ship
Day 11. Monday. June 19. At Sea and Workshop with Sabine.
We are at sea today and will enjoy a workshop with Sabine!
Meals included: All aboard ship
Day 12. Tuesday, Jnue 20. Warnemunde (Berlin), Germany.
Ship arrives 6 a.m.; departs 8 p.m.


We'll arrive at the Port of Rostock at Warnemunde where you'll be able to visit the small town (population of 35,000) located at the mouth of the river Warnow or visit Berlin, which is a 3-hour drive one way. Berlin can feel like the exception among Europe's capitals. While Rome, London, and Paris emerged as important cities under the Roman Empire, Berlin wasn't established until the thirteenth century and only became a significant commercial center in the nineteenth.
During the century and a half that it has been on the world stage, its history is almost unbelievable. This was a city that w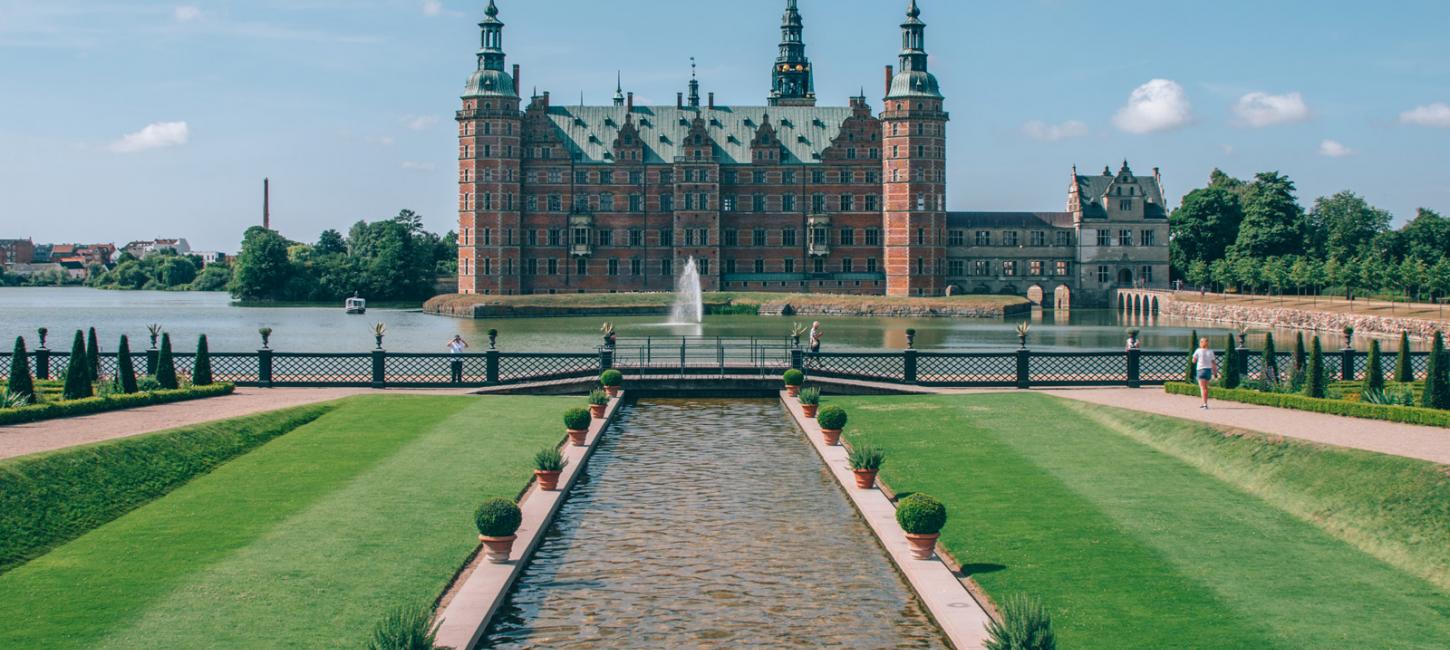 as synonymous with the glittering excesses of the Weimar Republic and then served as the capital of the Nazi regime. For 45 years, it was divided by an infamous wall, with half its citizens living in communist East Germany while West Berlin was an island of capitalist and western values loc ated behind the Iron Curtain. In 1990, Berlin resumed its role as the capital of a unified Germany. Today's visitors will see an intriguing, vibrant city. While devastated by bombings in World War II, its museums are still filled with cultural treasures. Thoughtful memorials and museums acknowledged the darker moments of its history, though it is the city's restaurants, bars, boutiques and galleries that tend to impress most visitors. Berlin enthusiastically embraces its artists and entrepreneurs, creating an exciting atmosphere of possibility.
Meals included: All aboard ship
Days 13 & 14. Wednesday & Thursday, June 21 & 22. Copenhagen.
Ship arrives 11 a.m.; overnight; disembark.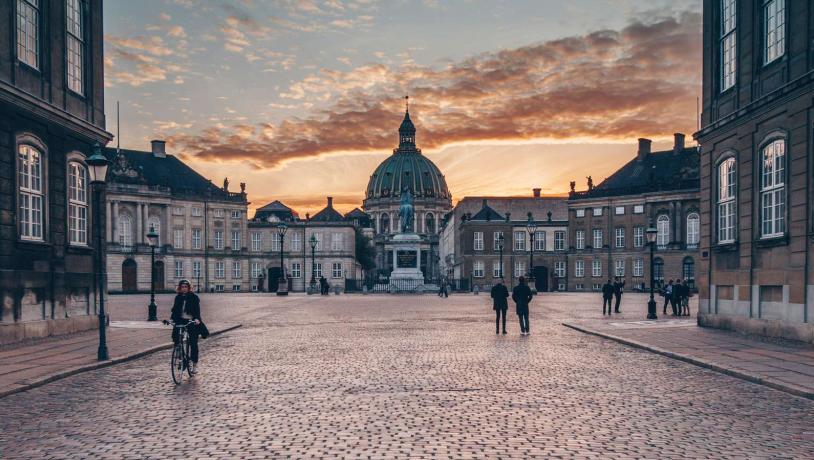 Some say Copenhagen is one of the easiest European capitals to fall in love with. The sights of old buildings, cobbled streets, and the tower- and turret-dotted skyline lend fairy-tale charm (after all, this was the home of author Hans Christian Andersen). But at the same time Copenhagen is a thoroughly modern city with international clout. Restaurants around the world draw inspiration from the New Nordic cuisine pioneered by Noma and other Copenhagen restaurants, while Danish design from this century and the last is universally admired and coveted. Urban planners visit to try to work out just how the city remains so livable and yet so functional, and despite its wealth of old buildings, Copenhagen's not locked in the past with incredible examples of modern architecture. If you arrive early, it will be easy to find things to do in Copenhagen where you can explore on foot or by excellent public transport; everyone speaks perfect English; and the food is fresh and innovative.

Thursday morning you'll depart the ship (transport to the airport included) headed for home--or other adventures!
Meals included Wednesday: All aboard ship
Meals included Thursday: BreakfastAbout
Sabine's project . . "Jewel of the Baltic"
Sabine has designed this very special project inspired by this Beadventure and the Baltic region. Sabine says about the project: "Double Right-Angle-Weave turned out to be way more "shapeable" than I ever expected when I started working with this technique about two years ago. The treasure chest has nice gentle curves, a lacy character to the structure, and a multitude of possibilities for embellishment. What more can a beader's heart ask? The lid is a partially open construction of bezeled components. The project also has a lot of tricks and twists that you will learn during the beading process. Knowledge in beading techniques Right-Angle-Weave and Peyote are required.
About Sabine Lippert . . .Sabine has been a passionate crafter and needle worker since childhood. She grew up with a father that challenged her with the sentence "you can try to repair everything as long as you remember the steps to reassemble it." Her stumble into a bead shop in her hometown was a life-changing moment, as she finally found her perfect "canvas."

Some years ago she gave up her first profession as a physician and became a full time beader--and she has been teaching nationally and internationally ever since. She also has published three books (Beaders Cookbook, Beaded Fantasies, and Beadwork Evolution). Her designs often are inspired by historical costumes or architecture and include all different beading techniques such as Peyote, Herringbone, Right Angle Weave, and Netting. Learn more about Sabine's work on her website Try to Bead

Trip Cost
$4,770 USD (click here for currency converter)
Shared hotel in Amsterdam and shared inside ship cabin (Category L); cabin can be upgraded at additional cost.
Single supplement: additional $1,655 for hotel and interior ship cabin
Note: On April 20, 2021 Holland America changed what is included in its cruise package. The new package, as reflected in the above price, includes a $200 credit toward two shore excursions (up to $100 per excursion), beverage package, wi-fi, and a dinner reservation at one of the ship's specialy restaurants. The package is subject to change in the future.
Trip Cost includes:
Pre-cruise hotel (one night) in Copenhagen
Transportation from the airport to the hotel
Transportation from the hotel to the ship
14-day cruise aboard Holland America's Nieuw Statendam (shared Interior Cabin)
All meals aboard the ship
Transportation from the ship to the airport
Bead workshop tuition
Trip Cost Does Not Include:
Airfare to and from Copenhagen
Shore excursions while on cruise
Trip insurance
Kit/other supplies for workshop project
To Sign Up / Payment Terms
Send in a $1,000 deposit and completed registration form. Balance will be due 120 days prior to start of Beadventure (see Conditions & Responsibilities for more information).
Trip Insurance
To protect the investment you are making in your planned travel, you are required to provide Beadventures with confirmation that you have purchased trip insurance when you send in your final payment.
Trip Notes . . . IMPORTANT!
COVID Vaccination Requirements
While Beadventures appreciates the excitement and rewards that our trips offer, our number one priority is the health and safety of our travelers. To ensure your safety and peace of mind, Beadventures will require that all travelers be fully vaccinated against COVID-19 at least 14 days prior to departure.
To meet this requirement, you will be asked to provide Beadventures with a copy of your original COVID-19 Vaccination Record Card no later than 14 days prior to the trip's departure. The white card must display your name, type of vaccine, and the date(s) the vaccine was administered. We recommend you also bring it with you should it be needed while on your trip. We also suggest taking a picture of this card to keep for your records as a backup.
Beadventures will update this requirement as the world's circumstances change and make appropriate adjustments as dictated by health standards, protocols, and destinations.
Other Trip Notes . . .
About your activities while in port
Beadventures will not be arranging separate shore excursions or tours while on the cruise. Holland America will have shore excursions from which you can select. Other tour options also can be found at by searching the Internet, such www.viator.com.

About Visiting St. Petersburg
You will not be able to tour St. Petersburg on your own unless you have a Russian visa, for which you must apply and receive approval by the Russian government. If you take one of Holland America's tours, no visa will be necessary (they have an approved "group visa")--but you will be required to depart and return to the port with the tour. If you sign up for a tour with another company, get confirmation from the company that you won't need a visa; otherwise you will not be able to go ashore without this documentation.
Bead Workshop Gear
Remember to bring your customary bead supplies (beading mat, needles, thread, scissors, magnification). If you need a task light, it must be battery-powered because we will not have electric cords available. Your best option is to have a rechargeable power source for your light (so you don't have to pack lots and lots and lots of extra batteries!).