Cruise the Midnight Sun to Alaska & Workshops with Laura McCabe in Anchorage!
June 9 -24, 2019
Cruise: Vancouver ~ Ketchikan ~ Juneau ~ Skagway ~ Glacier Bay ~ Anchorage
Land: 7 days in Anchorage & workshops with Laura McCabe
Trip is full--check out our 2020 cruise to Alaska with Sabine Lippert!

Experience the beauty of Southeast Alaska by cruising with Holland America out of Vancouver, B.C., Canada. You'll see the quaint, historic towns of Ketchikan, Juneau, and Skagway and the breathtaking beauty of Glacier Bay. After disembarking from the ship, you'll travel by railroad to Anchorage for a week's stay where you'll learn even more about Alaska—from a visit to a wildlife conservation center to painting a scarf on the deck of a log cabin. All this under the midnight sun as you experience summer solstice (June 21) in Anchorage!
Then you'll have three workshops with the incredibly-talented Laura McCabe. Laura was already scheduled to teach in Anchorage and this Beadventure is being offerred as a way for those that live Outside to experience some of Alaska's beauty on their way to take classes with Laura.
Itinerary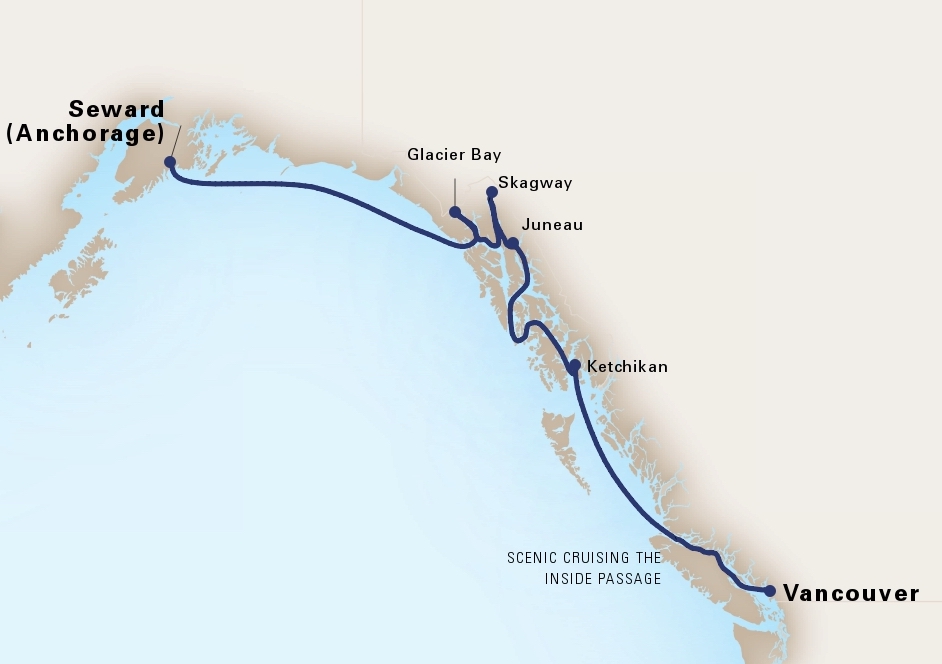 Day One. Sunday, June 9. Set Sail on the Glacier Discovery Tour!
You'll fly into Vancouver, British Columbia, Canada to start this Beadventure. We'll set sail on Holland America's ms Noordam at 4:30 p.m. (but you'll need to arrive in Vancouver in plenty of time to board the ship prior to then). After we leave port, we'll gather for introductions, talk about the itinerary, and to enjoy dinner!
Meals Included: Dinner
Day Two. Monday, June 10. Cruising Alaska's Inside Passage.
Today you'll cruise Alaska's Inside Passage, which is a protected network of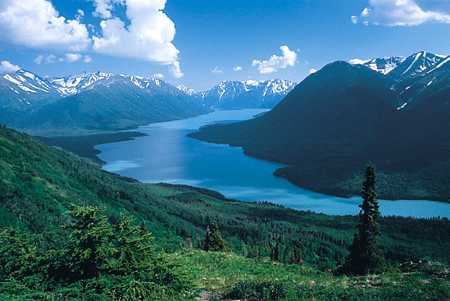 waterways that wind through glacier-cut fjords and lush temperate rain forests along the rugged coast of Southeast Alaska. Arguably one of the greatest cruising routes in the world, the Inside Passage stretches through stunning landscapes, from Misty Fjords National Monument to famed Glacier Bay National Park & Preserve.
During the day we'll find a place to informally bead on projects that you've brought along. It will be a great way to get introduced to each other and to share the kind of beading that you especially enjoy. Please bring samples for a "show and tell!"
Meals Included: All
Day Three. Tuesday, June 11. Alaska's "First City" – Ketchikan.
The ship will arrive at 7 a.m. and depart at 3 p.m. Alaska's "First City" of Ketchikan is so named because it's the first major landfall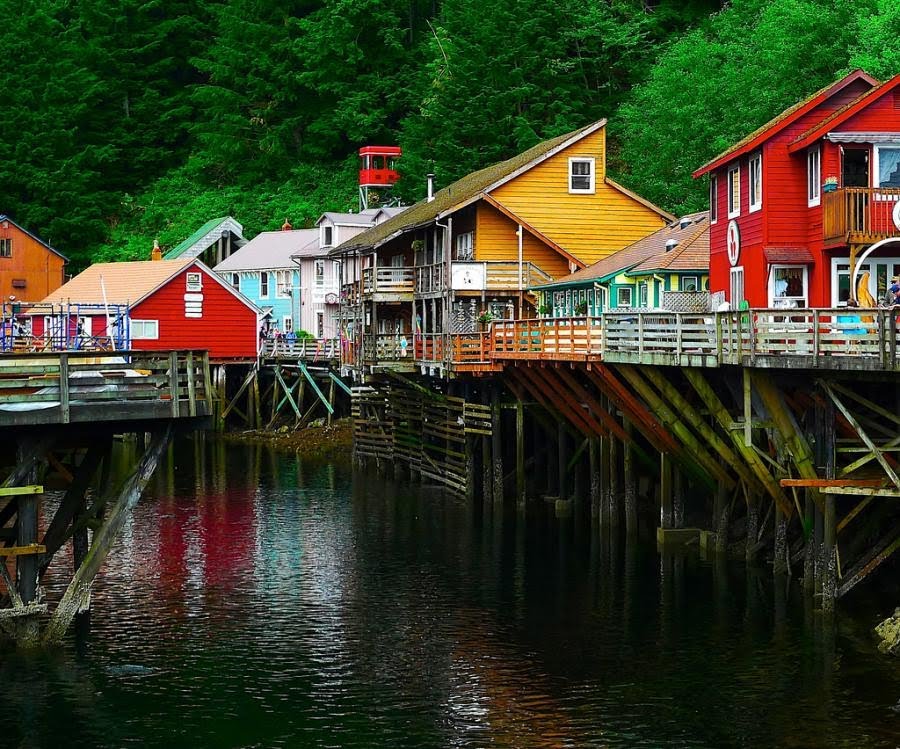 for most cruisers as they enter the picturesque fjords of the Inside Passage, where the town clings to the banks of the Tongass Narrows, flanked by green forests nurtured by abundant rain.
Ketchikan has long been an important hub of the salmon-fishing and -packing industries. It also is one of the best spots along the Inside Passage to explore the rich cultural sights of Native Alaskan nations like the Tlingit, Haida, and Tsimshian. You can see intricately carved totem poles at the Totem Heritage Center and Totem Bight State Park, while the attractions of Saxman Village just outside of Ketchikan offers the chance to see Tlingit culture in action, with working carvers and a dance show in the clan house.
Meals Included: Breakfast, Lunch (if on ship), and Dinner
Day Four. Wednesday, June 12. Juneau, Alaska's Capital.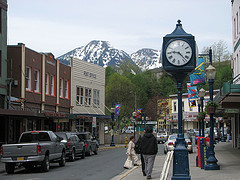 Today you'll arrive at 10 a.m. and depart at 10 p.m. Juneau may well be the most remote, most beautiful and strangest state capital in the United States. Surrounded by water, forest and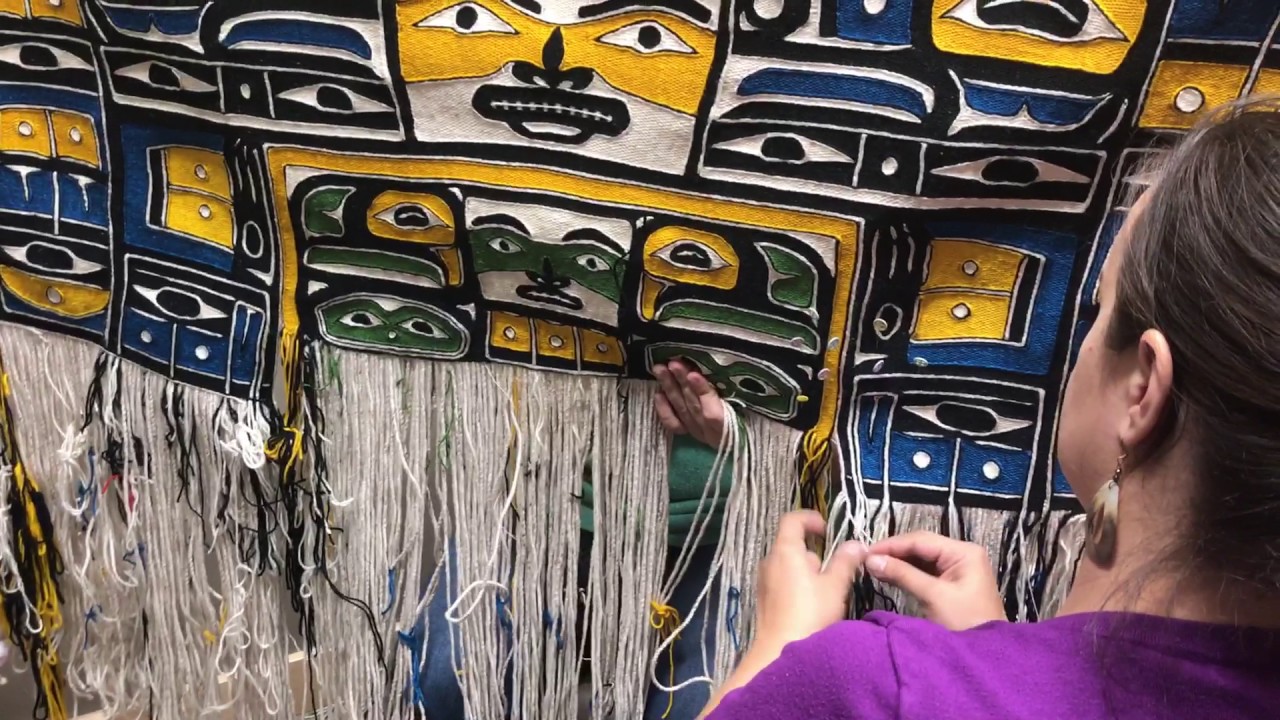 mountain sights, this sleepy, misty city of around 32,000 has a frontier town vibe but welcomes more than a million visitors each summer.
Alaska's heritage is steeped in Alaska Native culture. Beadventures is working to arrange a private tour while in Juneau so we can gain a deeper understanding of the Tlingit, Haida and Tsimshian cultures. You'll also be able to visit the quaint stores along South Franklin Street and downtown Juneau take in some sightseeing and whale-watching tours.
Meals Included: All (if on ship)
Day 5. Thursday, June 13. Skagway.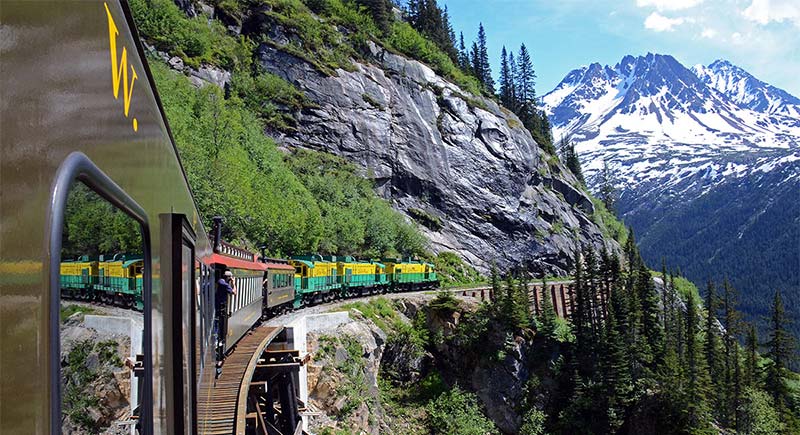 Today we'll arrive at 7 a.m.; depart at 9 p.m. At the height of the Klondike Gold Rush, the port town of Skagway served as the primary gateway to the legendary gold fields, and quickly grew into Alaska's largest settlement. It was then a raucous frontier hub packed with trading posts, saloons and guesthouses. As the gold rush faded into the 1900s, so did Skagway—but today it has been reinvigorated as a gateway for a new kind of visitor: those looking to explore Alaska's colorful history, pristine wildlife and unrivaled natural beauty.
At every turn, you'll find yourself immersed in gold rush lore, including the White Pass & Yukon Route Railroad, a classic narrow-gauge railway that traverses rugged mountains and passes cascading waterfalls and towering glaciers as it connects Skagway to Whitehorse deep in the Yukon.
Meals Included: All (if on ship)
Day 6. Friday, June 14. Glacier Bay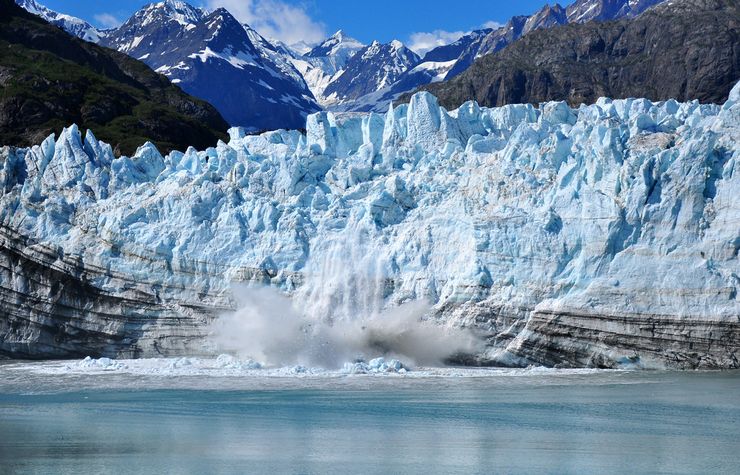 Frosted crags descend into mossy forests and a 457-meter-deep (1,500-foot-deep) fjord at this World Heritage Site, which also is one of the planet's largest biosphere reserves. Stone, ice and water continue to collide, sculpting a dramatic landscape that is the crown jewel of southeastern Alaska's natural wonders. While the national park is open year-round, most
travelers prefer the warmth of late May to early September. Even in summer, be prepared for any weather—especially rain! Pack a hat, gloves, wool or fleece layers, a warm coat and waterproof gear if you want to admire the landscape from the open deck of your ship.
A day on the ship also is another opportunity for informal beading session!
All meals included
Day 7. Saturday, June 15. At Sea.
Today is a day to relax and reflect on the beauty you have experienced on this cruise. This also will be an opportunity for our group to have time to continue to bead on a favorite project!
All meals included
Day 8. Sunday, June 16. Disembark; Travel to Anchorage.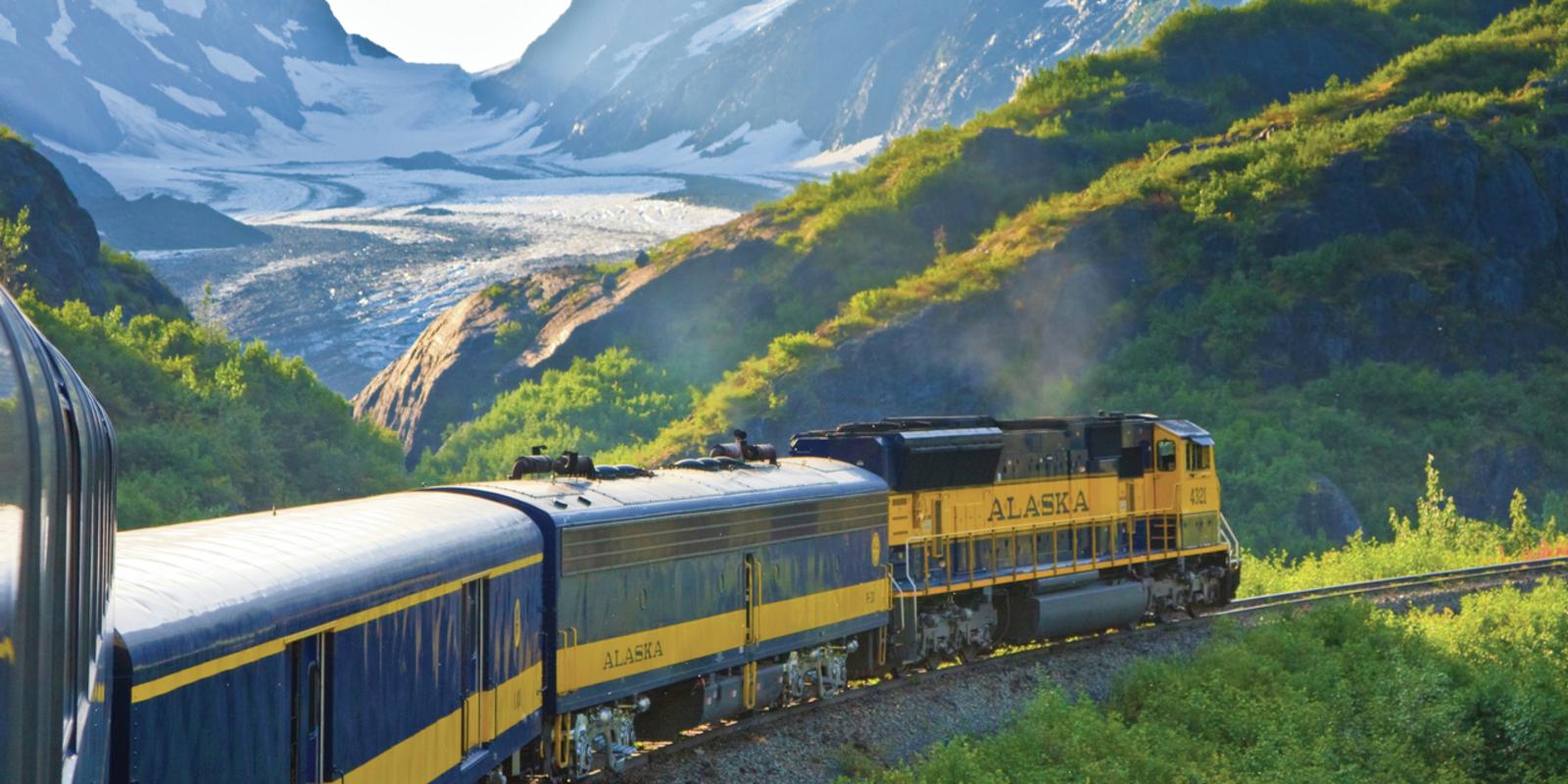 The ship will arrive in Seward early in the morning. We will travel the Alaska Railroad for our 125-mile trip to Anchorage, Alaska's largest city, which will be our home for the next week. We'll check-in at the Voyager Inn, conveniently located downtown. We'll have our "welcome to Anchorage" dinner in the early evening.
Meals included: Breakfast, Dinner
Day 9. Monday, June 17. Alaska's Art and Culture.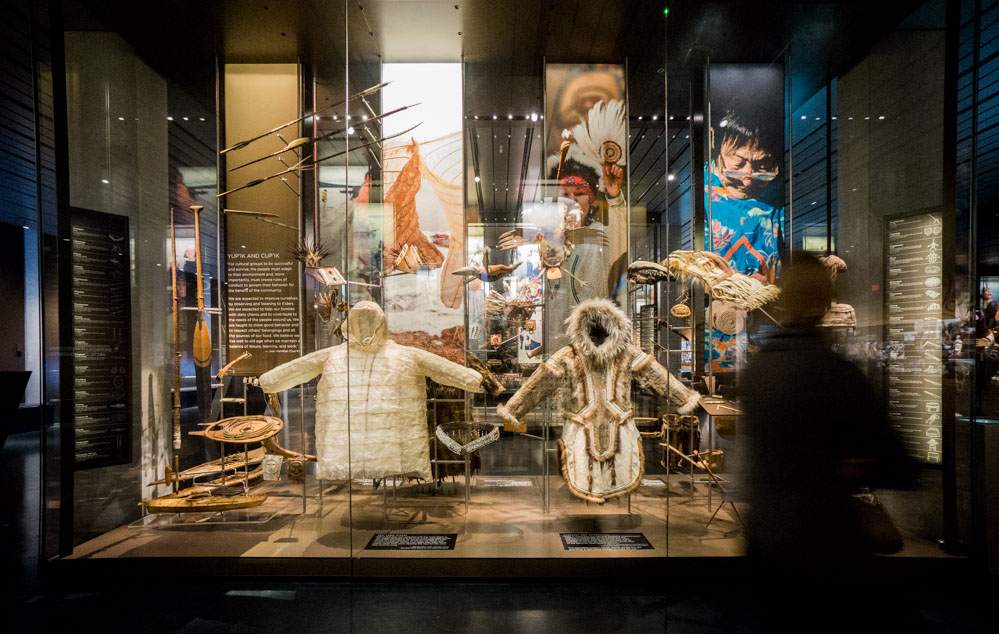 In the morning we'll visit the Anchorage Museum where we'll have a private tour to learn about Alaska's cultural heritage and native art. You'll have time to visit other galleries on your own and you might want to enjoy lunch at the Museum's café. After lunch we'll travel by shuttle to the Alaska Native Heritage Center where you will continue to learn about Alaska

Native traditions and customs of both the past and present. The Welcome House is a celebration of contemporary Alaska Native cultures while the Center's outdoor facilities and sites explore ancient traditions.
Meals included: Breakfast
Day 10. Tuesday, June 18. Visit to Alaska's Wildlife.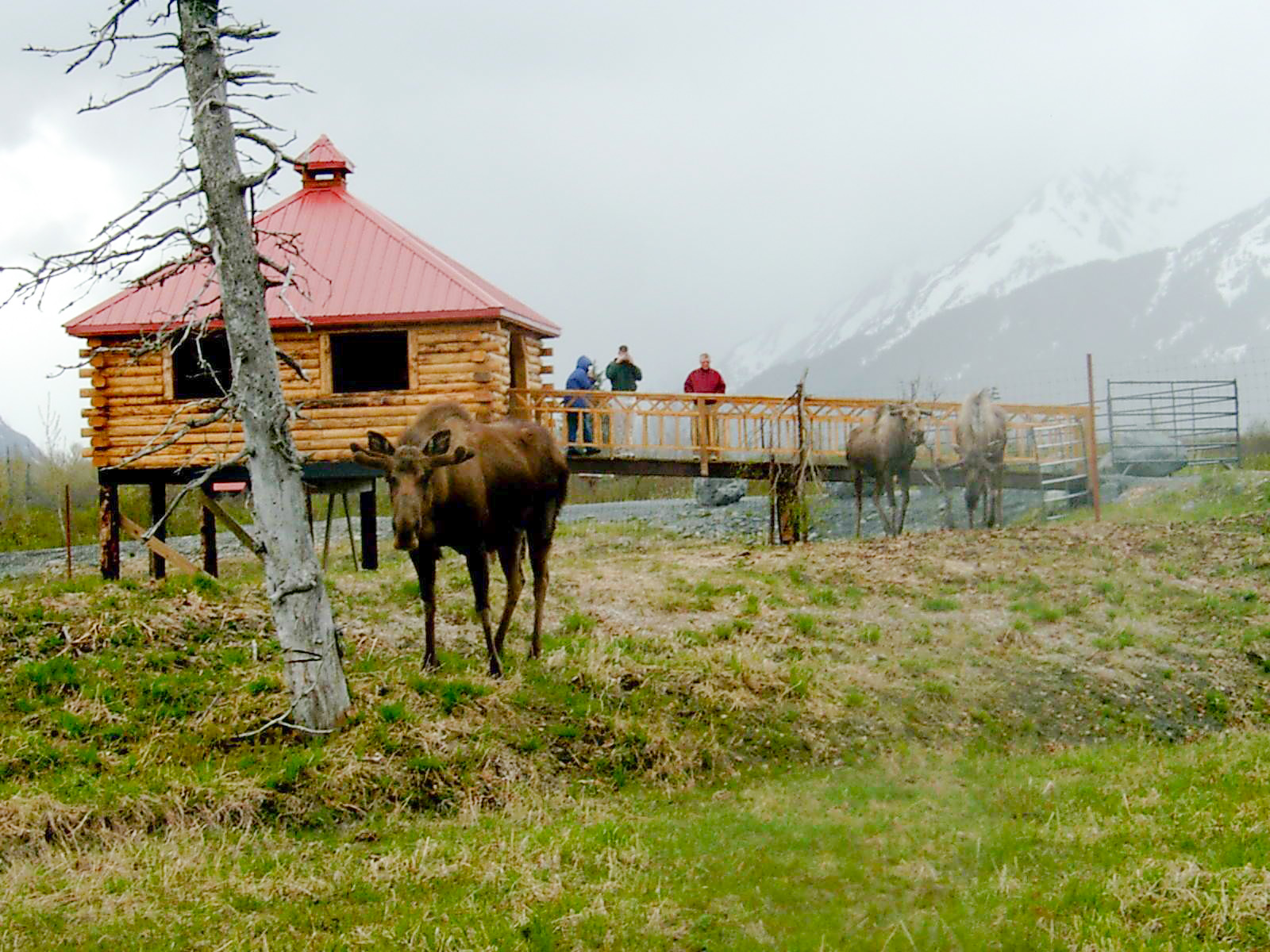 The morning will be free for you to explore Anchorage. In early afternoon we will head out for our 3.5-hour tour to the Alaska Wildlife Conservation Center (AWCC), which is a privately owned nonprofit organization that rescues orphaned and injured animals. Here you will be able to get up-close to bears, elk, and caribou on an educational tour of the rehabilitation center. We'll go rain-or-shine, so remember to pack your rain gear, as well as sun glasses!
Meals Included: Breakfast
Day 11. Wednesday, June 19. Let Your Artist Emerge!
Around 11 a.m. we'll head out for our 30-minute drive to Chugiak for a "Paint a Scarf"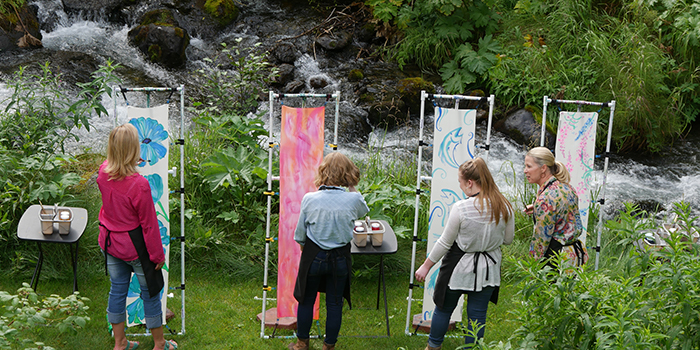 workshop (no prior experience needed!). Here you'll enjoy mountain views and the sound of rushing water as you paint your scarf from the deck of a log cabin home (or inside, next to the stone fire place if the weather is difficult). The three-hour class will be great fun and you'll take home a very favorite memory that can be enjoyed year-round. We'll have dinner together that evening—to which you can each wear your new scarf!
Meals: Breakfast, Snacks during class, dinner
Day 12. Thursday, June 20. Free Day & Workshop with Laura!
Tonight will be our first workshop with Laura in which we get started on one of Laura's projects (the second half will be Friday evening). Class will be from 5:30 to 8:30 p.m. and held in the Anchorage Pioneer School House, a historic building built in 1915.
Meals: Breakfast
Day 13. Friday, June 21. Summer Solstice & Laura's Workshop Continues.
Today is the longest day (in terms of light) of the year—and you'll be in the "Land of the Midnight Sun" to enjoy it! There will be lots of activities going on around town in celebration and you'll be free up until 5 p.m.! Then our workshop with Laura will again start at 5:30 p.m.
Meals Included: Breakfast
Day 14. Saturday, June 22. Workshop with Laura.
A new project will be the focus of today's workshop, which will run from 10 a.m. to 5 p.m. Participants will order lunch that will be delivered to the classroom.
Meals Included: Breakfast
Day 15. Sunday, June 23. Workshop with Laura.
Laura will teach another project today, that will go from 10 a.m. to 5 p.m. Participants will order lunch, which will be delivered to the classroom. After class we'll have our farewell dinner with Laura and share memories of our Alaska Beadventure!
Meals Included: Breakfast, Dinner
Day 16. Monday, June 24. Departure
All good things much come to an end. Today you'll depart for home from Anchorage.
The above itinerary is a guideline of what you can expect; some changes may be made as new opportunities present themself! Be assured the quality of any changes will be at least the same, if not better!
About our Teacher . . . Laura McCabe
Laura primarily is a self-taught beadweaver, with an education in historical costume reproduction and restoration and anthropology. She produces elaborately beaded body adornment and sculpture that combines Native American, African, and Victorian beadweaving techniques with modern materials and color schemes.

She started Just Let Me Bead in 1995, at which time she sold her original designs to boutiques and museum shops. In 2002, she began teaching her art and has continued to do so across the US and throughout the world. She exhibits her work in national and international beadwork exhibitions and continues to sell some of her finished work on line.

She maintains a private studio in Hampton, Connecticut where she, her husband Michael and a dog named Lucy continue to live the creative life.
About Our Workshop Projects . . .
Check out Laura's projects by clicking here!
About Your Tour Leader . . . Cheryl Frasca, Owner, Beadventures
In January 2009 Cheryl Frasca of Anchorage, Alaska took owenership of Beadventures from Cheryl Cobern-Browne, who now spends more time at the wonderful retreat center that she built in Ireland.

Cheryl F. had been on several Beadventures, prior to her taking over the company. She serves as tour leader for Beadventures to her home state of Alaska. The fun of these experiences--and the great friends she has made--is what convinced Cheryl F. to take on Beadventures. Cheryl has been beading since the late 1990s. While she occasionally dabbled in fiber and other mediums, seed beads are her favorite--especially free form bead embroidery. She retired from public service in 2012 after 30+ years working for elected officials on Alaska budget/fiscal policy. She continues to do consulting and volunteer work so she can maintain "flexibility of schedule" that allows her to travel here and there!
Trip Cost
$3,875 for shared interior cabin on the cruise and hotel in Anchorage (you have option to upgrade to a cabin with a view or verandah if you chose)
Single supplement: additional $999 for cruise; additional $825 in Anchorage
Cost includes:
7-day cruise aboard Holland America's ms Nordaam; cost is based on Interior Cabin (Category MM). Cabins can be upgraded based on availability.
65% of meals as noted on the itinerary
All lodging in Anchorage
Transportation and admission to scheduled excursions
Private tour at Anchorage Museum
Tuition for three Laura McCabe workshops in Anchorage
Trip Cost Does Not Include:
Airfare to Vancouver, B.C., Canada and from Anchorage, AK
Travel protection
35% of meals as noted on the itinerary
Shore excursions while on cruise; these can be individually arranged through Holland America or other vendors
Items of a personal nature (i.e. telephones, laundry, etc.)
Kits and other beading supplies for Laura McCabe workshops
To Sign Up & Payment Terms
To guarantee your spot on this trip, send in a $1,000 deposit and completed last two pages of the registration form.
Balance will be due 120 days prior to start of Beadventure (see Conditions & Responsibilities for more information)
About Travel Protection
Beadventures recommends that you purchase a travel protection plan to help protect you and your travel investment against the unexpected. Beadventure customers have had great customer service from TravelEx Insurance Services. For more information on its available plans or to enroll, click here or contact Travelex Insurance Services at 800-228-9792 and reference location number 02-0040.