Cruise to Alaska with Sabine Lippert
Debut Sabine's Double CRAW Master's Class
June 7 - 22, 2020
Vancouver ~ Ketchikan ~ Juneau ~ Skagway ~ Glacier Bay ~ Anchorage
Sign-up deadline: March 1, 2020

Experience the beauty of Southeast Alaska by cruising with Holland America out of Vancouver, B.C., Canada. You'll see the quaint, historic towns of Ketchikan, Juneau, and Skagway and the breathtaking beauty of Glacier Bay. After disembarking from the ship, you'll travel by railroad to Anchorage for a week's stay where you'll learn even more about Alaska—from a wildlife conservation center visit to experiencing the Alaska Native Heritage Center.

During the cruise and in Anchorage, you'll have a total of six days of workshops with Sabine--an incredible opportunity! While the cruise is underway, Sabine will debut her Master's class on double cubic right angle weave and the incredible potential this stitch has. In Anchorage, Sabine will teach three more workshops at which you will be joined by other Anchorage area students.
Itinerary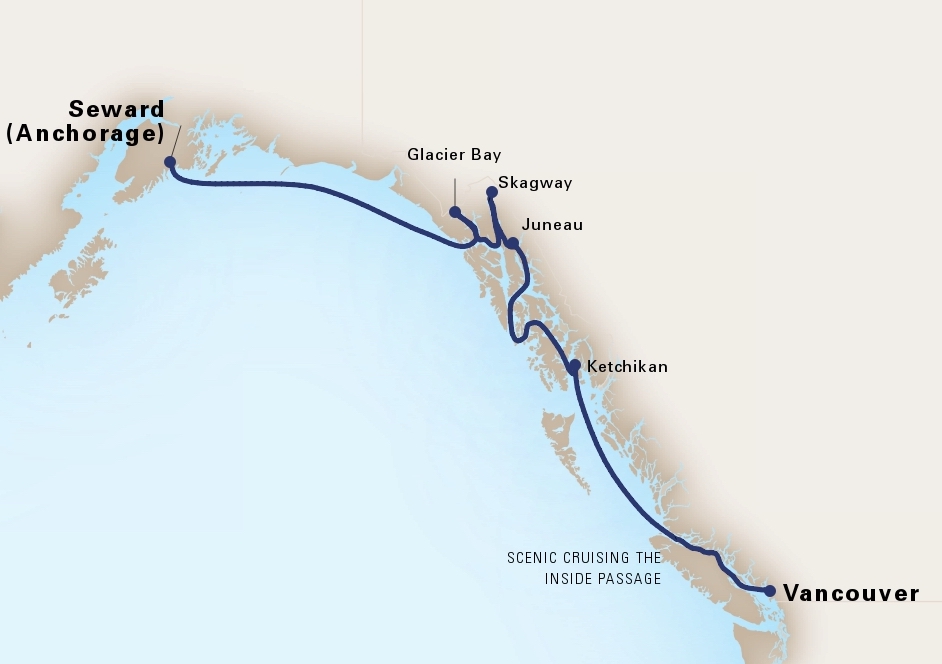 Day One. Sunday, June 7. Set Sail from Vancouver, British Columbia.
Today the Beadventure will get underway on Holland America's Noordam. You'll board the ship in early afternoon and set sail at 4:30 p.m. You'll get settled in our cabins, meet up on the ship, and enjoy dinner together.
Meals Included: Dinner
Day Two. Monday, June 8. Cruising Alaska's Inside Passage and Workshop.
Today you'll cruise Alaska's Inside Passage, which is a protected network of waterways that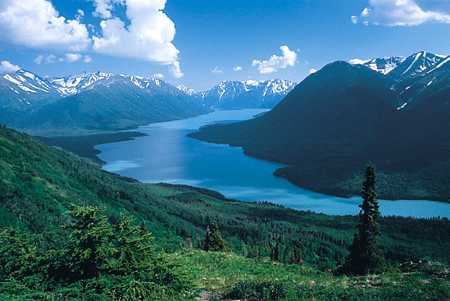 wind through glacier-cut fjords and lush temperate rain forests along the rugged coast of Southeast Alaska. Arguably one of the greatest cruising routes in the world, the Inside Passage stretches through stunning landscapes, from Misty Fjords National Monument to famed Glacier Bay National Park & Preserve.
During the day we'll have our first workshop with Sabine (we'll find a location on deck by which you'll be able to still enjoy the incredible scenery!).
Meals Included: All aboard ship.
Day Three. Tuesday, June 9. Alaska's "First City" – Ketchikan.
The ship will arrive at 7 a.m. and depart at 3 p.m. Alaska's "First City" of Ketchikan is so named because it's the first major landfall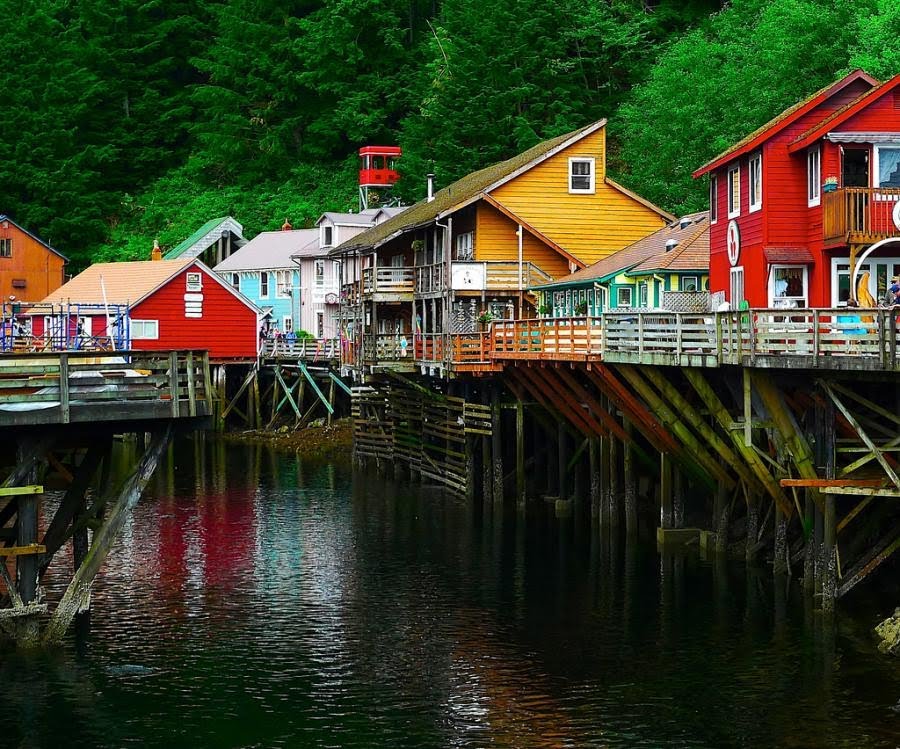 for most cruisers as they enter the picturesque fjords of the Inside Passage, where the town clings to the banks of the Tongass Narrows, flanked by green forests nurtured by abundant rain.
Ketchikan has long been an important hub of the salmon-fishing and -packing industries. It also is one of the best spots along the Inside Passage to explore the rich cultural sights of Native Alaskan nations like the Tlingit, Haida, and Tsimshian. You can see intricately carved totem poles at the Totem Heritage Center and Totem Bight State Park, while the attractions of Saxman Village just outside of Ketchikan offers the chance to see Tlingit culture in action, with working carvers and a dance show in the clan house. And leave time to explore the sights in the town itself, including historic Creek Street, a boardwalk built over the Ketchikan Creek, where you can shop for souvenirs, smoked salmon and local art, while exploring gold rush­–era tourist attractions like Dolly's House Museum.
Meals Included: All aboard ship
Day Four. Wednesday, June 10. Juneau, Alaska's Capital.
Today you'll arrive at 10 a.m. and depart at 10 p.m. Juneau may well be the most remote, most beautiful, and strangest state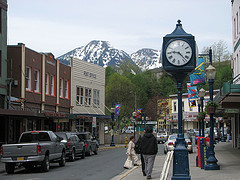 capital in the United States. Surrounded by water, forest and mountain sights, this sleepy, misty city of around 32,000—mostly fishermen, small-business owners, and state government workers—has a frontier town vibe but welcomes more than a million visitors each summer.
You'll be able to visit the quaint stores along South Franklin Street and downtown Juneau or checkout some wildlife. You can hike up Mount Roberts to chance upon wild deer and bald eagles or take sightseeing and whale-watching tours by heading north to Auke Bay.
Meals Included: All aboard ship
Day 5. Thursday, June 11. Skagway.
Today you'll arrive at 7 a.m.; depart at 9 p.m. At the height of the Klondike Gold Rush, the port town of Skagway served as the primary gateway to the legendary gold fields, and quickly grew into Alaska's largest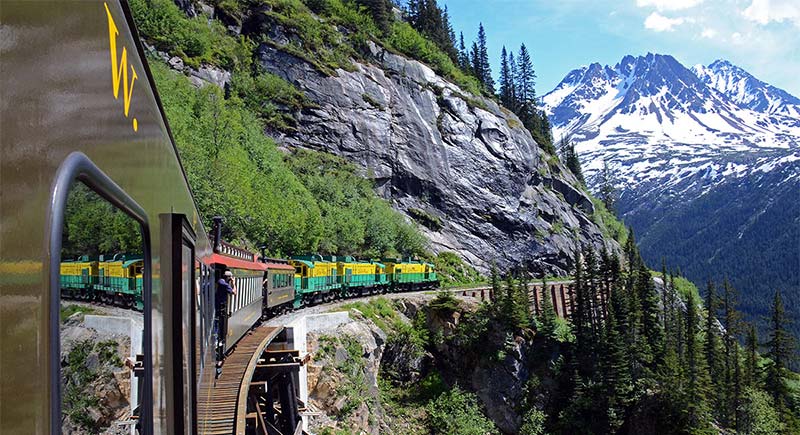 settlement. It was then a raucous frontier hub packed with trading posts, saloons and guesthouses. As the gold rush faded into the 1900s, so did Skagway—but today it has been reinvigorated as a gateway for a new kind of visitor: those looking to explore Alaska's colorful history, pristine wildlife and unrivaled natural beauty.
At every turn, you'll find yourself immersed in gold rush lore, from the infamous Red Onion Saloon that still keeps a pistol that Wyatt Earp left behind en route to the Klondike, to the White Pass & Yukon Route Railroad, a classic narrow-gauge railway that traverses rugged mountains and passes cascading waterfalls and towering glaciers as it connects Skagway to Whitehorse deep in the Yukon. Much of the town has been preserved as part of the Klondike Gold Rush National Historical Park, where rangers offer free walking tours around the historic district. Here you'll also find a vibrant local community, home to a rich collection of local galleries, curio shops, and restaurants serving seafood plucked fresh from nearby waters.
Meals Included: All aboard ship

Day 6. Friday, June 12. Breath-taking Glacier Bay and Workshop.
Frosted crags descend into mossy forests and a 457-meter-deep (1,500-foot-deep) fjord at this World Heritage Site, which also is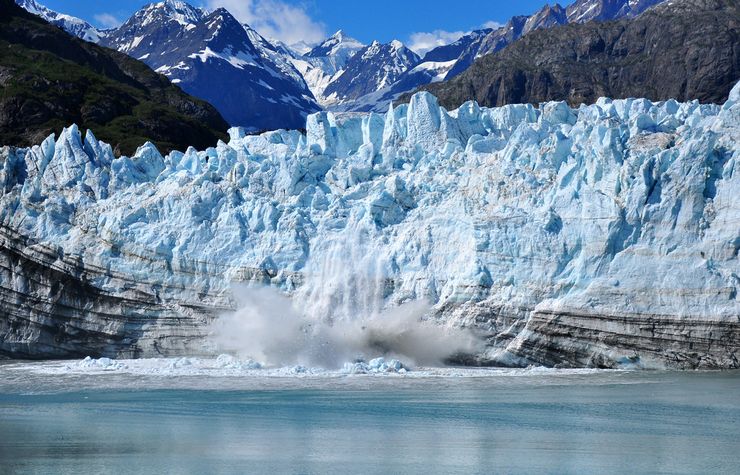 one of the planet's largest biosphere reserves. Stone, ice and water continue to collide, sculpting a dramatic landscape that is the crown jewel of southeastern Alaska's natural wonders. While the national park is open year-round, most travelers prefer the warmth of late May to early September. Even in summer, be prepared for any weather—especially rain! Pack a hat, gloves, wool or fleece layers, a warm coat and waterproof gear if you want to admire the landscape from the open deck of your ship.
A day aboard the ship also is another opportunity for day two of our workshop with Sabine.
Meals: All aboard ship
Day 7. Saturday, June 13. At Sea and Workshop.
Today we will be at sea as we head north to Seward and have our final workshop with Sabine.
Meals: All aboard ship.
Day 8. Sunday, June 14. Disembark Ship; travel to Anchorage.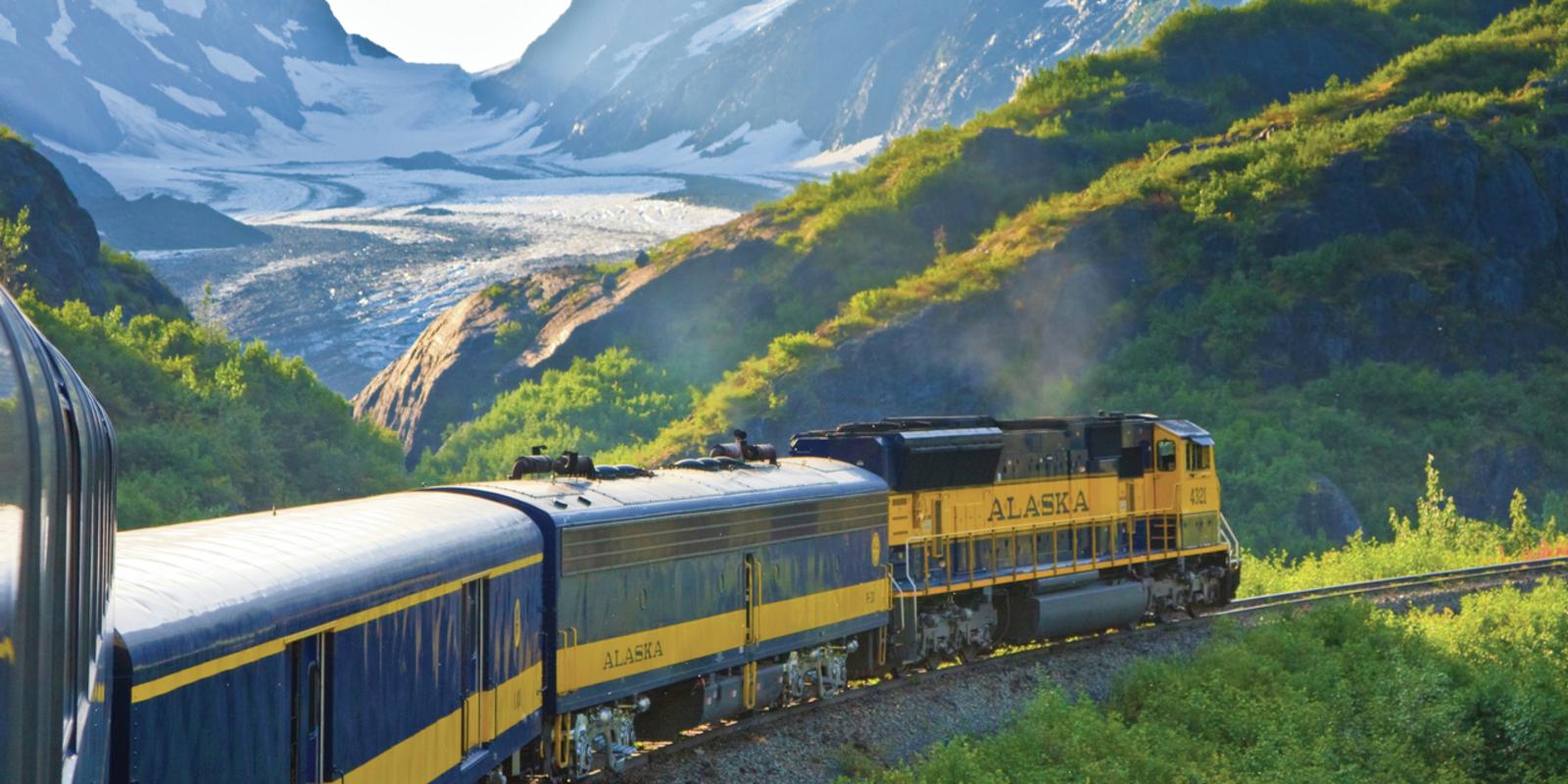 The ship will arrive in Seward early in the morning. We will travel via the Alaska Railroad for the 125-mile trip to Anchorage, Alaska's largest city, which will be our home for the next week. We'll check-in at our hotel. The afternoon will be free and we'll gather in early evening for a "welcome to Anchorage" dinner.
Meals included: Breakfast aboard ship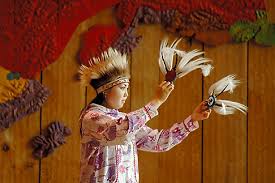 Day 9. Monday, June 15. Learning about Alaska's Native Culture.
In the morning we'll visit the Alaska Native Heritage Center where you'll learn about Alaska's native people--their culture, art, and values. We'll complete our visit by early afternoon and the rest of the day will be free to further explore Anchorage. There's a lot to see and do (check out www.tripadvisor.com or www.viator.com for some ideas).
Meals: Breakfast
Day 10. Tuesday, June 16. Alaska Wildlife Conservation Center.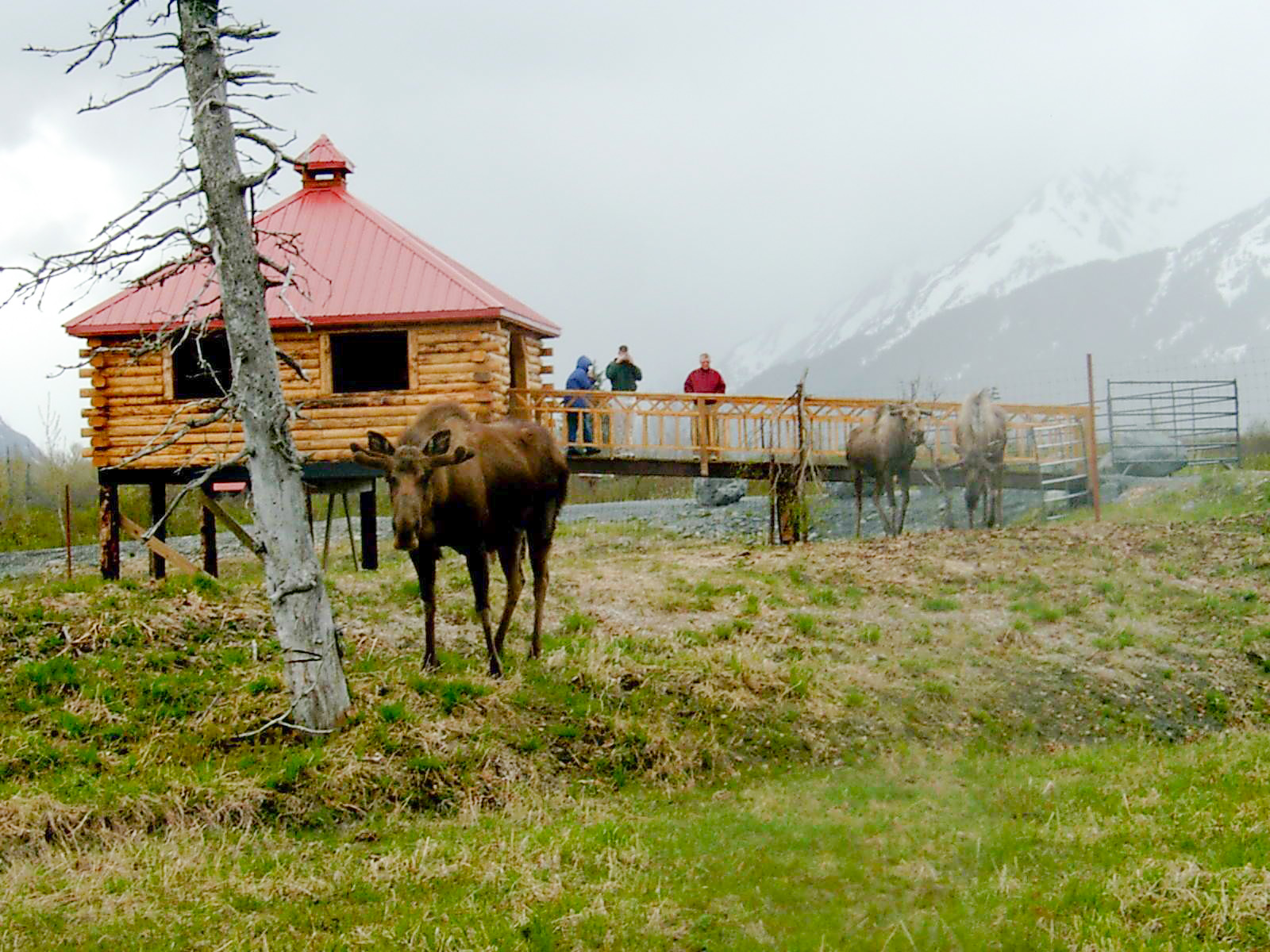 Start the day with a relaxed morning. At mid-day we will head out on our 3.5-hour tour to the Alaska Wildlife Conservation Center (AWCC), a privately-owned nonprofit organization that rescues orphaned and injured animals. Here you will be able to get up-close to bears, elk, and caribou on an educational tour of the rehabilitation center. We'll go rain-or-shine, so remember to pack your rain gear, as well as sun glasses!
Meals Included: Breakfast
Day 11. Wednesday, June 17. Learning More About Alaska's and Culture.
In the morning we'll visit the Anchorage Museum where we'll have a private tour to learn about Alaska's cultural heritage, with an emphasis on Alaska Native beadwork.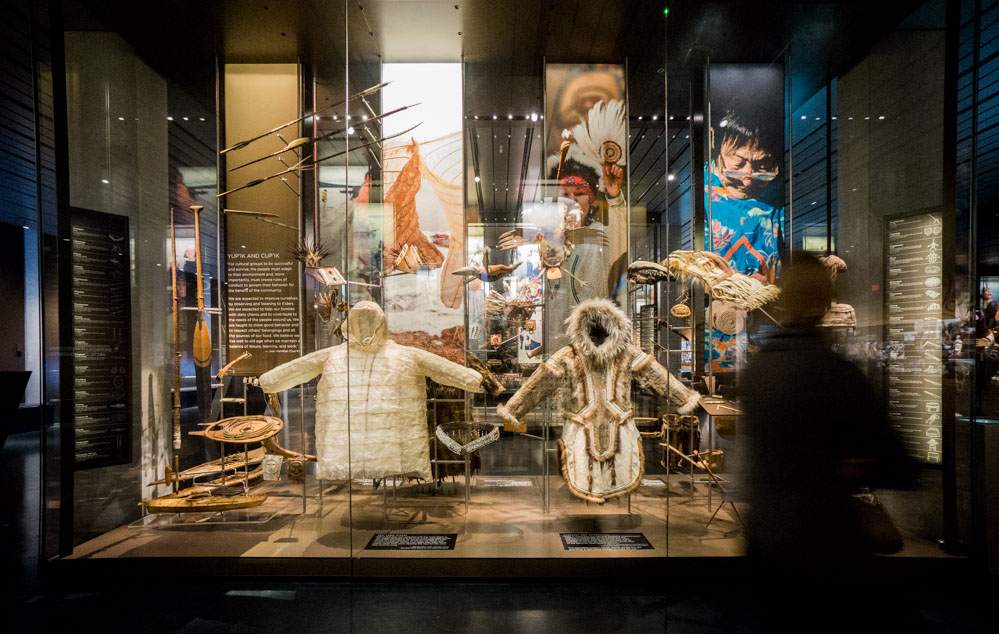 The evening is free.
Meals included: Breakfast
Day 12 & 13. Thursday & Friday, June 18 & 19. Free Time Plus Workshops with Sabine.
Our first Anchorage-based workshop with Sabine will be over these two evenings (from 5:30 to 8:30 p.m. each night) at which we also will be joined by other Anchorage/Alaska beaders. The daytime is free each day for you to explore as you like.
Meals included: Breakfast
Day 14 & 15. Saturday & Sunday, June 20 & 21. Workshops with Sabine.
We will have two more classes on the weekend with Sabine. Each will go from 10 a.m. to 5 p.m. We'll break for lunch (not included). In the evening we'll have our "almost farewell dinner" together. Sunday also is summer solstice—the longest day of daylight of the year—so they'll be plenty of other activities going on after class/after dinner!
Meals Included: Breakfast each day
Day 16. Monday, June 22. Departure.
All good things much come to an end. Today you'll depart for home from Anchorage (airport code ANC).
Meals included: Breakfast
About Sabine's Project On the Cruise . . .
Master's Class on Double Cubic Right Angle Weave (DCRAW)

On the Beadventure Sabine will unveil her new Master's Class that is all about Double Cubic Right Angle Weave! These pictures are only the beginning of what will be a series of pieces you will learn to make in this never-before-taught workshop. The spheres are based on Double CRAW and Double RAW, a further development of Cubic Right Angle Weave. This different stitch allows you to make multiple axes in your beadwork. It is a self-supporting bead weaving technique that provides the stability of a bezel without a supporting centerpiece. Yes, this might sound complicated but Sabine assures beaders that it is not! You do need to be able to do Cubic Right Angle Weave, which will give you all the skills needed for this Master's Class.

Sabine will continue to provide photos of more objects that will be made with these techniques and taught in class--and on this cruise we will have plenty of time to think about even more shapes!
Sabine's Workshops in Anchorage . . .
Sabine will teach three classes in Anchorage where those on the Beadventure will be joined by Anchorage/Alaska students. We haven't yet decided on the projects she will teach, but these are what we are considering (the truth is, Sabine is working on some new ones that may be substituted for these!). We'll make a final project decision in early 2020 --but be assured that whatever the classes are, they will be similarly beautiful!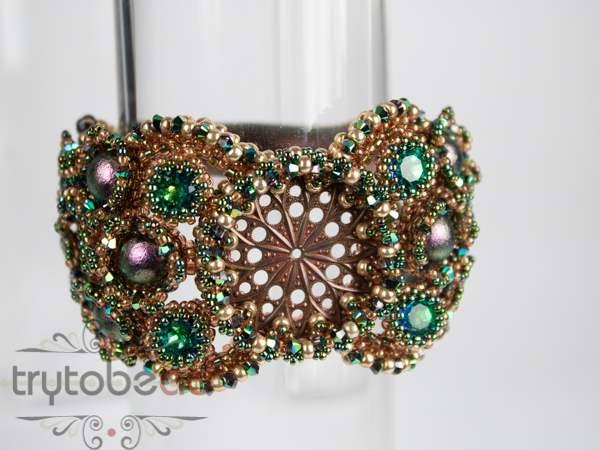 "Rising Sun"
Intermediate level; uses Right Angle Weave, Cubic RAW, and other techniques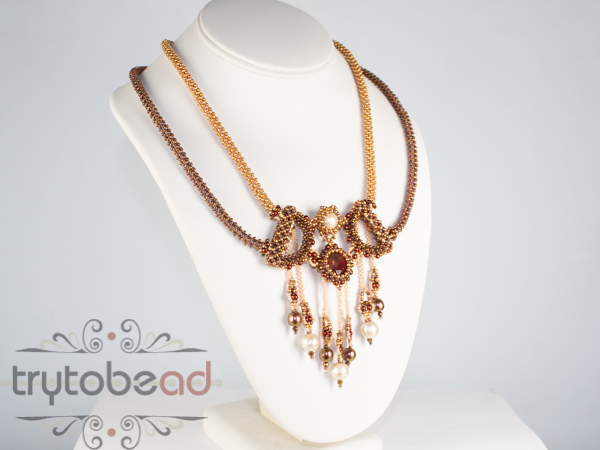 "La Donna"
Intermediate to advanced level; uses Cubic Right Angle Weave and Double CRAW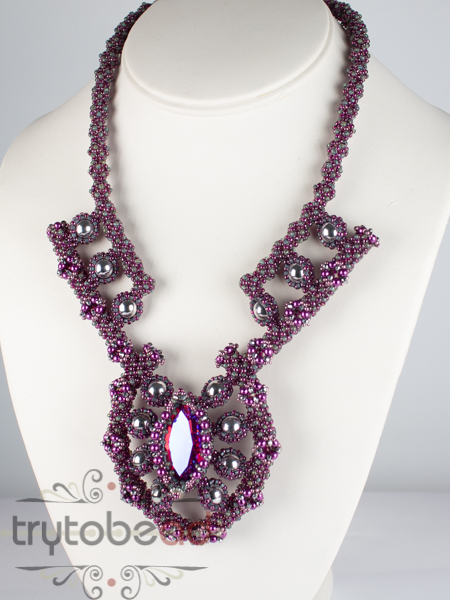 "Mare Mediterranean"
Intermediate level; uses Cubic Right Angle Weave and Double Right Angle Weave.
These are examples of projects to give you an idea of what to expect. Actual projects will be selected by early 2020.
About Your Teacher . . . Sabine Lippert
Sabine writes . . .
"Since October 2011, my passion has become my profession as self-employed bead artist!
I was born in 1967, during the "summer of love," so I guess it was my fate to become a beader one day. As is typical, an artist's way is never straight. I first had a career as a physician but crafting and needlework have always been my passion—there is no better feeling than creating something beautiful with your own hands! Getting technical skills from my father, an engineer, it was my mother who passed on her love of the decorative things in life. She showed me and my sister the basics for knitting, crochet, and embroidery and I remember us doing one crafting frenzy after the other! Some years ago, I discovered my first quality beads at a local bead store in my hometown—and beading is the only thing I have done since! In 2009 my first book was published in Germany "Das Perlenkochbuch." In 2012 my first book in the states was published "Sabine Lippert's Beaded Fantasies;" followed by "Beadwork Evolution: New Techniques Using Peyote and Right-Angle-Weave" in 2014."

Sabine is an incredible, imaginative, prolific beader. You can learn about her work at Try to Bead.
About Your Tour Leader . . . Cheryl Frasca, Owner, Beadventures
In January 2009 Cheryl Frasca of Anchorage, Alaska took over owenership of Beadventures from Cheryl Cobern-Browne, who now spends more time at the wonderful retreat center that she built in Ireland.

Cheryl F. had been on several Beadventures, prior to her taking over the company. She serves as tour leader for Beadventures to her home state of Alaska. The fun of these experiences--and the great friends she has made--is what convinced Cheryl F. to take on Beadventures. Cheryl has been beading since the late 1990s. While she occasionally dabbled in fiber and other mediums, seed beads are her favorite--especially free form bead embroidery. She retired from public service in 2012 after 30+ years working for elected officials on Alaska budget/fiscal policy. She continues to do consulting and volunteer work so she can maintain "flexibility of schedule" that allows her to travel here and there!

Trip Cost
Cruise & Anchorage: $3,965.00 for shared inside cabin (Category L) and Anchorage hotel; ship's cabin can be upgraded based on availability; click here to view deck plans should you want another category of room
Single supplement: $999 aboard ship; $900 in Anchorage
Other options:
Cruise Only: $2,395 for shared cabin (as described above)
Anchorage Only: $1,570 for shared hotel room

Cost includes:
7-day cruise aboard Holland America's Westerdam
8 nights of lodging in a charming boutique hotel in downtown Anchorage
All meals aboard the ship
All breakfasts in Anchorage
Transportation via train from Seward to Anchorage
Anchorage Museum admission, private docent tour
Alaska Native Heritage Center admission
Alaska Wildlife Conservation Center admission and tour
Tuition for 3-day master workshop with Sabine on the cruise
Tuition for 3 days of workshops with Sabine in Anchorage
Trip Cost Does Not Include:
Airfare to Vancouver, B.C., Canada and from Anchorage, AK
Trip insurance
Shore excursions while on cruise
Lunches and dinners while in Anchorage
Kits for Sabine's workshops
To Sign Up & Payment Terms
To guarantee your spot on this trip, send in a $1,000 deposit and completed registration form
Balance will be due 120 days prior to start of Beadventure (see Conditions & Responsibilities for more information)
Trip Notes
What to Pack
Alaska's weather can be fickle so be prepared for rain showers or sun-filled days!
Remember to Bring . . .
Your passport (not for Alaska!) but for Vanouver, British Columbia, Canada; your passport needs to be valid for at least six months beyond June 2020
For the beading workshops, bring your customary bead supplies (beading mat, needles, thread, magnification; if you need a task light, it must be battery powered for the workshop aboard ship).
About Trip Insurance
To help protect the investment you are making in your planned travel, you are strongly encouraged to purchase trip insurance. Beadventures recommends TravelEx Insurance Services; click here for more information about its policies.