Experience New England & Canada with Cynthia Rutledge
September 5 – 14, 2013
Land: Boston, MA
Cruise: Bar Harbor Maine ~ Halifax, Nova Scotia ~ Sydney ~ Charlottetown, Prince Edward ~ Saguenay Fjord ~ Quebec City
Beadventure underway--and having a great time!!!!!
Optional Felting Workshop with Gail Crosman Moore
September 3 - 5
Lexington, MA

Come tour Boston, Massachusetts and cruise through New England and Canada with Cynthia Rutledge. You'll experience the colonial history of Boston for three days and then board Holland America's ms Veendam for a 7-day cruise along the Atlantic Coast to Nova Scotia; sail the scenic Saguenay Fjord and reach Quebec City, Canada.
And can it get even better, you ask? Absolutely—Cynthia will be creating a project special to this Beadventure!
Itinerary - Boston & Cruise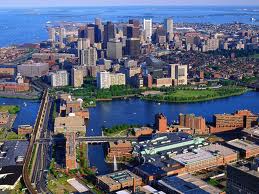 Day 1. Thursday, September 5. Arrive and Tour Boston.
You'll arrive in Boston in time for an afternoon tour of the city. The base for our stay will be the Ames Boston Hotel. In the evening we'll gather in the hotel lobby to head out for a welcome dinner (included).
Day 2. Friday, September 6. Further Exploration of Boston.
We'll do all we can to maximize our day in Boston in order to experience its rich history. Options include:
A "Walk Into History" with an 18th century costumed guide who will take us along the Freedom Trail, a brick-lined route to historically significant sites of the American Revolution, including churches, burying grounds, museums, and meetinghouses;
Boston's Museum of Fine Art, which originally opened its doors to the public on July 4, 1876. Today the museum is one of the most comprehensive art museums in the world, which includes a jewelry collection that ranges from ancient Egyptian broad collars to contemporary studio jewelry. The School of the Museum of Fine Art is across the street and we'll see if there are any events of interest going on while we're there;
SoWa Arts District (South of Washington) is home to LOTS of great studios and galleries, including Bead+Fiber, a bead and yarn shop; and
Faneuil Hall Marketplace (also known as Quincy Market), located along the Freedom Trail and near our hotel, is an urban marketplace that includes an array of shops, restaurants, and outdoor entertainment.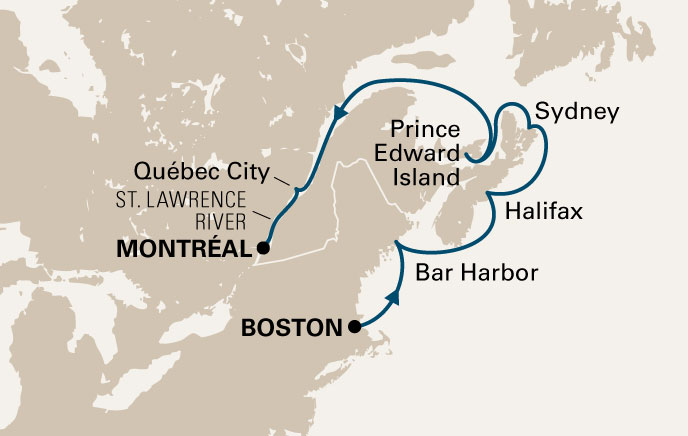 Day 3. Saturday, September 7. Anchors Aweigh!
Mid-day we'll be transported to the Boston Cruise Terminal to board the ms Veendam for our 4 p.m. departure. We'll get settled into our cabins in the afternoon and then toast our departure from Boston as we sail north.
Days 4. Sunday, September 8. Bar Harbor, Maine and Workshop.
Bar Harbor is Mt. Desert Island's largest community and was New England's premier summer resort in the 19th century. It was home to the largest hotel in North America and to Millionaires' Row, a line of spectacular summer estates built for America's richest and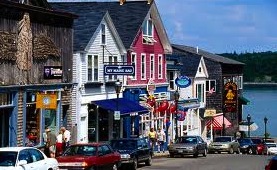 most powerful families—from the Rockefellers, the Fords, the Vanderbilts, the Carnegies, the Astors and the Morgans. Its rock-bound coast and soaring granite cliffs, sweeping vistas from atop Cadillac Mountain, all give it a special mystique. You'll be able to walk the streets of the town, relax on the Village Green, or climb Cadillac Mountain.
In the afternoon we will have our first workshop on Cynthia's project.
Day 5. Monday, September 9. Halifax, Nova Scotia, Canada.
Halifax is the capital city of Nova Scotia and the largest city in the Atlantic Provinces of Canada. The city's origins and rich maritime history are due to its strategic location and having one of the world's great natural harbors. In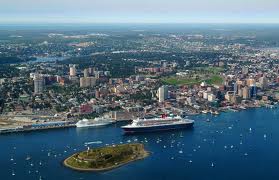 the 19th and early 20th century, Halifax was the entry point for European immigration to Canada. Today it is a busy Atlantic seaport and the economic and cultural hub of Eastern Canada. Its landmarks include the Citadel fortress, Pier 21 (Canada's Ellis Island), and the Maritime Museum of the Atlantic. Opportunities for shore excursions include a guided photography tour through Halifax and Peggy's Cove with its craggy coastline and bouldered topography or a visit to the German village of Lunenburg that has been meticulously restored and designated a UNESCO World Heritage Site.
Day 6. Tuesday, September 10. Sydney, Nova Scotia, Canada.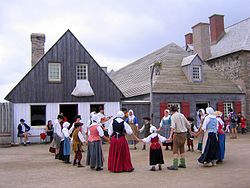 Sydney is Nova Scotia's third largest city located on Cape Breton Island, which is at the northeast end of the province. Its wild topography includes Cape Breton Highlands National Park, Bras d'Or Lake, and miles of rugged coastline. Shore excursion options include a visit to highland villages; exploration of the scenic Cabot Trail; a sail on the Bras d'Or Lakes; or inspection of the Fortress of Louisbourg where every barn, barracks, and pipe and drum corps appears just as it did when King Louis' troops occupied the site in 1744.
Day 7. Wednesday, September 11. Charlottetown, Prince Edward, Canada.
Charlottetown is the largest city on the south shore of Prince Edward Island (the province's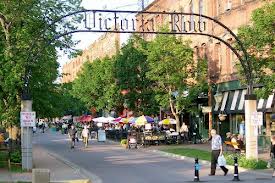 smallest island) and its capital. Its Victorian architecture, abundance of parks, and harborside location make it a special stop along the cruise. Shore excursion opportunities include walking the cobblestones of Victoria Row; exploration of the rolling countryside of the northern part of the island; a visit to the house that inspired "Anne of Green Gables;" or a lobster fishing expedition.
Day 8. Thursday, September 12. Cruise the Saguenay Fjord and Bead Workshop.
Today we'll be at sea cruising through the Saguenay Fjord, a valley that has been shaped by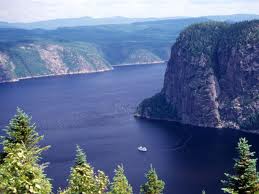 the passage of glaciers that dug deep into its bed giving it the shape of a glacial "trough" (translation: beautiful scenery). We'll also have a workshop today on Cynthia's beading project (don't worry, we'll make certain you won't miss the scenery!),
Day 9. Friday, September 13. Quebec City, Canada.
We'll dock in Quebec City at 8 a.m. where the ship will remain overnight, giving us plenty of time to visit this beautiful city. Quebec City is the capital of the Canadian province of Quebec and is one of the oldest European settlements in North America. Quebec's Old Town (Vieux-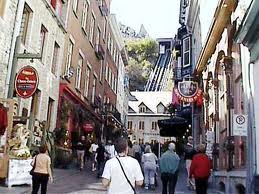 Québec) is the only North American fortified city north of Mexico whose walls still exist. One of the most remembered images of the city is the Chateau Frontenac hotel that is surrounded by cannons. It was built to evoke a mountain castle and sits atop a cape above the St. Lawrence River. The hotel is part of the city's Old Town, a UNESCO World Heritage Site. Its stone buildings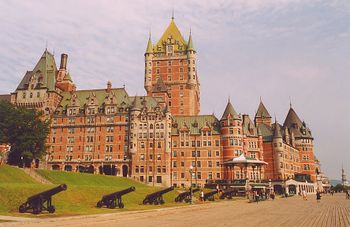 and winding streets will make you think you're in Europe. Shore excursion opportunities include a walk to the Lower Town where many structures date back to the city's beginnings.
Day 10. Saturday, September 14. Return Home.
We'll disembark the ship at 7 a.m. Return flights should be at least four hours later to ensure enough time to get your luggage, go through Customs, travel to the airport, etc.
Workshop Note: We'll work around on-shore excursion schedules to set up additional workshop time during the cruise.
Project Designed by Cynthia Just for this Beadventure . . .

"Les Filles Du Roi"
The Kings Daughters

The 17th century was a time of expansion and discovery. The powerful countries of Europe fought to carve the new world into colonies that would provide fertile land and raw materials, benefiting their homeland.

There was a sever imbalance between single men and women in New France. In order to strengthen France's hold on the Quebec colony, Louis XIV sponsored passage for over 700 young ladies to immigrate to New France. Between the ages of 15 and 30, young ladies of good moral caliber and sound health, were given passage, a trousseau and dowry to leave their families and home and settle in the new world. Given the name "Les Filles Du Roi", The Kings Daughters, these young ladies traveled to New France to become wives and mothers. Two thirds of all French Canadians can trace their ancestry back to one or more filles du roi.

This bracelet design, Les Filles Du Roi, is all about the symbolism between the courageous young women who risked their lives to answer the call from their king, and the dangers of crossing the ocean to a new life in New France. A beautiful cushion cut CZ take center stage representing the expanse of the ocean. The four straps of the CZ embellishment denote the four winds: North, South, East and West. The use of SilverSilk Capture as the surround embellishment represents the course of the brave souls that crossed the expanse of the ocean, to a new continent, and to a new life. The bracelet strap shows the many waves that the ships had to hurdle to safely bring precious cargo to the new world.


About Cynthia Rutledge . . .
Cynthia is a contemporary artist and teacher focusing on beadwork as her medium. She specializes in peyote stitch and off-loom weaving techniques with an emphasis on developing sculptural unsupported shapes in beadwork. Her work has been exhibited in national and international shows and has appeared in Nicolette Stessin's Beaded Amulet Purses, Carol Taylor's Creative Bead Jewelry, and Carol Wilcox Wells' Creative Bead Weaving: A Contemporary Guide to Classic Off-Loom Stitches.

Cynthia writes:
"My attraction to 3-dimensional shapes has created a fascination for me throughout my life and has fueled my creative spirit. My choice of beadwork as a primary medium has followed that same fascination. As my beadwork has evolved, my work seems to always lean towards the building of shapes and forms that are functional and wearable.

The choice to use beads as my medium was primarily influenced by my love of color. Beads reflect and absorb light, hold shape and dimension, and in so doing, offer chameleon-like qualities. It is not always the end result that is the most important to me, however. The process of working with beads and thread is meditative and calming, which allows time for reflection. Engineering each piece is always a challenge that thrills me, as well as giving me the power to make the decisions that need to be made for each piece. The more I experience the wonderful qualities of beadwork, the more I realize my relationship with beads will always be one of learning, experiencing and sharing.

The decision to teach grew from my personal desire to share my love of beads and all the wonderful things that can be created with them. The commitment that I have to teaching stems from my desire to share the knowledge I have gained while developing my own skills in this medium. Ultimately, my mission is to help to keep this art form alive and well."
Optional Felting Workshop with Gail Crosman Moore
September 3 & 4
Lexington, MA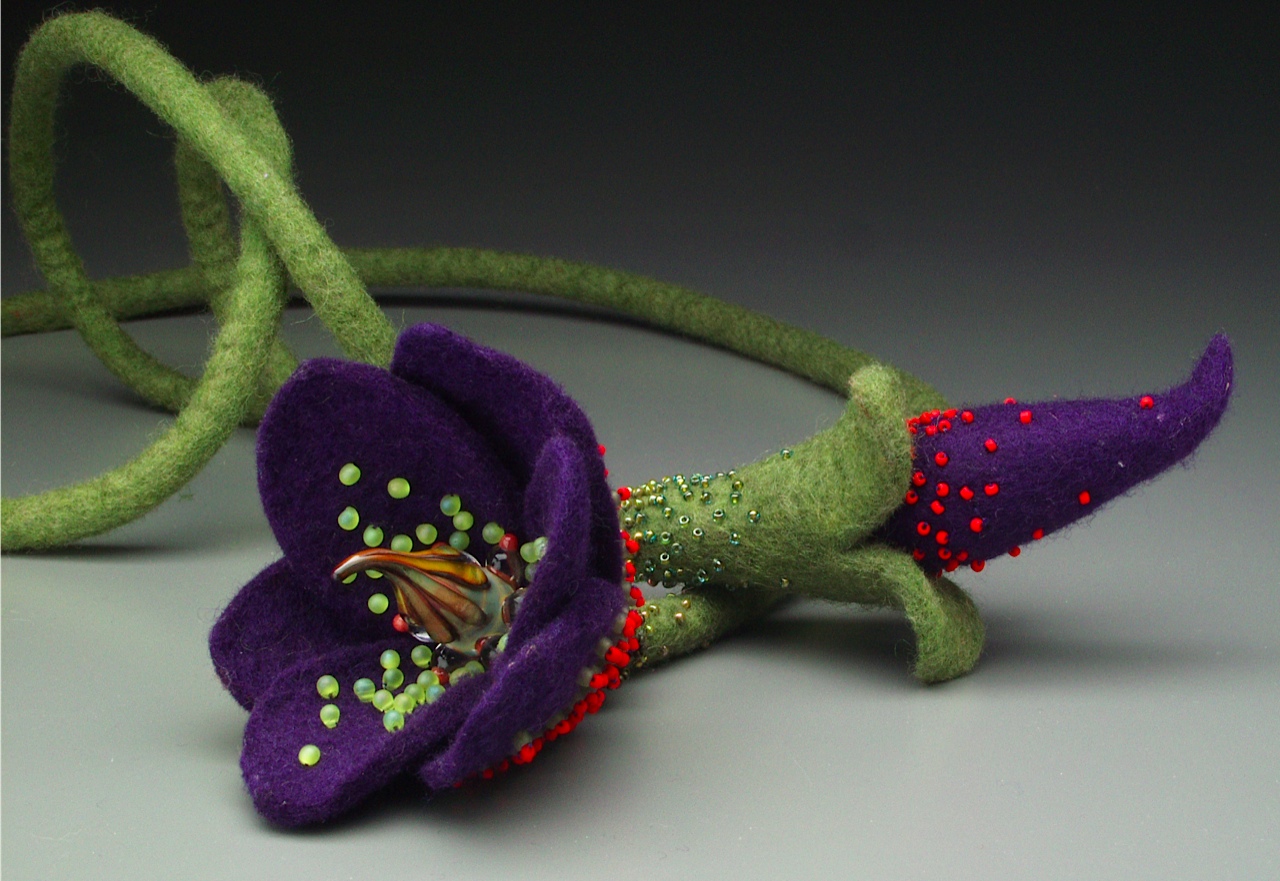 We couldn't visit the Boston area without a workshop with world renown artist Gail Crosman Moore! In this full day class we will take wool fleece through several different methods of felting; flat, over an armature and needle felting. We will create several parts that will be "married" through one or several different methods to result in a floral corsage or pendant or brooch that will be the basis for subsequent embellishment.
Included in kit: fleece in several colors, sequins, beads, imported yarn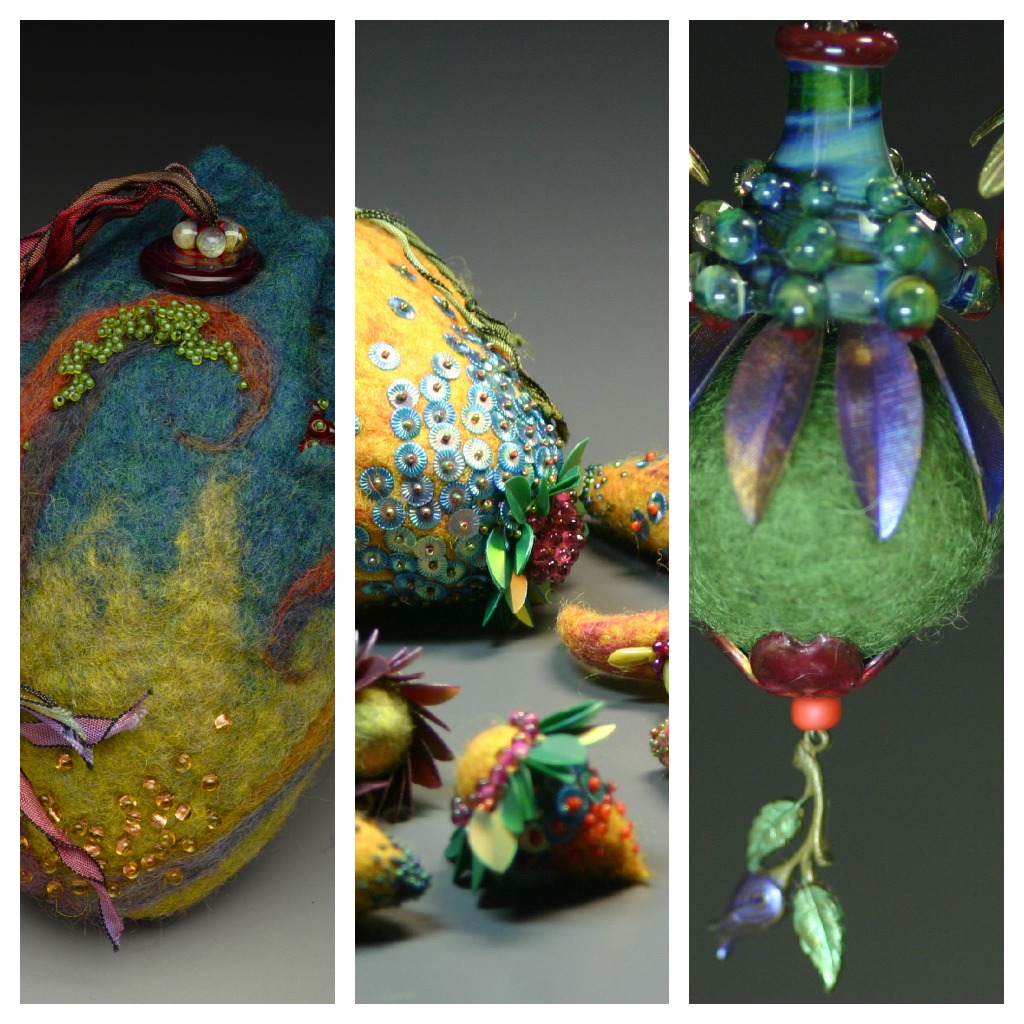 , thread, findings and tools, props. Students need only bring a large bath towel!

Day 1. Tuesday, September 3. Arrive in Lexington.
We'll get settled and meet for a welcome dinner (included) that evening.

Day 2. Wednesday, September 4. Workshop.
We'll spend the day with Gail in a workshop creating something beautiful (10 a.m. to 5 p.m.).

Day 3. Thursday, September 5. Travel to Boston.
We'll travel to Boston today and catch up with the rest of the group for the rest of our Beadventure!
About Gail Crosman Moore . . .

Gail is known for her fabulous work with metal clay, lampwork, and felting. As to what drives Gail's passion, she shares that "The one common denominator in all of my work is me so I thought that I would take a minute to tell you a little bit about my passion....I need to make things. Things out of fiber, glass, clay, metal, paper, no material is safe! My other need is to get whatever I am working on out of the second dimension and into the third. Color, form and texture are what make my heart sing."

You can learn more about Gail and her beautiful work on her website. Join us in this great opportunity to peek inside Gail's world!


Trip Details

Costs
Boston & Cruise: $4,295.00
Single supplement (based on availability) is an additional $1,740.00.
Optional Felt Workshop: $650.00
Single supplement (based on availability) is an additional $225.00.
Trip Cost Includes:
In Boston:

All lodging
Welcome dinner; all breakfasts
Ground transportation
Tour admissions
Transport to cruise terminal
Cruise:
All lodging (Lanai stateroom, Category CA)
All meals
Bead workshop
*Travel insurance coverage provided is for eligible covered expenses (download coverage information). If you want to increase coverage to include cost of air transportation and/or extended travel planned on your own, please consult with Beadventures regarding the cost for the additional coverage.
Trip cost does not include:
Airfare
Transportation from airport to hotel
Other meals in Boston
Alcoholic beverages
Tips
Cruise shore excursions
Supplies for Cynthia's bead project

Optional Workshop Costs
Includes:
Lodging
Welcome dinner
Workshop and kit
Transport from Lexington to Boston
Doest not include:
Airfare
Transportation from airport to Lexington
Other meals
Alcoholic beverages
Tips
Payment Terms
$500 deposit to hold spot; balance due June 4, 2013 (see Terms and Conditions for more information).