Tour Czech Republic: Heart of Bead Making
Mid to Late April 2016
With Doris Coghill, Tour Leader
Prague ~ Jablonec
IMPORTANT NOTE: We can't firm up reservations until late June so check back then. The itinerary below is from the 2014 Beadventure to the Czech Republic and is an example of what will be on the 2016 trip. The 2016 itinerary will be posted as soon as details are confirmed.

About the 2014 Trip . . .
This very special Beadventure, led by experienced tour leader Doris Coghill, takes you to the Czech Republic, the heart of bead making. Here you'll learn about the long history of glasswork and bead making. You'll experience where and how Czech glass and beads are made and about the people that make them. You'll experience the local people, their customs, and their love for beads by visiting museums where you'll learn about the history of beadmaking, how it was done 100 years ago compared to today, and how the glass industry impacts the local culture.
There will be ample opportunity to buy both new and antique beads to add to your collection as well as finished jewelry made with locally made beads. Our local guide, Christa, promises several special not-to-be-missed surprises along the way with a peak at her personal collection of beads!
Itinerary
Day 1. Arrive in Prague.
You'll likely depart for Prague on May 3rd in order to arrive in this beautiful city on May 4th. With some six hundred years of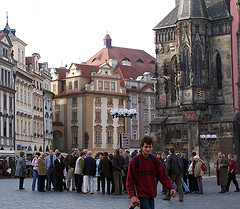 architecture virtually untouched by natural disaster or war, few other cities anywhere in Europe look as good as Prague.
From the airport you will take a taxi to our hotel in the Old Town District. Depending on the time of your arrival, you can relax or enjoy the architecture, shopping and markets located down the many cobblestone streets near our hotel.
Day 2. Tour Prague's Highlights.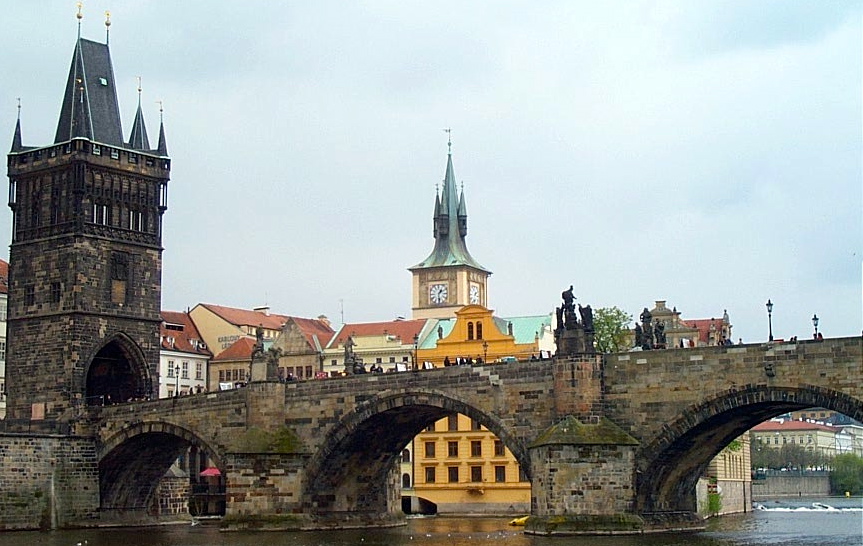 Our group will enjoy a guided tour of the Prague's highlights that will include the Hradcany castle district and the magnificent gothic St Vitus cathedral; the Queen's palace and gardens; Old Town Square and its fascinating World Clock; the Opera House; and much more. Later, we will walk down to the famous Charles Bridge and enjoy the view of the city from the Vltava River.
Day 3. Explore Prague's Shops and Architecture.
Today we will explore more of the shops and architecture of Old Town and St. Wenceslas Square, just blocks from our hotel. The shops are filled with everything from amber jewelry to designer fashions, with even a few antiques and, of course, two or three bead stores. If the weather co-operates, we also will do a lunch cruse on the river.
Day 4. Travel to Jablonec.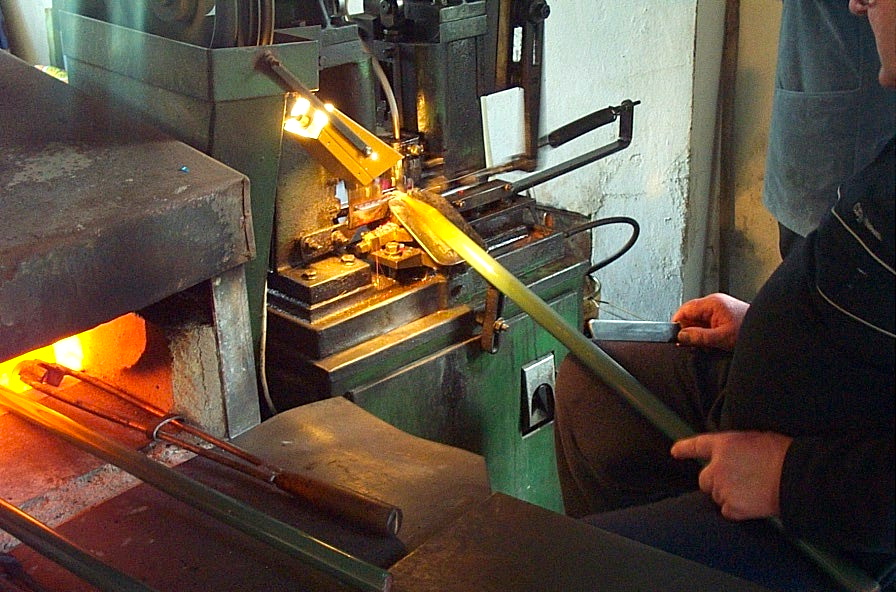 Today the group will leave Prague and travel north to Jablonec in the mountainous area, which is the heart of the bead-making district. We will stop along the way to visit our first bead factory, which is no longer in production, but will fire up the furnace just for us and serve us lunch along with a lampwork demonstration! We will settle into our comfortable Hotel Zlaty Lev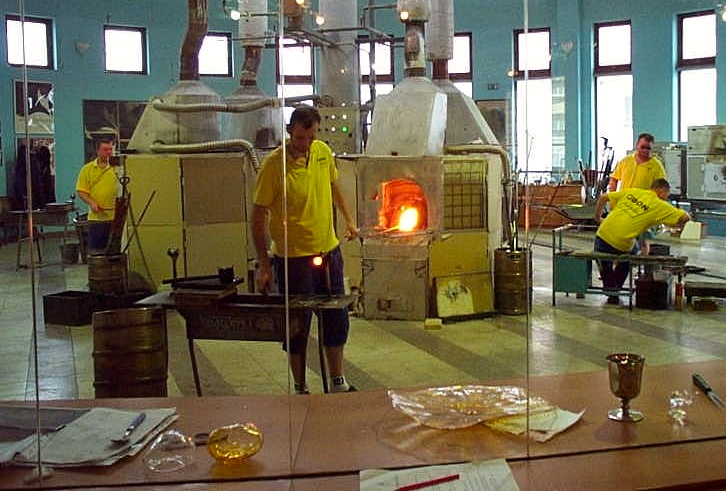 for the week, which is within walking distance to the local downtown shopping area of this city of about 50,000.
Days 5 – 10. Experience Jablonec.
During our week in Jablonec we will:
• Travel via private bus to a number of factories, factory stores, and museums;
• Watch the pressed glass beadmaking process from beginning to end at both a large modern factory and at one of the more common cottage industry factories;
• Visit the Garnet Museum and shop for the famous Czech Garnet jewelry and see how it is made;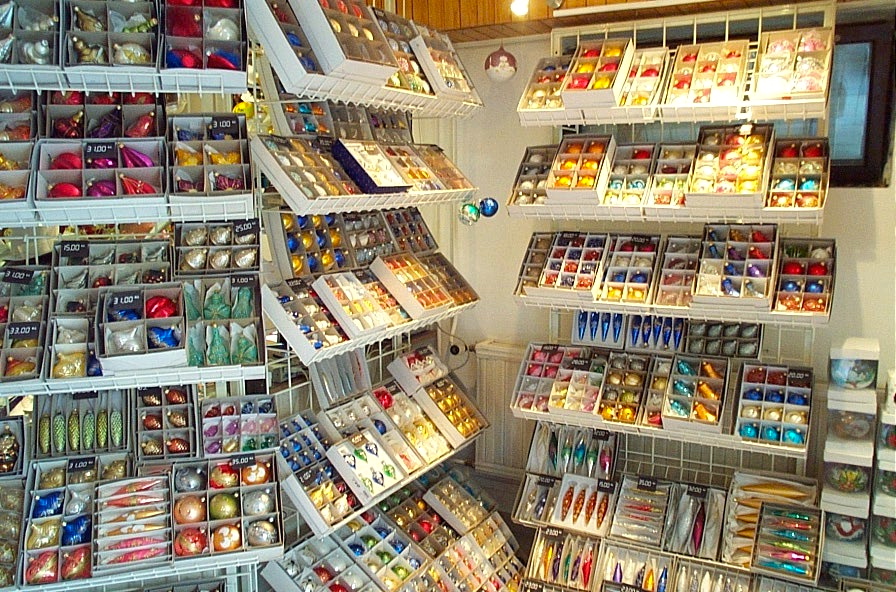 • Visit one of the many local Castles and have lunch at the local pub;
• Meet lampwork bead artists and visit their studios;
• Visit the glass school of Zelezny Brod and see the students working at their various disciplines;
• Visit a seed bead factory store, a Christmas ornament store, and local bead stores that are a recent additions to Jablonec;
• Tour the Glass Museum in Jablonec;
• Visit antique stores;
• Have lunch in a restaurant that surrounds a glass glowing furnace during which you can watch pieces being made while you eat;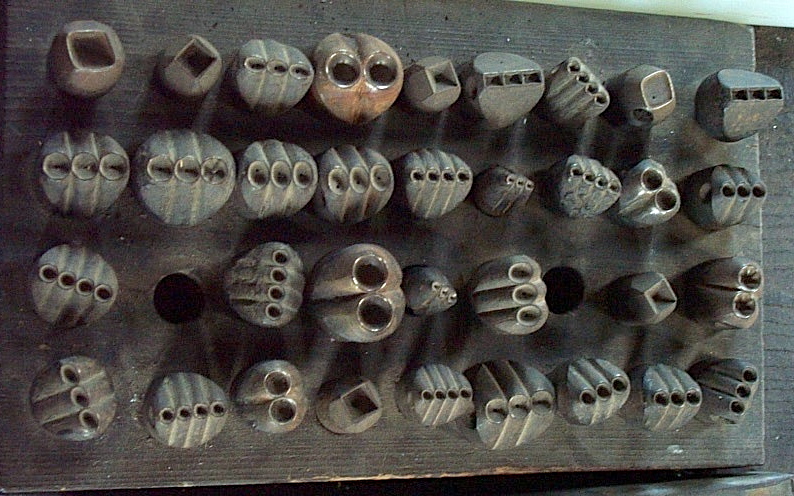 • Visit the studio of a local glass etching artist (or if not available he will come to us to sell his wares);
• Check out our guide Christa's stash of vintage beads and buttons that will be available for us to buy.
Day 11. Return to Prague to Depart for Home.
In the morning we will depart Jablonec via our charter bus for the 2-hour drive back to Prague. We will deliver you directly to the airport for your return home (schedule your flights to leave after 12:00 noon).
About Your Tour Leader: Doris Coghill
Doris left the corporate world in 2000 to pursue beads full-time. Since then she has spent her time being a sales representative for a bead company; designing kits and teaching them both locally and nationally; leading Beadventures to the Czech Republic and Providence, RI; maintaining her web site and growing her online business at www. She has also contributed projects to 7+ books by various publishers and has had many articles/projects published in leading bead magazines. She also promotes bead shows and puts on two bead shows per year in the Minneapolis area.

Trip Cost - in 2014
$2,850 per person, based on sharing a room; single room (based on availability) is an additional $425.

Cost Includes
All lodging
75% of meals
Trip insurance: insurance coverage is based on eligible expenses within the amount paid to Beadventures ( download coverage information). If you want to increase coverage to include cost of air transportation and/or extended travel planned on your own, please consult with Beadventures regarding cost for additional coverage.
Transport to airport on last day
Cost Does Not Include
Airfare
Transport from airport to hotel upon arrival
25% of meals
Trip Notes
What to pack
May in Czech is usually fair weather in the 60-80's, but it is a good idea to also bring a raincoat or jacket in case the weather turns cold.
Activity Level
We will be walking on many uneven cobblestone streets and hills so bring good walking shoes. This trip is not for people who have trouble walking or taking stairs, as many places do not have elevators.