Tucson Gem & Mineral Show--The World's Largest!
Tucson, Arizona
January 31 - February 5, 2018
The Annual Tucson Gem and Mineral show is the largest of its kind in the world with 37+ shows going on at various times over a two-week period. The venues are spread out all around Tucson and it can be an overwhelming experience if you have not previously visited the show.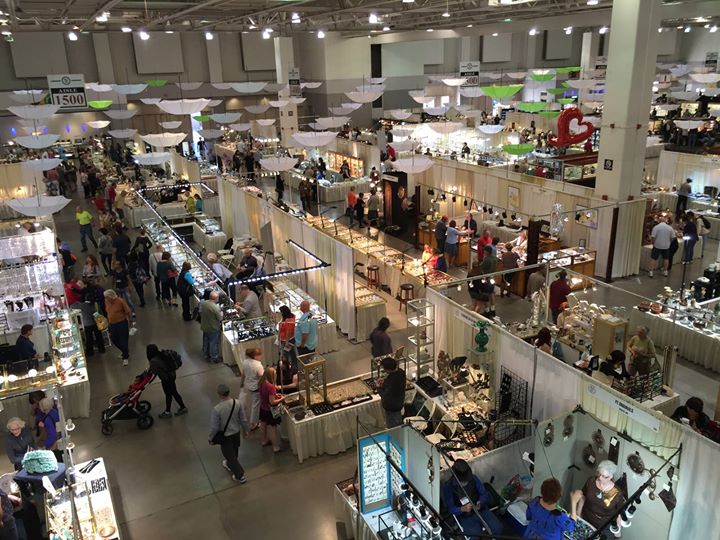 This Beadventure is designed so you can have easy access to the main bead venues and not have to worry about shuttle buses, long lines, and waits at shows and registration. Your knowledgeable tour leader, Doris Coghill, has both shopped and worked at various shows for more than ten years. Before you even get to Tucson, Doris will have reviewed the 2018 Show Guide and developed a game plan for the group so you will be able to maximize your time by getting into the best shows during your four full days of shopping.
Throughout the Beadventure you'll also have sessions on topics that advance your understanding of what to look for while shopping for beads. For example: how to tell the quality of a pearl; how to tell if what you are looking at is glass or stone; how to determine if what is labeled as a semi-precious stone is actually made of glass; how pressed glass beads are made; how to determine where a bead is made just by looking at it.
This is a way to have someone else sort it all out and key into your areas of interest so you can do what you came for—buy beads!
Itinerary
Day 1. Wednesday, Jan. 31. Arrive in Tucson.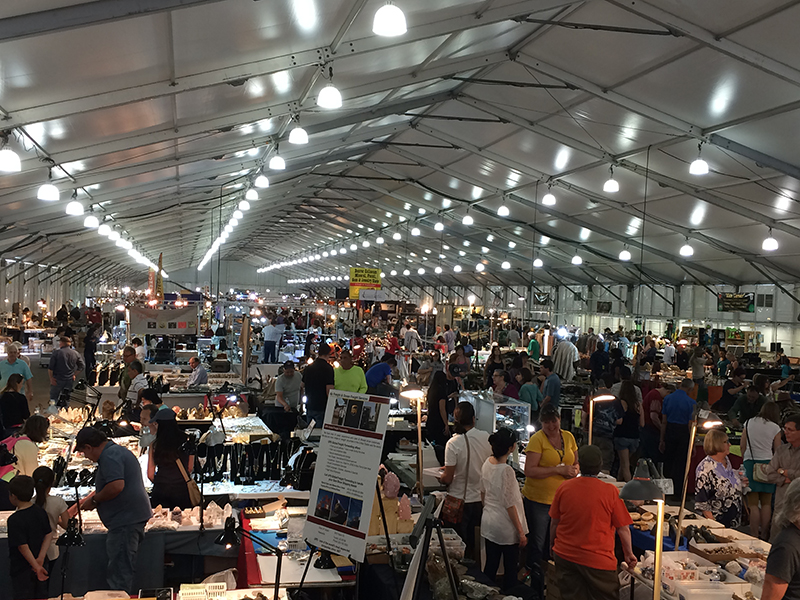 Today you will arrive in Tucson. In late afternoon/early evening we'll gather in the hotel lobby and then head out on a sightseeing tour of Tucson (and hopefully catch one of Tucson's 360-degree sunsets). The day will be capped off by our welcome dinner (included).
Days 2 - 5. Thursday, Feb. 1 - Sunday, Feb 4. SHOP!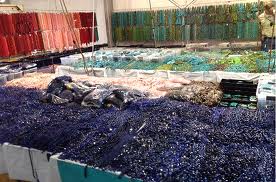 Over the next four days the following are examples of the shows that you'll experience:
Best Bead Show
To Bead True Blue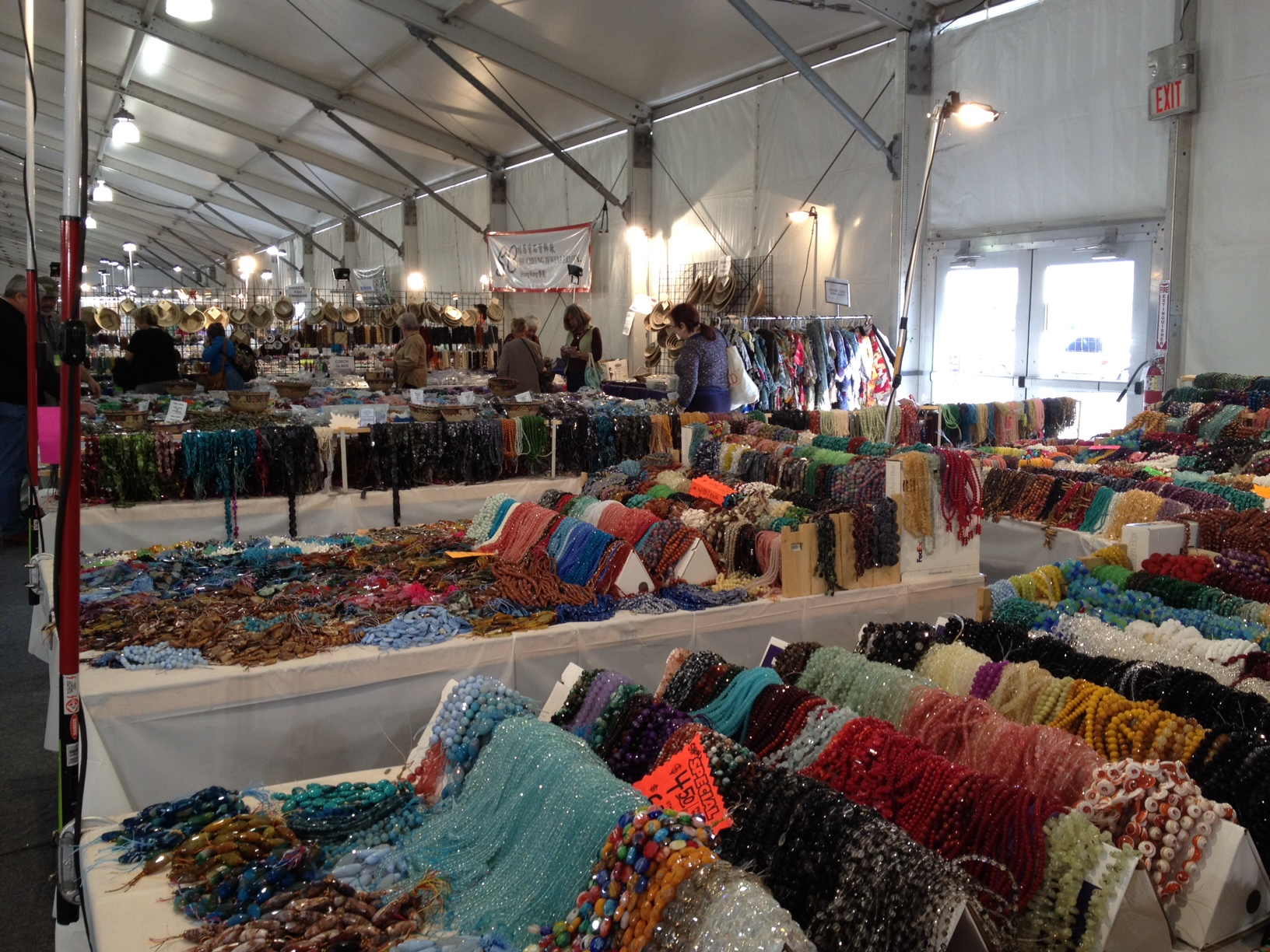 Holidome and Gem Mall
Tucson Bead Show
Holiday Inn Show
And will try to fit in more if there is time and interest!
Day 6. Monday, Feb. 5. Departure.
Today your Beadventure ends and you'll depart for home.

About Your Tour Leader: Doris Coghill
Doris left the corporate world in 2000 to pursue beads full-time. Since then she has spent her time being a sales representative for a bead company; designing kits and teaching them both locally and nationally; leading Beadventures to the Czech Republic and Providence, RI; maintaining her web site and growing her online business at www.beadsbydee.com. She has also contributed projects to 7+ books by various publishers and has had many articles/projects published in leading bead magazines. She also promotes bead shows and puts on two bead shows per year in the Minneapolis area—let there be no doubt she knows her way around the Tucson show!
Trip Cost
$1,275.00; single supplement (based on availability is $380)
To Secure a Spot / Payment
To guarantee your spot on this trip, send in a $600 deposit and completed registration form.
Balance will be due 90 days (October 31) prior to start of Beadventure (see Conditions & Responsibilities for more information).
Cost Includes:
All lodging
All breakfasts and dinners
Transport to and from daily shows
Informative discussions by knowledgable tour leader and vendors
Cost Does Not Include:
Airfare
Lunch each day at the shows (food carts/food courts will be at each show)
Travel insurance (required)
Trip Insurance
To protect the investment you are making in your planned travel, you are required to provide Beadventures with confirmation that you have purchased trip insurance when you send in your final payment. You may be think that since this trip is so close to home, why do I need insurance? There has been more travel disruptions due to weather on US-based Beadventures than on our international destinations! Beadventures highly recommends TravelEx based on its excellent customer service. Click here for information about their coverage options.
Trip Notes . . .
There is a lot of walking and standing required as you visit the many venues so bring comfortable shoes;
Consider bringing a bag/cart on wheels to carry your purchases along the way/throughout the day;
Want to arrive earlier and/or stay later? If so, let us know and we will be glad to make arrangements to extend your hotel reservation.