Vintage & Antique Shopping in London
Doris Coghill, Tour Leader
May 10 - 20, 2018
Certainly London happenings have been in the news lately. While it hasn't been about vintage shopping, it certainly has been about plans for a royal wedding! Even though it won't take place until after our Beadventure, you still will be able to get in on the pre-wedding excitement while there!
At the same time, there also is a vintage market somewhere in London every day of the week, along with an occasional antique show and shops. There's even a vintage warehouse with 50+ years of vintage Swarovski and jewelry findings! The goal of this trip is to visit as many of them as we can fit into our time in London, with some time left over for sightseeing. All of the markets carry a good variety of items, so you do not have to be shopping for just beads or jewelry. Some of the markets are small enough that we will visit them in the morning and then you will have the afternoon on your own to be a tourist in this incredible city.
During the week we will travel via the London Tube and you will have a weeklong pass that will allow you to ride on any bus or tube in the central area. All of the markets and most of the tourist sites are in the central area. We will travel as a group the first few days so you learn how to navigate and read the bus and tube schedules before you head out on your own.

We will start out the week with a "hop on-hop off " type bus tour that will help you become more familiar with the city and the tourist attractions you might want to visit. You can "hop off" to check out any of them that day or ride the bus the entire route listening to the travel monolog as you go. One day during the week (based on weather) we will visit the famous London Eye to get a bird's eye view of the city.

Our hotel will be easy walking distance to the bus and tube stations and several parks along with many restaurants and shops. This trip will have lots of walking, some on uneven pavement, so be sure to bring comfortable walking shoes—and please recognize this is not a trip for anyone that has difficulty walking.
Itinerary
Day 1. Thursday, May 10. Arrive in London.
Today you'll arrive at Heathrow airport (LHR) in London and make your way to our hotel via taxi or tube. Depending on your arrival time you can walk the area around the hotel or rest before our welcome dinner (included).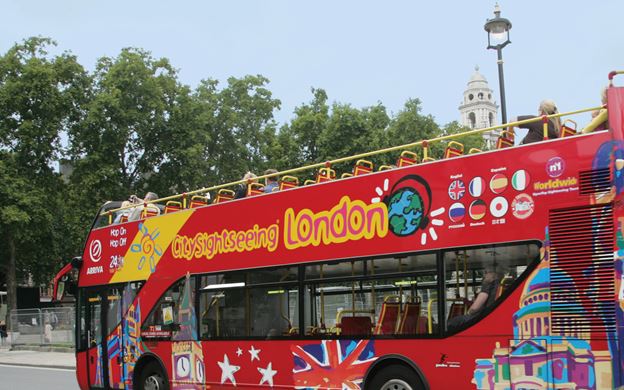 Day 2. Friday, May 12. See the City.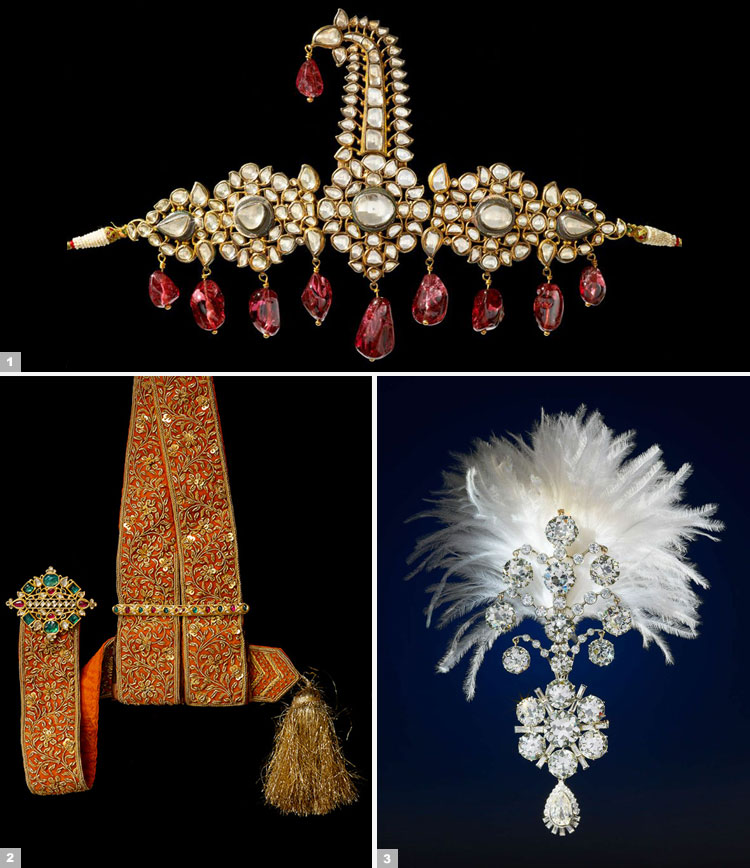 The group will spend the day touring the city via a "Hop on–Hop off" bus, which will be a great introduction to the sites (you might want to check out the incredible jewelry gallery at the Victoria & Albert Museum!). Lunch and dinner will be on your own as it is unlikely everyone will "hop on or off" at the same place(s)!

Day 3. Saturday, May 12. Portobello Road Markets.
One of the largest and most famous markets in London is held Saturday on Portobello Road. It is actually a group of markets all on the same street. As you walk down the street the atmosphere changes from antiques to farmers market to entertainment to food to clothes to just about whatever you might want. The stores along the street also are open. The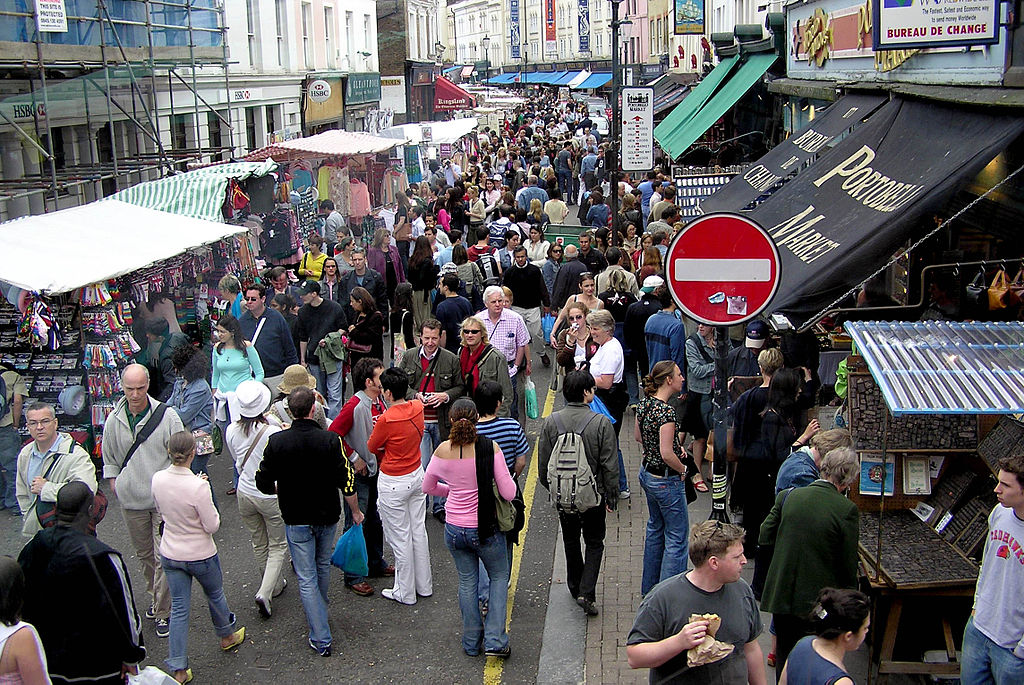 markets are actually open several days during the week with Saturday being the busiest and known for antiques. Lunch on your own. We will meet back at the hotel for dinner (included).
Day 4. Sunday, May 13. Local Antiques or Camden.
The market we visit today will depend on the local antique shows' schedule (which hasn't yet been published). We will either visit one of the monthly shows or head up to Camden for a day at their markets. The artwork on the building fronts in Camden is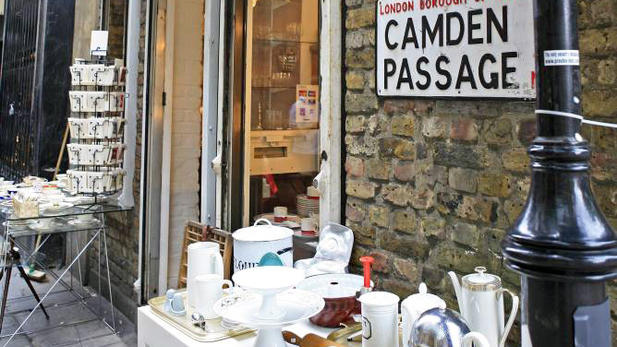 worth the trip, even if you do not buy anything.
Days 5-11. Monday, May 14 - Saturday, May 19. Vintage Warehouse & More Markets.
The rest of the week will be spent at various other markets and the vintage warehouse, with plenty of time available for you to visit museums and other attractions. Some of the markets are small and we can get through them by lunch time, which will leave plenty of time for sightseeing. We will let you know what attractions are in the area of that day's market and how to get there. Other markets will take all day!
Day 12. Sunday, May 20. Depart for home.
Today you will pack up all your treasures and head for home.
About Your Tour Leader: Doris Coghill
Doris left the corporate world in 2000 to pursue beads full-time. Since then she has spent her time being a sales representative for a bead company; designing kits and teaching them both locally and nationally; leading Beadventures to the Czech Republic, Providence, RI, and London; and growing her online business, Beads by Dee. She has also contributed projects to 7+ books by various publishers and has had many articles/projects published in leading bead magazines. She also promotes bead shows and puts on two bead shows per year in the Minneapolis area.
Trip Cost
2,350 British Pounds (click here for currency converter); single supplement (subject to availability) additional 785 British Pound.
To reserve a spot on this trip, send in completed registration form and US $1,000 deposit. Balance will be due 120 days prior to start of Beadventure (see Conditions & Responsibilities for more information). Final payment will be converted from British Pounds to US dollar at the time of invoicing; payment will be in US dollars.
Cost will include:
Lodging
Ground transportation (Tube pass; hop-on/hop off bus)
Some meals (about 65%)
Cost will not include:
Air transportation
Trip insurance (you will need to provide verification that you have purchased trip insurance at the time of final payment)
Transport to and from airport
Some meals (about 35%)
Trip Insurance
To protect the investment you are making in your planned travel, you are required to provide Beadventures with confirmation that you have purchased trip insurance when you send in your final payment. Beadventures highly recommends TravelEx based on its excellent customer service. Click here for information about their coverage options.
Trip Notes
This trip will have LOTS of walking, some of which will be on uneven pavement, so be sure to bring comfortable walking shoes—and please recognize this is not a trip if you have difficulty walking.