Northern Italy with Maggie Meister
Venice ~ Murano ~ Ravenna ~ Ferrara ~ Parma ~ Canossa ~ Bologna
September 14-27, 2017
Trip is full!
A note from Maggie about this Beadventure . . .
I developed this trip based on my love of Ravenna and its mosaics. My research of the region took me further into the Emilia Romagna region in which I discovered so much more about its history, cuisine, and culture. During our Beadventure we will visit the cities of Ravenna (a UNESCO Heritage Site), Bologna (home to the oldest university in Western Europe), Modena, and Parma. This region is world-renowned for its Parma Ham, Parmesan Cheese, and Balsamic Vinegar to name just a few foods. It also is the home for the Ferrari, Maserati and Lamborghini auto industry.

Our project will be based on designs from the Ars Canusina movement and I am working on our being able to visit some of the artisans. During our Beadventure, we not only will taste foods and wines but stay in the different regions that stem from the Po Delta to the Appenines.

I hope you will join me on this new itinerary as we experience together the beautiful Emilia Romagna region in Northern Italy.
Itinerary
Day 1. Thursday, September 14. Arrive in Venice; Water Taxi to Murano.
You will arrive at the Venice (VCE) airport from where you will take a water taxi to our boutique hotel on the charming island of Murano. The hotel is a beautiful new contemporary hotel in a great location that overlooks Murano's Grand Canal. Maggie will be waiting for you at the hotel upon arrival. We will gather in the early evening during which Maggie will give an overview of the island and our itinerary for the next few days. Given the varying arrival times (and jet lag!), lunch and dinner today will be own.

Day 2. Friday, September 15. Tour Venice.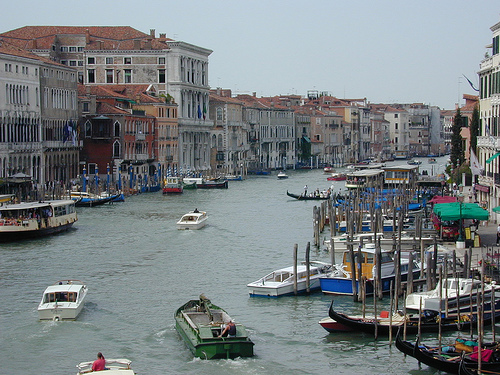 Today we will depart Murano via the Vaporetto for a day in Venice, the capital of the Veneto region. It is situated across a group of 117 small islands that are separated by canals and linked by bridges. Parts of Venice are renowned for the beauty of their settings, their architecture, and of course, artwork. In the morning we will have a guided tour of this intriguing city and the afternoon will be free to tour on your own (Maggie will be happy to offer suggestions and help with any reservations prior to the trip). Breakfast included; lunch and dinner on your own.

Day 3. Saturday, September 16. Explore Murano.
The morning is open to explore Murano. Murano also is a series of islands linked by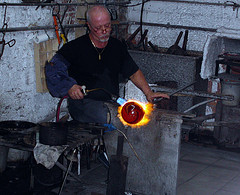 bridges in the Venetian Lagoo. As beaders know, it is famous for its glass making. In the late 13th century, all the glassmakers in Venice were forced to move to Murano due to the risk of fires. In the following century, exports began, and the island became famous, initially for glass beads and mirrors. Aventurine glass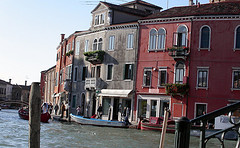 (glass with gold threads) was invented on the island, and for a while Murano was the main producer of glass in Europe. The island later became known for chandeliers and glassmaking is still the island's main industry. Along with the lovely art galleries and boutiques, there also are some lovely historical spots, including two glass museums to which Maggie will be glad to take you. Breakfast and dinner included; lunch on your own.

Day 4. Sunday, September 17: Workshop.
Today we will be the first day of our workshop on a project inspired by this Beadventure to Northern Italy. Breakfast and lunch included; dinner on your own.

Day 5. Monday, September 18. Ravenna.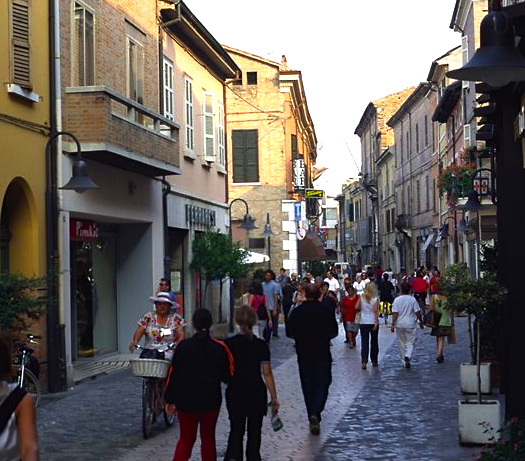 Today we will travel to Ravenna, located in the Emilia Romagna region and one of Maggie's favorite cities in Italy. Ravenna is known for its well-preserved late Roman and Byzantine architecture, and has eight UNESCO world heritage sites. Ravenna has beautiful architecture, world-renown mosaics, shopping, and is very easy to get around. We will get settled into our rooms, which will be followed by an orientation to the city by Maggie. You'll then have some time to check out Ravenna before dinner at one of the local restaurants. Breakfast and dinner included; lunch on your own.

Day 6. Tuesday, September 19. Workshop.
Today we will continue our workshop. Breakfast and lunch included; dinner on your own.

Day 7. Wednesday, September 20. Ferrara.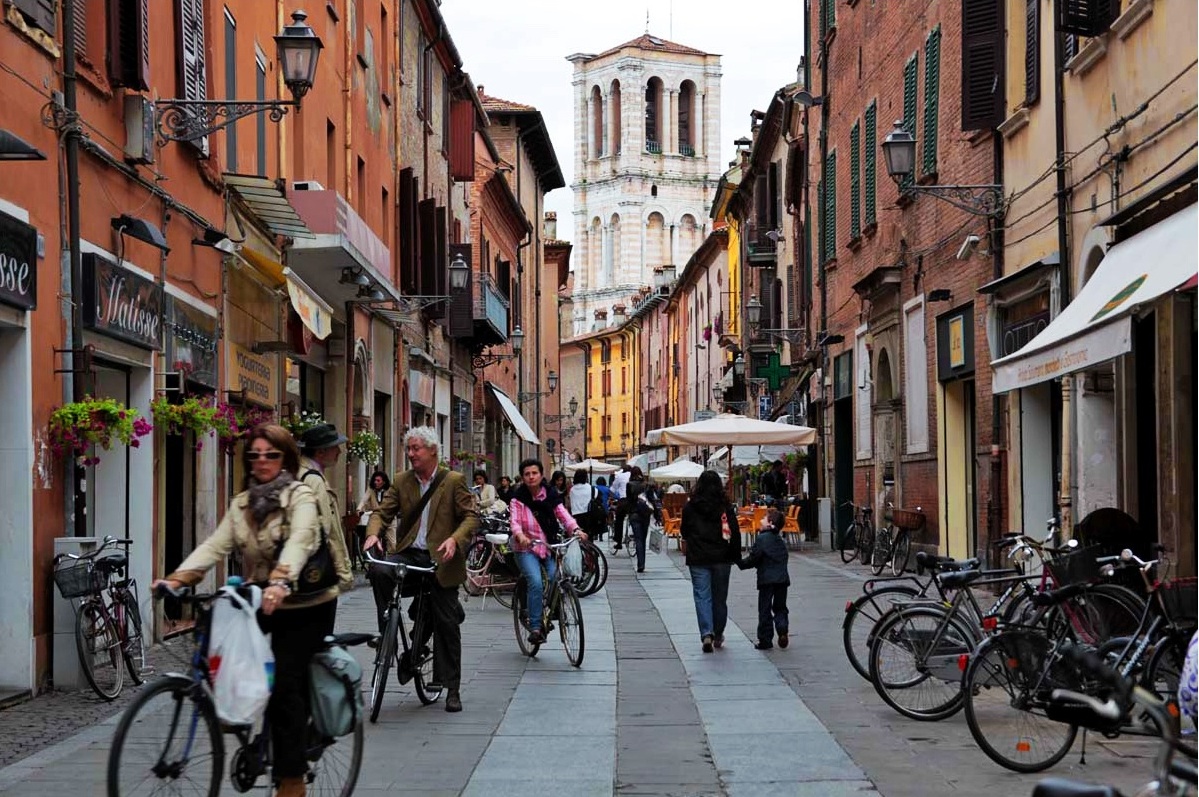 After breakfast we will travel to Ferrara and meet Manuela, our guide, who is an author and mosaic historian. Manuela will guide us through the city of Ferrara, which has been compared to Florence on a smaller scale with fewer tourists. The town has broad streets and numerous palaces dating from the 14th and 15th centuries, when it hosted the court of the House of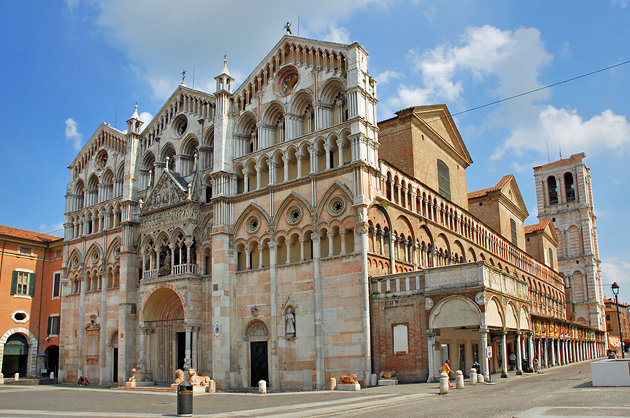 Este. For its beauty and cultural importance it has been qualified by UNESCO as a World Heritage Site. Following Manuela's tour, we will have a group lunch and the afternoon will be yours to further explore Ferrara. In the late afternoon/early evening we will return to our hotel in Ravenna. Breakfast and lunch included; dinner on your own.

Day 8. Thursday, September 21. Discover More About Ravenna.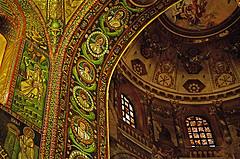 In the morning we again will meet up with Manuela for a tour of Ravenna's amazing Byzantine monuments and world renowned mosaics. After the tour the rest of the day will be yours to further explore Ravenna (Maggie will be glad to offer suggestions). Breakfast included; lunch and dinner on your own.

Day 9. Friday, September 22. Parma Countryside.
Today we will travel to our final home, a beautiful family-run historical hotel with a castle and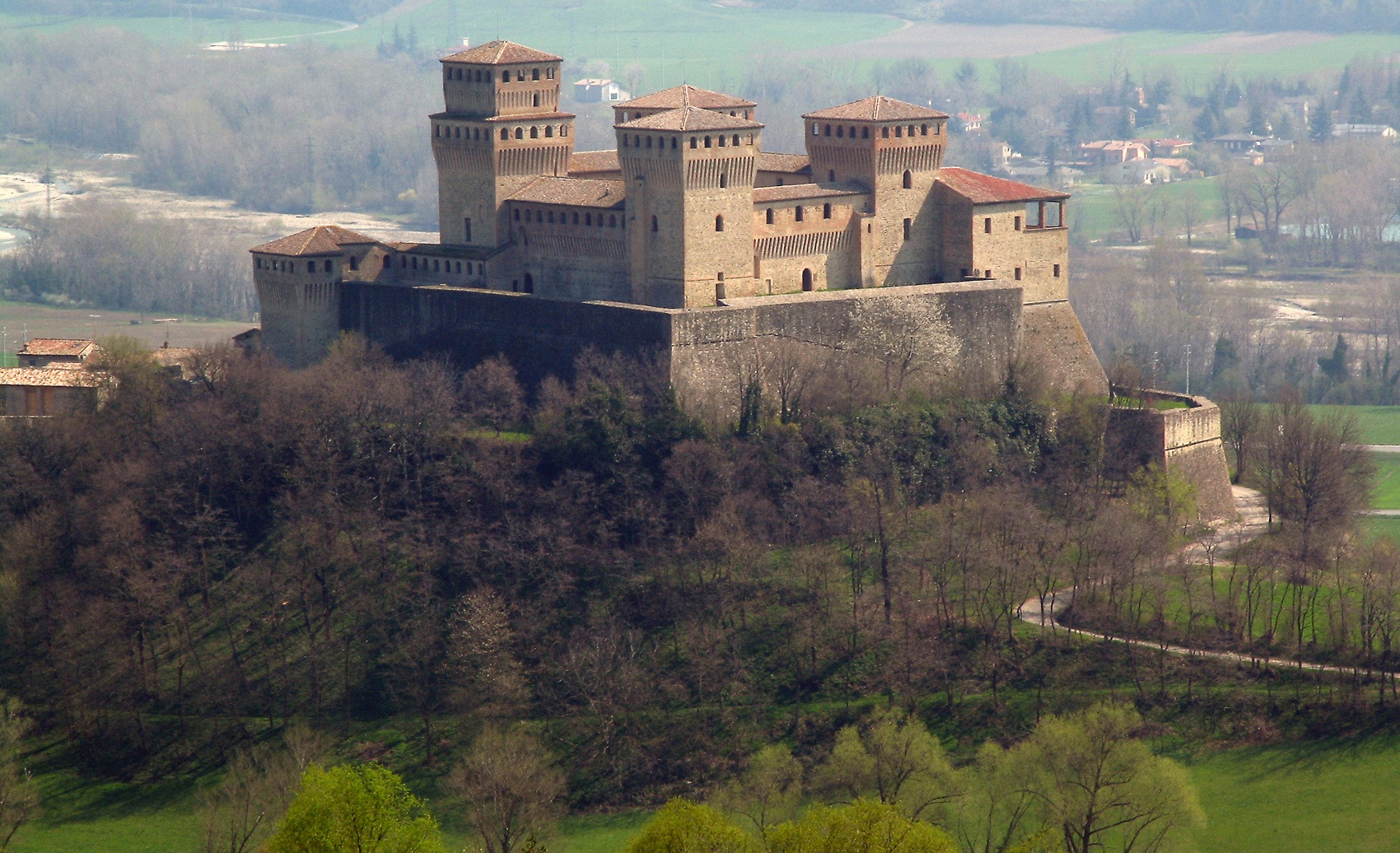 farm, in the lovely countryside outside the city of Parma. It is operated by two brothers, one of which is the chef at its highly-acclaimed restaurant. Parma is famous for its prosciutto (ham), cheese, architecture, music, and countryside and is home to the University of Parma, one of the oldest universities in the world. Once there, we will have a tour of the grounds and a tasting of products from the farm. We will have dinner together at their award-winning restaurant. Breakfast and dinner included; lunch on your own.

Day 10. Saturday, September 23. Visit the Artisans of Canossa.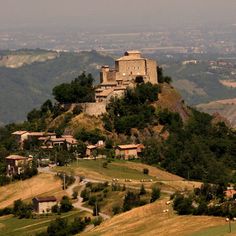 Today we will visit the castle town of Canossa and the village's Ars Conusina (craftsmanship inspired by Romanisque art). We will tour the village, meet some of the craftsmen, and sample some of the region's cuisine at a local restaurant. Time permitting, we will visit another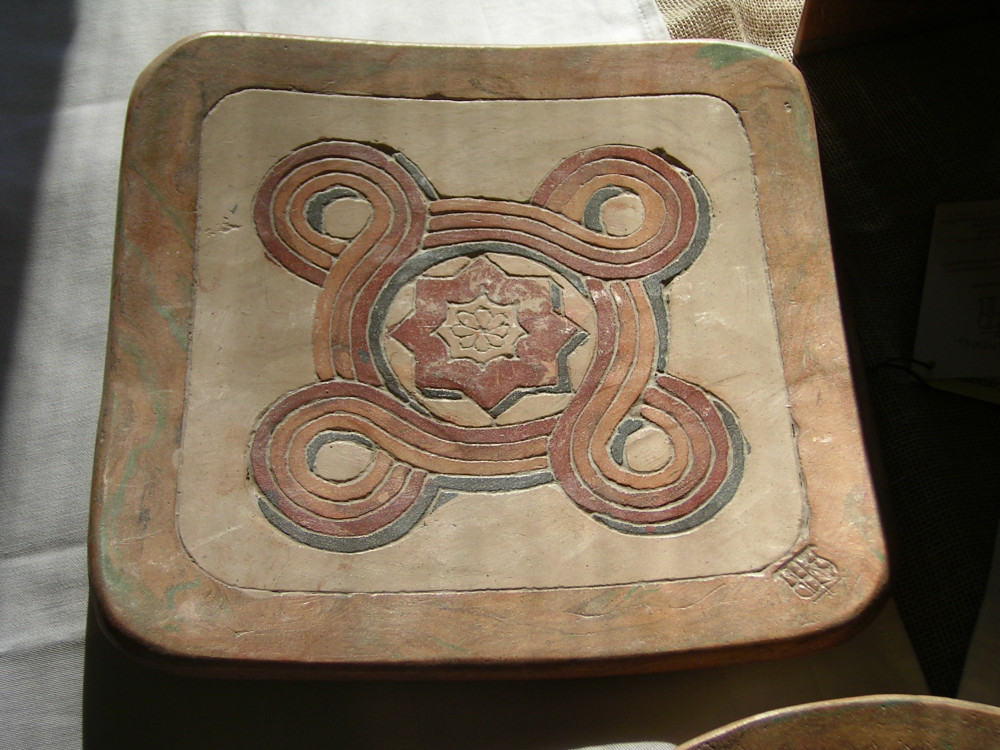 village in the area. Breakfast, lunch, and dinner included.

Day 11. Sunday, September 24. Workshop.
Another workshop day. Breakfast, lunch, and dinner included.

Day 12. Monday, September 25. Tour Bologna.
This unique city is home to the first university in the world and has a very large historical center. It has been described as "fusing haughty elegance with down-to-earth grit in one beautifully colonnaded medieval grid. On one side Bologna is hi-tech, located in the super-rich Po valley with some of the nation's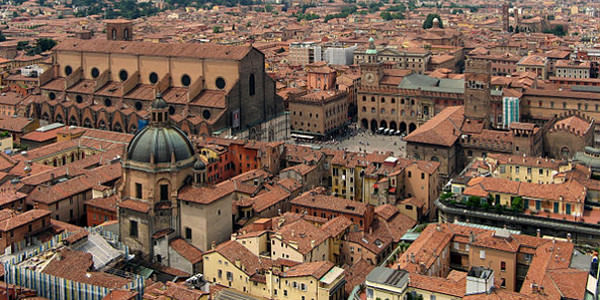 finest restaurants and trattorias (bolognese sauce was first created here). On the other is a politically edgy city that hosts the world's oldest university and is famous for its graffiti-embellished piazzas. We will have a morning tour of this intriquing city's sites and have lunch at a local restaurant to sample Bolognese cuisine. The afternoon is free to explore and Maggie will advise you of some optional things to do, such as a vinegar tasting (remember, we are in the heart of balsamic vinegars!). We'll meet up in early evening for our farewell dinner. Breakfast, lunch, and dinner included.

Day 13. Tuesday, September 26. Return to Venice.
The morning will be free for you to pack and otherwise relax. In the afternoon we will travel the two-hour drive to Venice where we will stay at a hotel near the airport to facilitate catching your flight the next day. The late afternoon and evening will be free. Breakfast; lunch and dinner on own.

Day 14. Wednesday, September 27. Departure.
Today you will depart for home or wherever your future travels may take you!
Note: The itinerary may be tweaked as new opportunities present themselves--be assured any change will result in an even better experience!
About Maggie's Project . . .Romanesque

"Romanesque" was designed for this Beadventure during which we will visit the region of Emilia Romagna and learn about the "Ars Canusina" movement in the area. "Ars Canusina" is a brand of handicrafts in the area of Canossa. The area once belonged to Countess Matilde (a very interesting woman of her time); and Dr. Maria Bertolani Del Rio was the first one to set up a handicraft center in the region (another great woman and story).

The region also contains many examples of Romanesque architecture and motifs. These pieces (Romanesque Tassel and Romanesque Bracelet) are the second in my architecture series. The Romanesque arch is integral to both designs.

The pieces are made with CRAW, Odd-count Peyote, and embellishments. The tassel also has a dome using Circular Brick Stitch. Other designs will be discussed during the days of the workshop. The project is for intermediate to advanced beaders; there will be three colorways and the kit cost is included in the trip's cost.

About Maggie Meister, Tour Leader & World Renown Teacher . . .
Maggie's love of ancient history, color and patterns has followed her throughout her life. She uses seed beads, gemstones, focal beads, and a variety of beadweaving stitches – Peyote, Right Angle Weave, St. Petersburg, to name just a few- to translate designs found in mosaics, frescoes, architecture and jewelry into sculptural bead art to wear.

Maggie has taught and continues to teach workshops nationally and internationally throughout Europe. Her work has been shown in London, Milan and Naples and has been featured in ORNAMENT MAGAZINE, Beadwork Magazine, Bead and Button, and a variety of books. She has written a book, CLASSICAL ELEGANCE, for Lark Books as part of their Master Beadweaving Series. Learn more about Maggie and her beautiful work at Amphora Designs.
Trip Details
Trip Cost
4950 Euros (click here for currency converter)
Single supplement (based on availability) is 1500 Euros
Payment Terms
Trip Cost Includes:
All lodging
65% of meals
Ground transportation for the itinerary's activities
Private guides
Entrance fees to sites on the itinerary
Cooking class
Workshop with Maggie and kit
Trip Cost Does Not Include:
Airfare to and from Italy
Trip insurance (you will need to provide verification that you have purchased trip insurance at the time of final payment)
Supplies for workshop
About 35% of meals
Alcoholic beverages (unless otherwise noted in the itinerary i.e. wine tasting)

Trip Insurance
To protect the investment you are making in your planned travel, you are required to provide Beadventures with confirmation that you have purchased trip insurance when you send in your final payment. Beadventures highly recommends TravelEx based on its excellent customer service. Click here for information about their coverage options.

Trip Notes . . .
Fitness level
There is a great deal of walking on this trip, much of it up and down hills, on uneven cobblestone streets, as well as stairs as most places do not have elevators. As a result, this trip is not for people who have difficulty walking or other mobility issues.
Supplies for Maggie's Workshop
Bring your customary supplies, bead mat, and a battery powered task light.