France with Cynthia Rutledge: Ooh la la!
Paris and Provence
Lurs ~ Aix-en-Provence ~ Verdon Gorge ~ Forcalquier ~ Moustiers-Sainte-Marie ~ Avignon
October 2-16, 2017
Trip is full -- waitlist available!

If you've thought about how great it would be to travel to France and wondered how you could combine it with your passion for beading, this is the trip for you! We'll spend three nights in Paris--one of the most exciting cities in the world--and then travel by train to the South of France where we'll spend 11 nights. During that time we'll have a workshop with Cynthia Rutledge on a project inspired by our destination. During our stay in the Provence region you'll get to know the food, wine, lifestyle, and culture of this mellow, ancient, and breathtakingly beautiful natural environment. Ooh la la!
Itinerary
Note: The itinerary may be tweaked as new opportunities present themselves--be assured any change will result in an even better experience!
Day 1. Monday, October 2. Arrive in Paris.

This incredible Beadventure will start with your arrival in Paris at the Charles de Gaulle (CDG) airport. You'll travel from the airport to the Hotel Raspail Montparnasse in the 14th arrondissement. If you arrive early, explore the area and its many shops and restaurants, or take the Paris Metro to points beyond (a station is conveniently located near the hotel). Beadventure owner Cheryl Frasca will be your tour leader while in Paris and will be glad to assist so you can make the most of the group's brief stay in Paris. We'll have an early
welcome dinner so that everyone will be able to rest up from their travels. Dinner included.
Day 2. Tuesday, October 3. See the Sights and Shop in Paris!
Today we'll get an overview to the city and its sites by taking a tour via bus in the morning and be escorted by a guide for an afternoon of shopping to bead and other stores. You each will have a pass for a "hop on/hop off" type tour bus, which will enable you to get a sense of where things are that you can then return to what's of special interest to you the following day (you will have a two-day bus tour pass). Your evening will be free. Breakfast included.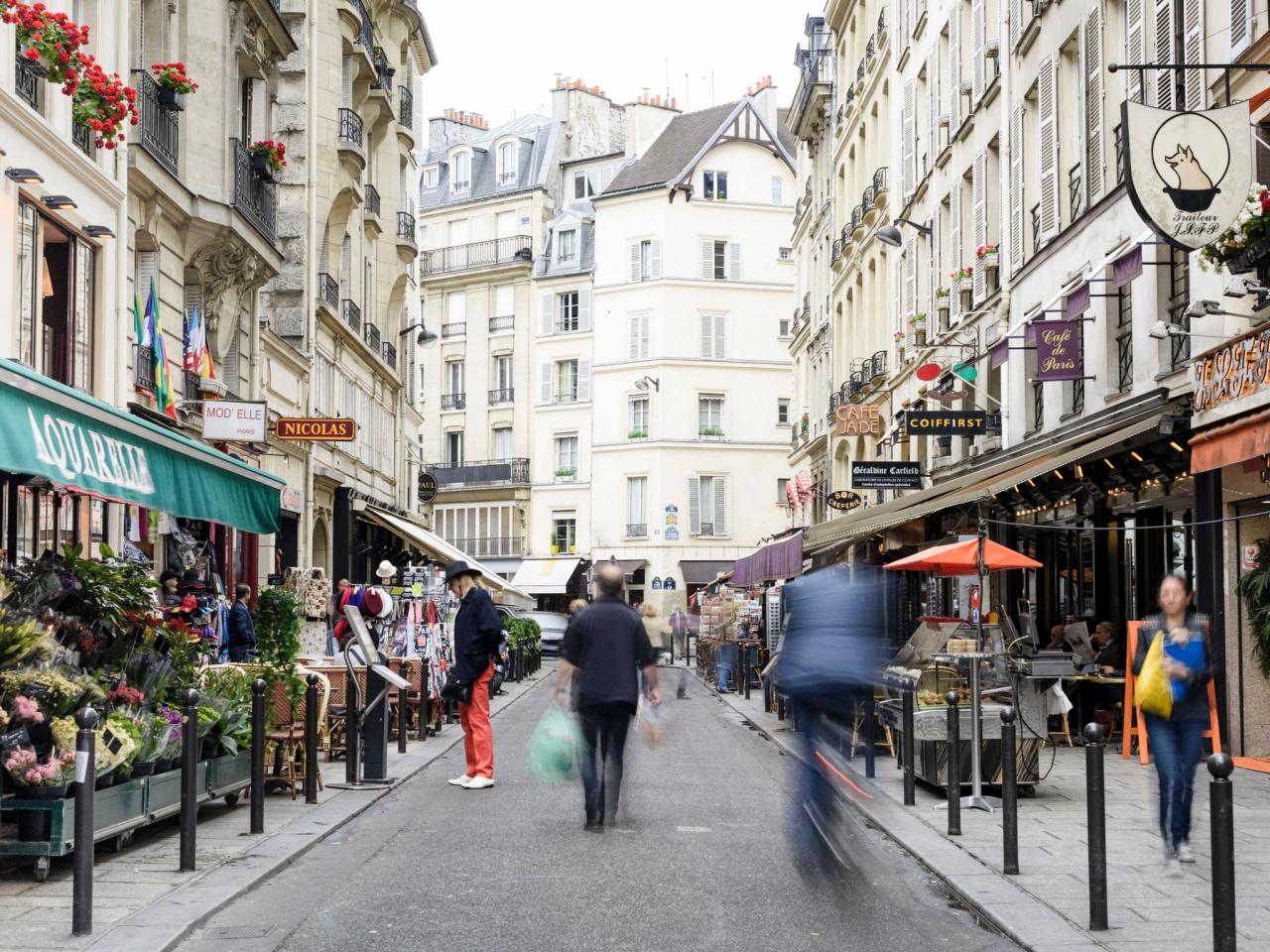 Day 3. Wednesday, October 4. It's Your Day in Paris!
Today will be unscheduled so you can see and do what is of interest to you. You also will be able to use your "hop on/hop off" bus pass. Beadventures will be glad to assist in you making plans/reservations prior to the trip's start should there be specific places you want to see. Breakfast included.
Day 4. Thursday, October 5. Travel from Paris to Provence via Train.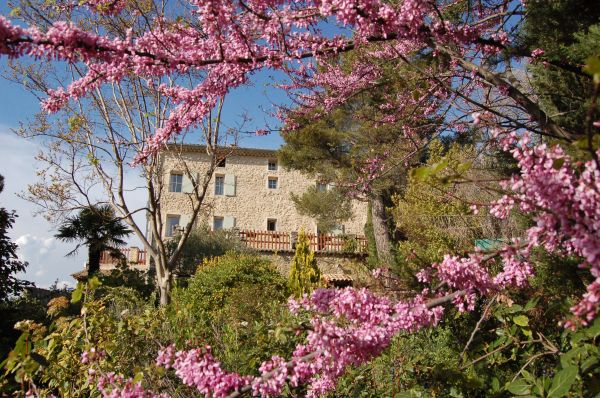 We will leave mid-morning for the three-hour journey to Aix –en-Provence via high speed train. Upon arrival the group will be picked up by Wendy Smith-Wood, our guide for our travels around Provence. We will be transported to our "home" for the next 11 days—a fully refurbished former seminary built atop a limestone outcrop that is adjacent to the ancient, tiny, and picturesque village of Lurs, which is a beautiful hilltop village that looks over both the Durance valley and the Pays de Forcalquier. After getting settled in our rooms (everyone will have their own individual en-suite room), we will enjoy an orientation stroll of the village. Later in the day we'll have coffee and/or aperitifs on the terrace and enjoy the beautiful 360 degree views, followed by dinner at the hotel. Breakfast and dinner included.
Day 5. Friday, October 6. Aix-en-Provence.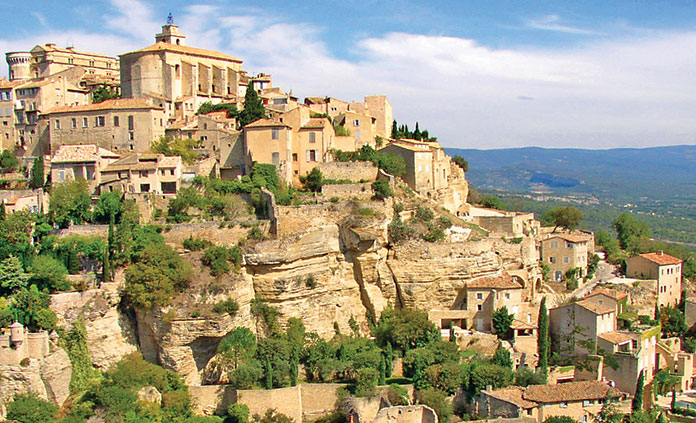 Aix (pronounced like the letter "x") is a major city and is more than 2,000 years old. We'll travel by mini-bus and will have a guided tour of the city in the morning. The afternoon will be free do you can explore Aix on your own—and there will be lots to see. Aix has incredible modern shopping avenues, such as the Cours Mirabeau that is reminiscent of Paris (in fact, the Champs Elysees in Paris was modeled after this main boulevard). It is a wide thoroughfare, planted with double rows of trees bordered by fine houses and decorated by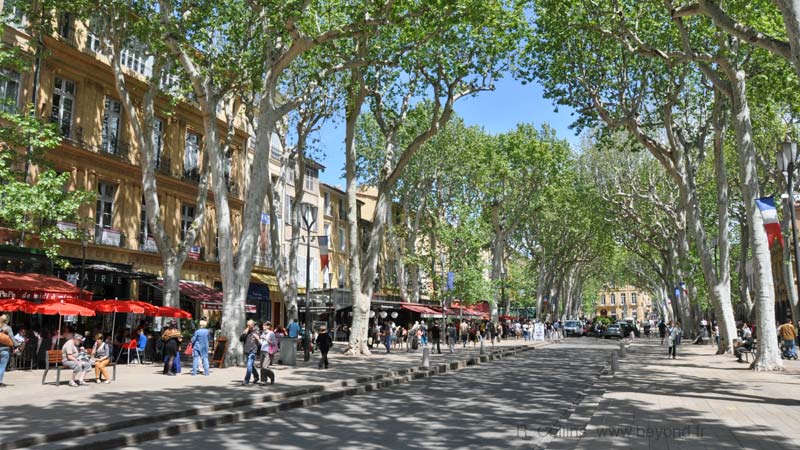 fountains. It follows the line of the old city wall and divides the town into two sections; one side of the avenue is lined with banks and the other with cafés. This also is where you'll find the Deux Garçons, the most famous brasserie in Aix. Built in 1792, it has been frequented by the likes of Paul Cezanne, Emile Zola, and Ernest Hemingway. Dinner will be on your own in Aix after which we'll head home to Lurs. Breakfast included.
Day 6. Saturday, October 7. Workshop with Cynthia.
Today will be our first day of our workshop on a project designed by Cynthia for this special Beadventure. Lunch will be at home; dinner will be at a charming Lurs bistro. Breakfast, lunch, and dinner included.
Day 7. Sunday, October 8. Verdon Gorge.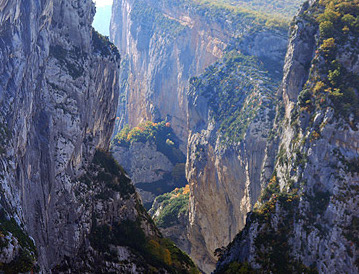 The Verdon Gorge is a magnificent limestone canyon (it's the largest and most spectacular canyon in Europe). In the morning we will stop in Valensole for coffee (and perhaps a visit to the lovely soap and fabric shop located nearby). We'll then drive the "Route des Cretes" during which we will see spectacular views and drop-offs. We'll stop at the Chalet de la Maline for a "pique-nique" and have dinner at Bistro de Pays de Niozelles where we will enjoy classic Provençale cuisine. Breakfast and lunch included.
Day 8. Monday, October 9. Forcalquier Market.
The town of Forcalquier has the the region's largest and most exciting market. Here you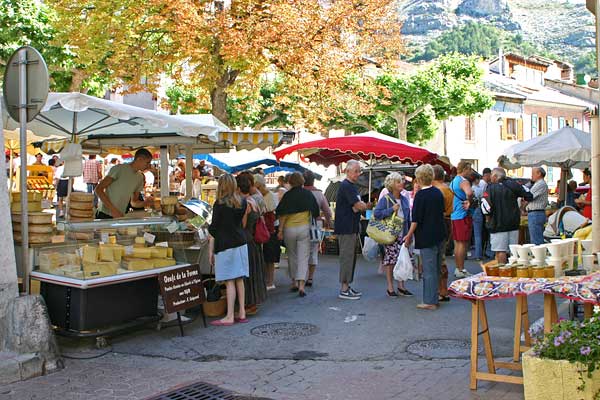 will find local farmer's produce, traditional linens, clothing and crafts, soaps and scents, olives, breads and cakes, sausages and cheeses. You'll have time to browse among the many stalls and lunch will be on your own. In mid-afternoon we'll have a guided walking tour of Forcalquier followed by a distillery tasting (aperitifs, pastis, marc, absinthe, boux—a fizzy rose). We'll then head for home where we will have dinner. Breakfast and dinner included.
Day 9. Tuesday, October 10. Workshop.
We will continue our workshop with Cynthia today. Breakfast, lunch, and dinner included.
Day 10. Wednesday, October 11. Olive Oil, Traditional Cuisine, and Latin Vespers.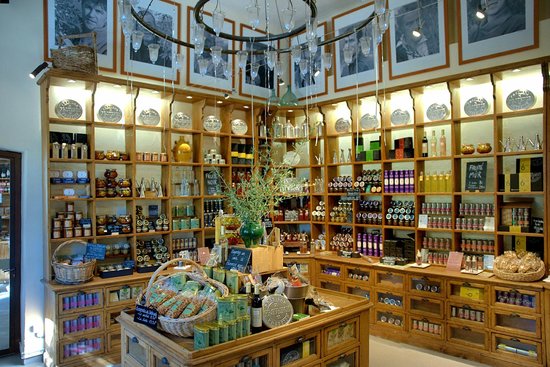 Today we'll check out some of the sights and sounds of our local area. We will visit the Oliviers Olive Oil Museum for a very informative olive oil tasting. Lunch will be at Le Relais des Quatre Reines, a Provençale country inn with the true traditional food—the real deal. In late afternoon we'll visit the Ganagobie Monastery where we can walk the grounds, enjoy great views from its stunning plateau, and visit the church to see its famous mosaic floor; at 5:30 p.m. we'll observe Latin Vespers. We'll then travel home for dinner. Breakfast, lunch, and dinner included.
Day 11. Thursday, October 12. Beautiful Village of Moustiers-Sainte-Marie.
Since 1981 Moustiers Sainte-Marie has been listed as one of the prettiest villages in France. It lies at the western entrance to the Verdon Gorge, which we toured on Sunday. The village was built on platform terraces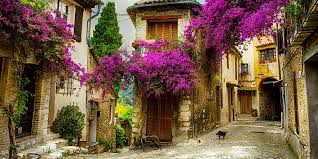 a hundred meters up the side of a limestone cliff. It is a center of the pottery trade, especially Faience, a tin-glazed pottery. You'll be on your own to walk among the village's "streets" where you'll find charming stores, bistros, and coffee shops--and if your ambitious, you can hike to the high chapel. In late afternoon we'll return home. Breakfast and dinner included.
Day 12. Friday, October 13. Avignon.
Today we will visit Avignon, a classic medieval city located on the left bank of the Rhone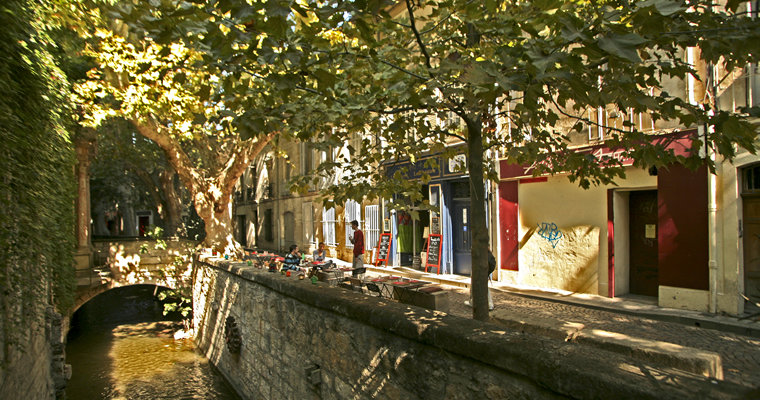 River. Between 1309 and 1377, seven successive popes resided in Avignon and in 1348 Pope Clement VI bought the town from Joanna I of Naples. Papal control persisted until 1791 when, during the French Revolution, it became part of France. The town is one of the few French cities to have preserved the walls that surround it. The city's historic center, which includes the Palais des Papes (Pope's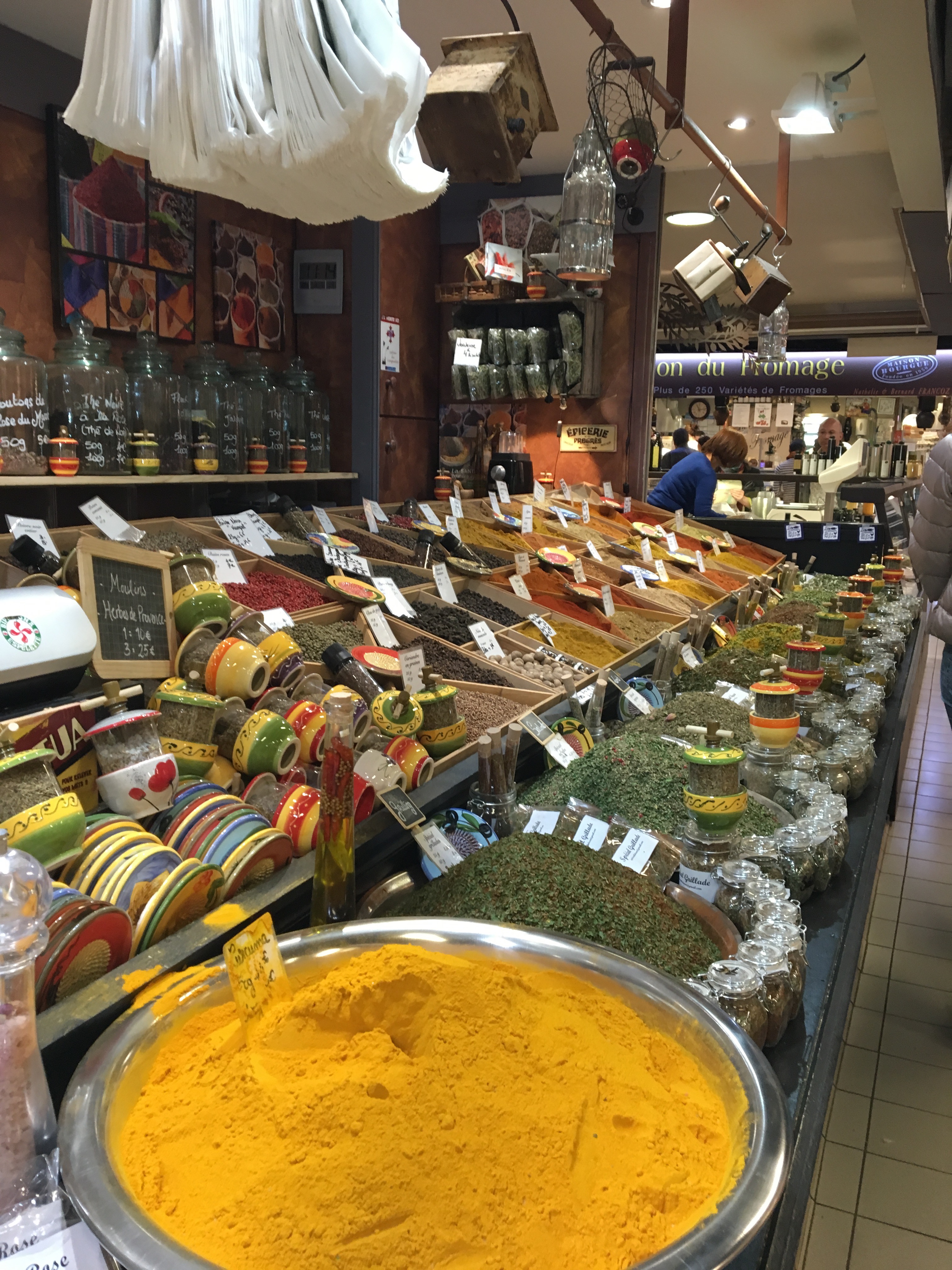 Palace), the cathedral, and the Pont d'Avignon (medieval bridge), became a UNESCO World Heritage Site in 1995.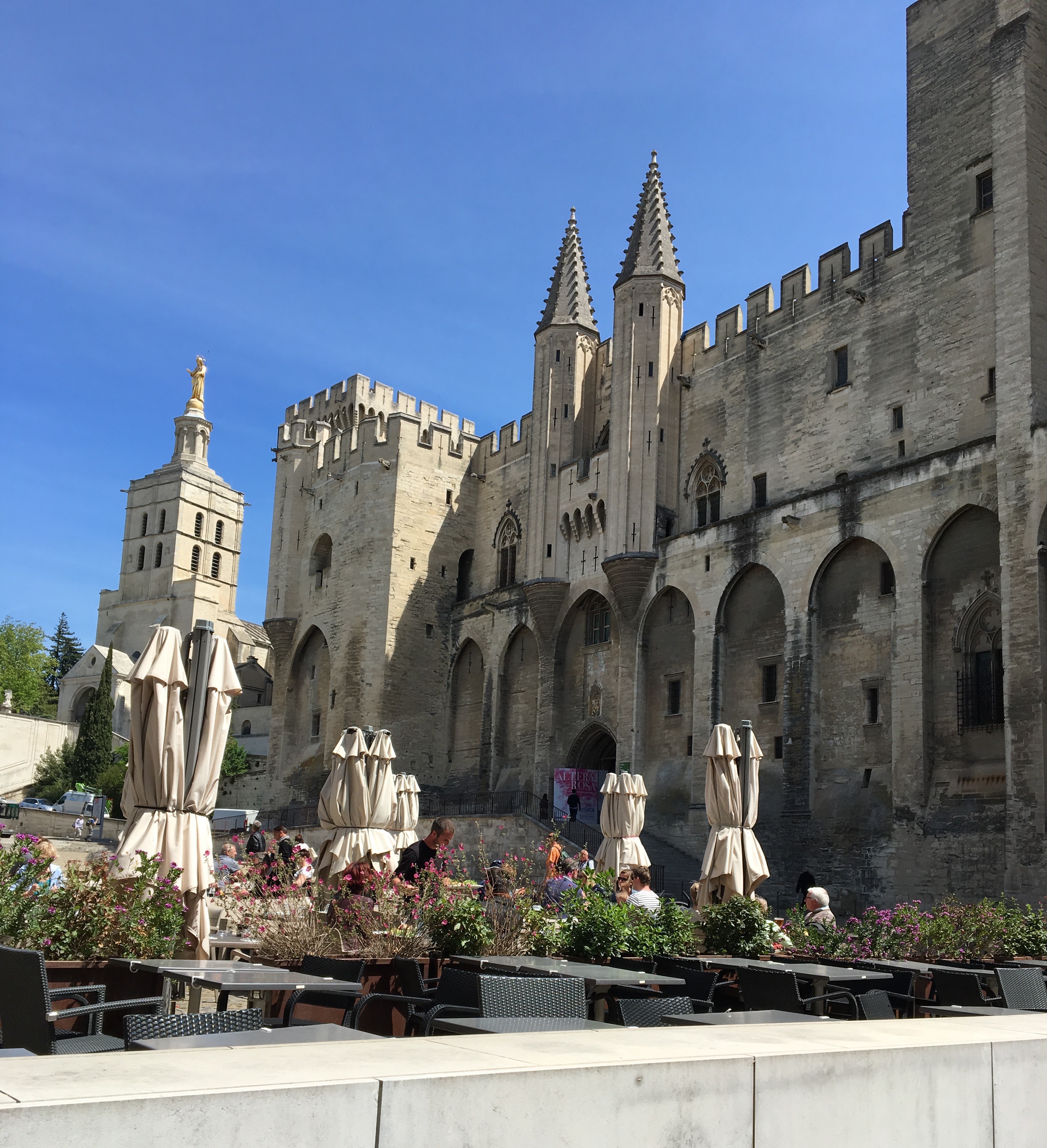 We'll have a half-day guided city tour and you'll then be free to explore the city on your own. On the way home we'll visit Menerbes, which is built on a hill and surrounded by magnificent countryside (Menerbes is the location for Peter Mayle's best selling memoir "A Year in Provence"). We'll stop for coffee where we will enjoy great views of the Luberon and have dinner in Forcalquier. Breakfast included.
Day 13. Saturday, October 14. Chateau la Coste Winery Tour.
Today will visit Chateau la Coste, a modern winery where we will learn about its vineyards, architecture, sculptures, and art. Its 200 acres are sprinkled with remnants of winemaking by the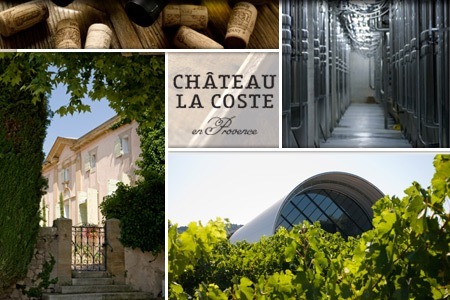 Romans (fragments of amphoras in the vineyards, several paved paths and an ancient irrigation system). We'll tour the wine production facilities, have lunch on the vineyard's terrace and enjoy a wine tasting. We'll return to Lurs in late afternoon where we will have a light dinner. Breakfast and dinner included.
Day 14. Sunday, October 15. Day of Relaxation—and a Cooking Class!
Today we'll stay at home and you'll be free to relax, bead, explore Lurs, and get ready for tomorrow's departure. We'll have a local chef provide a demonstration/cooking class about Provençale cuisine—which we then will enjoy for lunch! Breakfast, lunch, and dinner included.
Day 15. Monday, October 16. Bon Voyage.
All good things have to come to an end eventually. If you're departing by air, you'll fly out of the Marseilles airport (MRS). If you are departing from Paris (CDG), you will take the train from the Aix en Provence station. Breakfast included.

Note: The itinerary may be tweaked as new opportunities present themselves--be assured any change will result in an even better experience!

About Cynthia's Project . . .
Cynthia has designed a project inspired by this Beadventure to France. It is so fabulous that details about the project are being held close so that those on the trip will be the first few to see this new direction for Cynthia's art!
About Cynthia Rutledge . . .
Cynthia is a contemporary artist and teacher focusing on beadwork as her medium. She specializes in peyote stitch and off-loom weaving techniques with an emphasis on developing sculptural unsupported shapes in beadwork. Her work has been exhibited in national and international shows and has appeared in Nicolette Stessin's Beaded Amulet Purses, Carol Taylor's Creative Bead Jewelry, and Carol Wilcox Wells' Creative Bead Weaving: A Contemporary Guide to Classic Off-Loom Stitches.

Cynthia writes:
"My attraction to 3-dimensional shapes has created a fascination for me throughout my life and has fueled my creative spirit. My choice of beadwork as a primary medium has followed that same fascination. As my beadwork has evolved, my work seems to always lean towards the building of shapes and forms that are functional and wearable.

The choice to use beads as my medium was primarily influenced by my love of color. Beads reflect and absorb light, hold shape and dimension, and in so doing, offer chameleon-like qualities. It is not always the end result that is the most important to me, however. The process of working with beads and thread is meditative and calming, which allows time for reflection. Engineering each piece is always a challenge that thrills me, as well as giving me the power to make the decisions that need to be made for each piece. The more I experience the wonderful qualities of beadwork, the more I realize my relationship with beads will always be one of learning, experiencing and sharing.

The decision to teach grew from my personal desire to share my love of beads and all the wonderful things that can be created with them. The commitment that I have to teaching stems from my desire to share the knowledge I have gained while developing my own skills in this medium. Ultimately, my mission is to help to keep this art form alive and well."

In early 2016 Cynthia released her first book "Timeless Beadwork Designs," a compilation of 15 gorgeous projects that reflect the beauty with which Cynthia approaches her designs and the generosity with which she teaches. Learn more about Cynthia at her webpage.
About your tour guide: Wendy Smith-Wood
Wendy is a fiber artist and guide living at Sheep Mountain Alaska. Following early careers in HR in industry, as an officer in the British Army, and in Outward Bound as an instructor and manager, Wendy then spent 15 years as a mountain guide for a large adventure travel company based in London. She led trips to the Pamirs and Karakorum mountains, and trekking and climbing expeditions in the Himalayas, Atlas, Alps and Pyrenees as well as cultural trips in several countries in Europe, Africa and Asia. Each winter Wendy took a break to train sled-dogs in her favorite wilderness in Alaska.

For the past 10 years Wendy has developed as a textile artist and teacher and specializes in arashi shibori. This is an ancient Japanese art of folding and tying silk in order to dye it. Wendy and her art was featured in a 2013 episode of Alaska Public Media's "Indie Alaska" series as an "off-the-grid fiber artist" (click here to view the video to here to see Wendy's beautiful art).

Over the last 3 years Wendy has rekindled her guiding career and lead independent trips to Morocco, France, and England. Wendy speaks French fluently, and conversational German, Arabic, Welsh, and Spanish.
Trip Details

Trip Cost
4200 Euros (click here for currency converter). This cost is based on a group of 8 travelers; if fewer sign-up the cost will increase, typically about 200 Euros more per person.
Single supplement in Paris (based on availability) is 90 Euros; in Lurs everyone will have a private room and adjoining bath.
Payment Terms
Trip Cost Includes:
All lodging
About 65% of meals
Ground transportation for the itinerary's activities in Paris and throughout Provence
Train from Paris to Aix-en-Provence
Guide and entrance fees to sites on the itinerary
Cooking class
Workshop with Cynthia
Trip Cost Does Not Include:
Airfare to and from France
Trip insurance (you will need to provide verification that you have purchased trip insurance at the time of final payment)
Supplies for workshop
About 35% of meals
Trip Insurance
To protect the investment you are making in your planned travel, you are required to provide Beadventures with confirmation that you have purchased trip insurance when you send in your final payment. Beadventures highly recommends TravelEx based on its excellent customer service. Click here for information about their coverage options.
Trip Notes . . .

Fitness level
There is a great deal of walking on this trip, much of it up and down hills, on uneven cobblestone streets, and stairs as most places do not have elevators. As a result, this trip is not for people who have difficulty walking or other mobility issues.
Cynthia's Workshop Supplies
Bring your customary supplies, bead mat, and a battery powered light.