Imagination Gone Wild:
Barcelona with Laura McCabe!
April 23 - May 5, 2018
Trip is full -- wait list available!

It has been said that Barcelona is "wandering through a dream"--and that so describes this fascinating city. It's a city defined by quirky art and architecture, imaginative food, vibrant street life Barcelona, and is the cosmopolitan capital of Spain's Catalonia region. The fantastical Sagrada Família church and other modernist landmarks designed by Antoni Gaudí dot the city and can't help but provide whimsical inspiration for our beadwork. It's hard to imagine a more fascinating city in which to have a Beadventure--and to have it with international beading rock star, Laura McCabe!
Itinerary
Day 1. Monday, April 23. Arrive in Barcelona.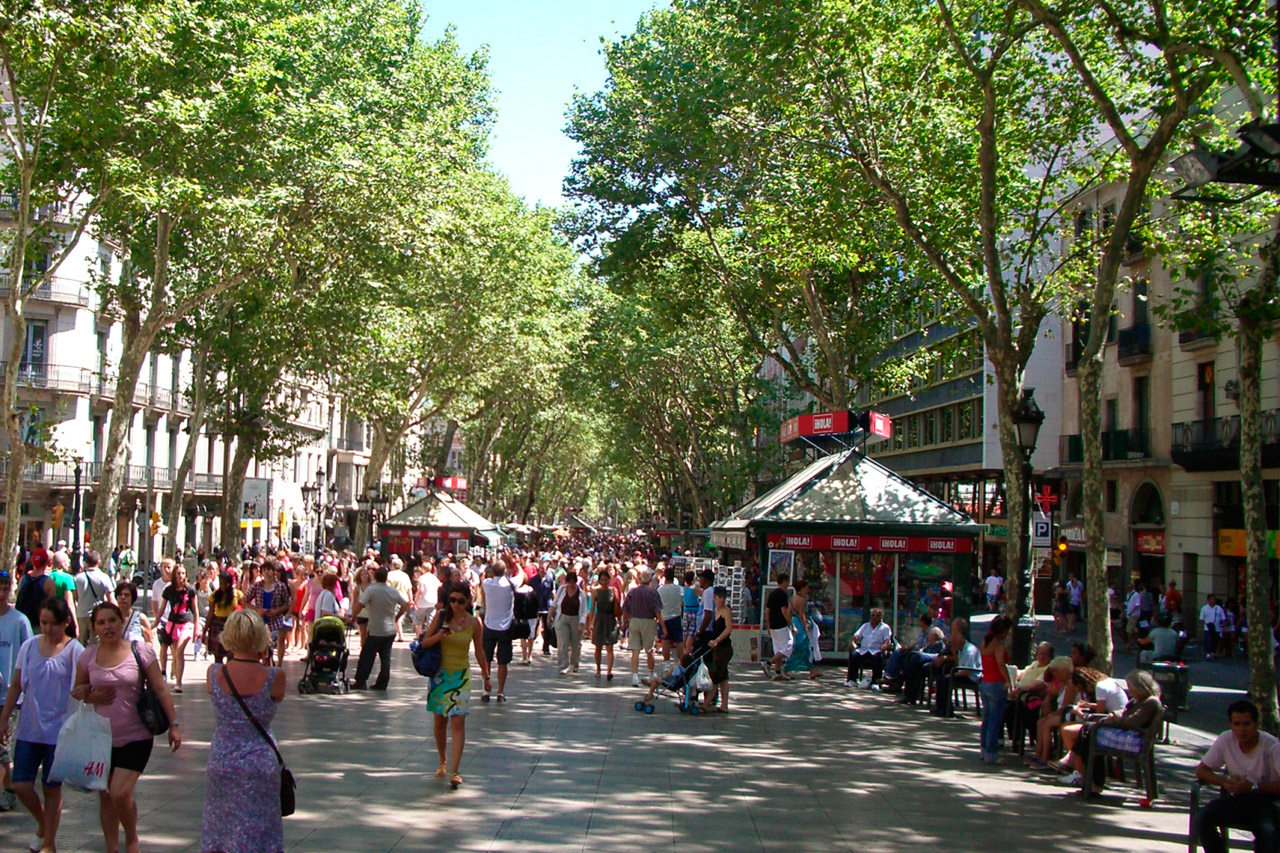 Today you'll fly into Barcelona (airport code BCN) and travel to our home for the next 12 days—the modernist Hotel Gaudi, located only 100 meters from the Rambla. If you arrive early feel free to explore the neighborhood and stores along the Rambla. At 6 p.m. we will gather in the hotel lobby for our welcome dinner at "Los Caracoles," an historic and charming restaurant, one of the oldest in Barcelona, which is an easy walk from the hotel.
Meal included: Dinner
Day 2. Tuesday, April 24. Sightseeing in Barcelona.

After breakfast, we'll orient ourselves to the city by taking the "Hop On-Hop off" bus tour around the city. After lunch we'll take a 3-hour historic walking tour of the Gothic Quarter, led by longtime resident and licensed tour guide Iraida Marten. That evening we'll take the metro to Plaza España followed by a short walk to the light and sound "Magic Fountain" show at the foot of the hill leading up to the Catalunya National Art Museum. The fountain is a spectacular display of color, light, motion, music, and water acrobatics. Its first performance was on May 19, 1929 during the Great Universal Exhibition.
Meals included: Breakfast, lunch
Day 3. Wednesday, April 25. Workshop with Laura—and Flamenco Show!
Today we'll have a workshop with the incomparable Laura McCabe. In the evening, we will have dinner at Tablao de Carmen where we will see a Flamenco show (it is named after one of the most revered flamenco dancers in history, Carmen Amaya). The
venue is in the heart of one of Barcelona's most curious landmarks, the Poble Expanyol, a large-scale model village or "architectural museum" built for the 1929 Universal Exhibition. It has charming shops—and don't worry, we'll arrive in time for you to do some shopping!
Meals included: Breakfast, lunch, dinner
Day 4: Thursday, April 26. Gaudí—all day!
After breakfast, we'll walk up the Rambla, crossing the Plaza Catalunya to the lovely Paseo
de Gracia, one of Barcelona's loveliest thoroughfares and home to many beautiful modernist buildings and upmarket shops. We will tour the iconic Casa Batlló, one of the most recognizable of Antoni Gaudí's masterpieces and La Pedrera (also known as Casa Mila), a modernist apartment complex, the last civil work designed by architect Antoni Gaudí, built from 1906 to 1912. It houses a very comprehensive museum dedicated to the genius of Gaudi; the rooftop
chimneys and views are not to be missed. After lunch (included) we will travel by bus to the emblematic Parc Guell for a guided tour. The evening will be free.
Meals included: Breakfast, lunch
Day 5. Friday, April 27. More Gaudí: Palau Guell, Sagrada Familia Chapel.
After breakfast we'll visit the Palau Guell (located across the street from our hotel). The palace was one of Gaudi's earliest commissions, built for the industrialist Eusebio Guell. It is one of (and
perhaps the first) example of Art Nouveau architecture in the world. We'll go from there up the Rambla, looking in on the beautiful displays of fruit, vegetables, and seafood at the Boqueria Market. From Plaza Catalunya we will travel to the famous Gaudí masterpiece, the Sagrada Familia (Holy Family) Expiatory chapel where we have a guided tour of this incredible work of art. The evening will be free.
Meals included: Breakfast, lunch
Day 6. Saturday, April 28. Workshop and Mosaics Class.
In the morning we will continue our workshop with Laura. After lunch (on your own) we will head over to Studio Mosaiccos, where we'll learn the "Trencadis" mosaic technique, developed by Gaudí; at a "make and take" session where you'll create a mosaic souvenir, such as a small mirror or plaque. Dinner (included) will be at Can Culleretes, said to be the oldest restaurant in Barcelona.
Meals included: Breakfast, dinner
Day 7. Sunday, April 29. It's All About Salvador Dalí.

Today will be an all-day excursion to Figueres to see the Dali museum as well as Dalí's home in Cadaques on the Costa Brava. We will immerse ourselves in the world of Salvador Dalí, and learn about his life and work. We'll admire paintings and other mind-bending creations by the 20th-century Spanish artist at the stunning Salvador Dalí Museum in his birthplace of Figueres. We'll then tour his beloved Costa Brava to see some of his favorite places, such as the coastal town of Cadaques and the Salvador Dalí House in Port Lligat.
Meals included: Breakfast
Day 8. Monday, April 30. Palau de Musica Tour/Free Afternoon.

Today we will tour the breathtaking Palau de Musica—a gem inside and out. The breathtaking concert hall was completed in 1908 and has been a recognized UNESCO World Heritage Site since 1997. The intricately detailed stained glass, sculptures, mosaics, and metalwork are beautiful—and the acoustics are amazing. Following the tour the rest of the day will be free.
Meals included: Breakfast
Day 9. Tuesday, May 1. Create Your Own Barcelona Experience!
Today is free for you to see what is of special interest to you. As you can imagine, there also are many places to see and things to do in Barcelona, as well as tours to places outside of Barcelona, such as a train trip to Girona, an hour away, known for Roman baths, Romanesque church and medieval Jewish quarter. We'll be glad to work with you prior to departure on options that may be of interest to you.
Meal included: Breakfast
Day 10. Wednesday, May 2. Workshop.
Our final day of workshop with Laura. We will break for lunch at El Casal. Your evening will be free.
Meals included: Breakfast, lunch
Day 11. Thursday, May 3. Tour Penedes Wine and Cava Region.

Today we will travel to Catalonia's Penedes region to learn about the area's vast wine industry. We'll stop by a winery, where we'll have a chance to view the vast wine cellars and taste some of the wineries' top-notch products.
Meal included: Breakfast
Day 12. Friday, May 4. Museu Picasso.
In the morning, we'll walk through the Gothic Quarter to visit the Picasso museum. It is said that the Picasso museum is important in understanding Pablo Picasso's formative years,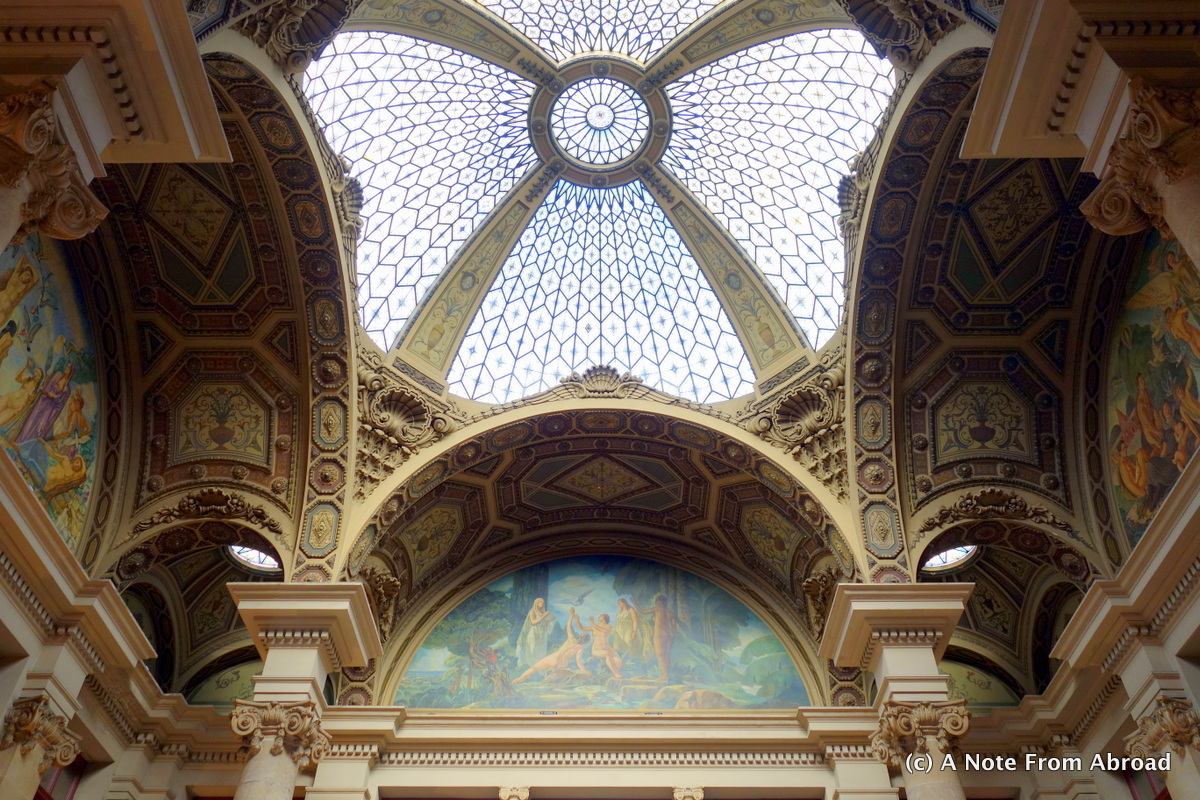 including his deep relationship with Barcelona that was shaped in his adolescence and youth, and continued until his death. We'll then have lunch and the rest of the day you will be free. In the evening, we'll gather for our farewell dinner at the Asador de Aranda, a lovely restaurant.
Meals included: Breakfast, lunch, dinner
Day 13. Saturday, May 5. Depart.
Today you'll depart for home or on to other destinations that you may have planned!

Note: The itinerary may be tweaked as new opportunities present themselves--be assured any change will result in an even better experience!
About your project . . .
Laura will design a project inspired by the sites we will see in Barcelona!
About your teacher Laura McCabe . . .
Laura Jean McCabe is a primarily self taught beadweaver with an education in historical costume reproduction and restoration, and anthropology. She produces elaborately beaded body adornment and sculpture that combines Native American, African, and Victorian beadweaving techniques with modern materials and color schemes. She exhibits her work in national and international beadwork exhibitions, and sells her finished work at boutiques and galleries, as well as through her website. She maintains a private studio in Old Mystic, Connecticut, and teaches beading workshops across the US and throughout the world.
About your tour leader Carol Moore . . .

Carol and her family (son David and daughter Daniela) spent 8 happy years living in Barcelona as her husband Salvador's job required an expatriate assignment (NOT a hardship post!!). Combining beads and her love for Barcelona is a dream come true and she can't wait to show you many of her favorite places to see, shop, and eat!! Four years ago Carol stumbled upon City Beads in Chicago by bizarre coincidence at which she took her first class and became an enthusiastic member of the "City Beads Tuesday Beading Group." Carol and Salvador recently moved from Chicago and now divide their time between their home in San Juan Capistrano and Salvador's family home in Queretaro, Mexico. Carol works part-time remotely as a Contract Analyst for Siemens Power Generation where she reviews, drafts, and negotiates steam and gas turbine contracts. Carol speaks excellent Spanish (though not Catalan!) and feels that Barcelona, especially with its fabulous Gaudi architecture, will be a completely unique experience and can't wait to see what Gaudi-inspired project Laura has in store for us!
Trip Details

Trip Cost
3695 Euros (click here for currency converter).
Single supplement (based on availability) is 840 Euros.
Payment Terms
To guarantee your spot on this trip, send in a $1,000 deposit and completed registration form.
Balance will be due 120 days prior to start of Beadventure (see Conditions & Responsibilities for more information).
Trip Cost Includes:
All lodging
About 65% of meals
Ground transportation for the itinerary's activities
Guide and entrance fees to sites on the itinerary
Workshop with Laura
Trip Cost Does Not Include:
Airfare to and from Barcelona
Trip insurance (you will need to provide confirmation that you have purchased trip insurance at the time of final payment)
Supplies for workshop
About 35% of meals
Trip Insurance
To protect the investment you are making in your planned travel, you are required to provide Beadventures with confirmation that you have purchased trip insurance when you send in your final payment. Beadventures highly recommends TravelEx based on its excellent customer service. Click here for information about their coverage options.
Trip Notes . . .
Fitness level
There is a great deal of walking on this trip, some of which will be on uneven cobblestone streets, and stairs. As a result, this trip is not for people who have difficulty walking or other mobility issues.
Laura's Workshop Supplies
Bring your customary supplies, bead mat, and a battery powered light.