Insider's Preview
Experience Southern Italy with
Maggie Meister & Heather Kingsley-Heath
October 9-24, 2018
Puglia Region (Lecce ~ Alberobello ~ Matera) and Campania Region (Naples)
Join Beadventures and Maggie Meister and UK's Heather Kingsley-Heath and travel to the Puglia and Campania regions of Italy. Puglia, a southern region forming the heel of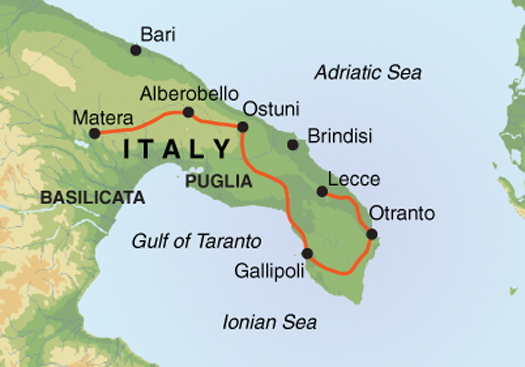 Italy's "boot," is known for its whitewashed hill towns, centuries-old farmland and hundreds of kilometers of Adriatic coastline. Capital Bari is a vibrant port and university town, while Lecce is known as "Florence of the South" for its baroque architecture. Olive trees and whitewashed houses are everywhere, including the unique and whimsical truilli houses of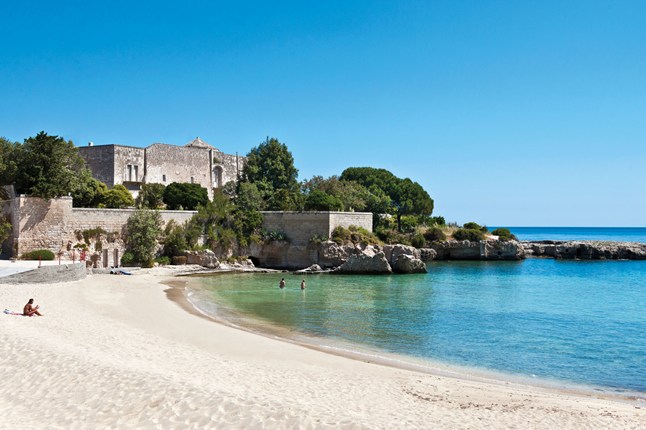 Alberobello. The Adriatic shores are gorgeous and it is known for its fabulous food and wine.
You will fly into Rome where you will spend a day; fly to Brindisi and our new home in the beautiful Baroque town of Lecce. After our stay in Lecce we will head to Alberobello, with a stop in Matera.

Finally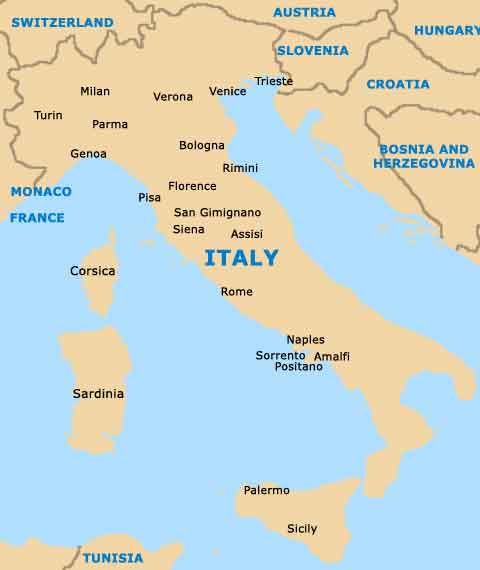 , you will finish the Beadventure in Maggie's home away from home – the Campania Region – Napoli and surrounding area to see new sites and a cooking class. Campania, in southwestern Italy, is known for its ancient ruins and dramatic coastline. Naples, the regional capital, is a bustling city with a striking natural setting between the iconic gray cone of Mt. Vesuvius and the deep blue waters of the Golfo di Napoli. To the south,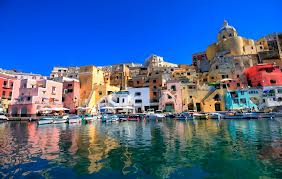 the Amalfi Coast is home to pastel-hued towns such as Positano, Amalfi, and Ravello, nestled between cliffs and the sea.
You will return to Rome for your departure home.

Maggie and Heather will joint teach a project. Maggie is fine-tuning the itinerary with visits to Italy this May and September. Check back to learn about the project and the full itinerary as details are finalized!
About Maggie Meister, Tour Leader & World Renown Teacher . . .
Maggie's love of ancient history, color and patterns has followed her throughout her life. She uses seed beads, gemstones, focal beads, and a variety of beadweaving stitches – Peyote, Right Angle Weave, St. Petersburg, to name just a few- to translate designs found in mosaics, frescoes, architecture and jewelry into sculptural bead art to wear.

Maggie has taught and continues to teach workshops nationally and internationally throughout Europe. Her work has been shown in London, Milan and Naples and has been featured in ORNAMENT MAGAZINE, Beadwork Magazine, Bead and Button, and a variety of books. She has written a book, CLASSICAL ELEGANCE, for Lark Books as part of their Master Beadweaving Series. Learn more about Maggie and her beautiful work at Amphora Designs.

About Heather Kingsley-Health . . .
Heather is from the England and will be joining the group as it experiences Southern Italy. She travels internationally to teach and some may have been lucky enough to have taken one from her.

Heather shares the following thoughts about beading . . .
"I'm most contented when there is nothing to do but spend time with the beads, and even happier if the sun is shining and I can sit in the garden beading.

Each design is made for me first because I love to wear beadwork. Next it is taught in classes and workshops because much of my year is taken up visiting to teach groups and travelling to shows and events. I love it because every class is different, but they each have at their heart the pure pleasure of beading together. The moment when an idea clicks for a beginner is magical, equally so, when an experienced beader turns at the end of the day to say they have had a great day and discovered something new.

Other designs are created exclusively as kits, often using components I've collected on my travels and for which there may only be a limited supply.

Sometimes the story of an idea is too big for just one design, so I write books too. My books are a way of sitting down and having a conversation with you, each chapter revealing a new design, or a fresh way to use a technique."

Learn more about Heather and her work on her website.
Trip Details
Itinerary and cost information will be available later in 2017 (after Maggie's travel to Puglia in late September). If you want to be updated when this information is available, send an email so you'll be first to know!